From Sailor to Student: Navy Vet Enjoys New Chapter at Bowdoin
By Tom Porter
When Andrew Hall '22 was the same age as most of his classmates, he was serving aboard the USS Makin Island, an amphibious assault ship deployed to the Persian Gulf in support of US military operations in the region. Among his jobs was firefighting.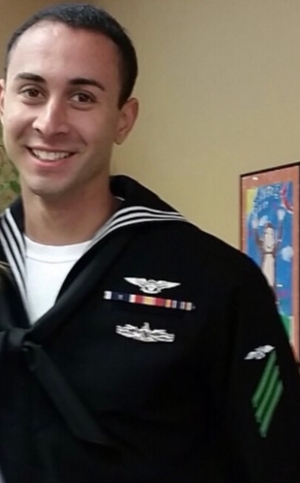 "I was trained to deal with electrical and gas fires," he recalled, and on occasion was required to put his training into action. ("We put all the fires out in under ten minutes.") He also worked on the flight deck, directing aircraft and sometimes transporting them to their hangars. "I was a twenty-year old driving a tractor with an aircraft on the back that was worth, like, seventy-five million dollars!"
Hall enlisted in the ranks of the US Navy the summer he left high school in his hometown of Bakersfield, California. By his own admission, he was not ready for higher education at eighteen. "I needed to find something to do other than college," he said, and so he ended up spending three and a half years in the navy. Based mostly in San Diego, he said, he was deployed to the Far East and Hawa'ii, as well as the Middle East.
When he left the service at twenty-two, Hall felt ready for college, but he still didn't know what he wanted to study. He enrolled in his local community college in Bakersfield, where the first course he took was a horticulture class. He ended up getting an associate's degree and took further courses, including stints at Yale and Stanford. It was at Stanford, where he was taking a writing seminar specifically for veterans in the summer of 2018, that Hall learned about Bowdoin and decided to apply.
From Service to School
Hall transferred to Bowdoin this semester as a junior with the help of Service to School (S2S), a nonprofit that helps military veterans get a college education through a program called VetLink. "Helping Andrew find a home at Bowdoin College is why S2S exists," said chief operating officer Jim Selbe. "The admissions team at Bowdoin provided tremendous support to Service to School as we worked with Andrew to identify schools that were a great fit with a demonstrated commitment to supporting veterans," he added.
"Veteran voices have been a part of Bowdoin's history, and it's important to make sure they are part of the present and future, as well." Dean of Admissions Whitney Soule.
As well as promoting schools like Bowdoin to potential candidates, S2S also reaches out to those schools to highlight significant aspects of the applicant's military career, such as deployments, awards, special skills, and other achievements.
Bowdoin's Dean of Admissions Whitney Soule said: "In choosing a new class each year, we select students who demonstrate curiosity and motivation—students who are looking to use their Bowdoin education to leave the world better than they found it. Furthermore," she continued, "veteran voices have been a part of Bowdoin's history, and it's important to make sure they are part of the present and future, as well. The perspective and experiences of our veteran students add an important dimension to conversations both in and out of the classroom, and we're excited to welcome Andrew as our first matriculated veteran from the Service to School partnership."
Former E-3/(Airman) Andrew Hall, meanwhile, is enjoying life on campus even though classes are remote at the moment, and he hopes his biology major will lead to a career in the pharmaceutical industry. He also wants to study abroad for a semester. "I really like the collaborative atmosphere of studying at Bowdoin," he said. "At my previous college it seemed everyone was competing with each other to get a better grade, whereas at Bowdoin students work with each other."
Published November 10, 2020