Published November 07, 2018 by Rebecca Goldfine
Bowdoin Launches Effort to Recruit More Veterans
Every year thousands of women and men complete military service and bring their experience to bear on some new path in life. Many of these veterans pursue a college education—and Bowdoin's Admissions office would like to bring more of them here.
"We talk a lot about diversity in all forms, and veterans are a big segment of the population not represented on campus," said Associate Dean of Admissions Ryan Ricciardi. "It is a voice and piece of the population missing from the Bowdoin experience. These are men and women who have really approached the world from a different perspective."
Ricciardi, who graduated from Bowdoin in 2000, says her own undergraduate experience was deeply marked by having Wil Smith '00 as a peer. A Navy veteran who began his first year at Bowdoin at age 28, he attended college full time while raising his young daughter. "When you realize the sacrifices he was willing to make to make his education possible—because he thought it was the best path forward to make a good life for him and his daughter—it grounds the education and makes you realize its value," Ricciardi said.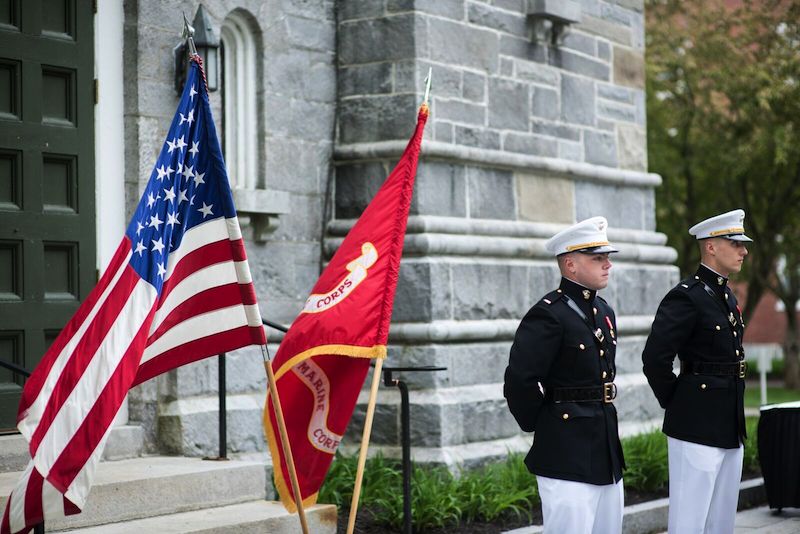 The Admissions office's efforts have received a boost from alumni organization Bowdoin Marine Corps Society, founded in 2014 by Jack Abbott '63, P'00, Gil Barndollar '04, and Gordon Linke '50. The group, which has 73 members, has raised about a quarter of a million dollars to set up a scholarship for veterans or the children of veterans, and to host an annual speaker on campus.
Abbott served in the marine corps from 1962 to 1965, returning to Bowdoin to graduate in 1966. He observed that what veterans could bring to Bowdoin might sound counterintuitive to some. "This is the important message: if you had been in combat, I can tell you, you would discourage war," he said.
Barndollar said that military veterans who also serve during peacetime have valuable perspectives shaped by "the responsibilities they chose to shoulder at a young age." They will have traveled the world, he continued, committing to jobs such as training Iraqi troops in trauma management, assisting with hurricane relief in Central America, or refueling planes on an aircraft in the Persian Gulf. "As Bowdoin students, veterans will benefit their classmates immeasurably by offering a perspective this is often missing at elite schools in our increasingly stratified society," he said.

In 2017, 94,737 veterans took advantage of federal educational aid for military members to attend undergraduate college. In that year, more than 3,000 veterans attended university or college in Maine, a number that includes graduate school, vocational school, and community college.

To put a small liberal arts college in Maine on the radar of veterans, Bowdoin is collaborating with organizations that help veterans pursue a higher education, such as Service to School. Whitney Soule, dean of admissions and student aid, said that the Service to School VetLink program will "significantly strengthen our ability at Bowdoin to serve the educational needs of veterans, to introduce them to a liberal arts education long dedicated to serving the common good, and to benefit from their knowledge, perspective, and experience."
Soule reflected, too, that the partnership "honors the legacy of Bowdoin graduates who have served and led in the military from the War of 1812 through today."
So far, recruitment efforts have been going well, according to Ricciardi. "We've had a steady stream of interest from and conversations with veterans working with Service to School," she said. Bowdoin admissions representatives are also headed to D.C. in November to attend a veterans' higher education conference, and a Marine Corps educational event at the Pentagon.
Back on campus, Bowdoin is also reviewing some student policies, such as housing and credit transfers, to accommodate older students who may come with family and some prior college education. Bowdoin will also be flexible when reservists are called to duty mid-term.
Yet, these are minor modifications to make for a school committed to serving the common good. "This is a population of people who have chosen to put their lives on the line to protect all that we hold dear," Ricciardi said.