Published October 12, 2022 by Bowdoin News
Bowdoin Teacher Scholar Matthew Bernstein '13 Named 2023 Maine Teacher of the Year
Matthew Bernstein '13, a humanities and social studies teacher at Casco Bay High School in Portland, has been named Maine's 2023 Teacher of the Year.
Bernstein, who had participated in the Bowdoin Teacher Scholars program, was presented the award October 11 at an assembly full of enthusiastic supporters including students, fellow teachers, and administrators.
 "I spent pretty much my entire adult life in this incredible school," said Bernstein in news coverage of the event. "When I come here, I see I genuinely feel like I'm home. Right now, I feel like I have family around."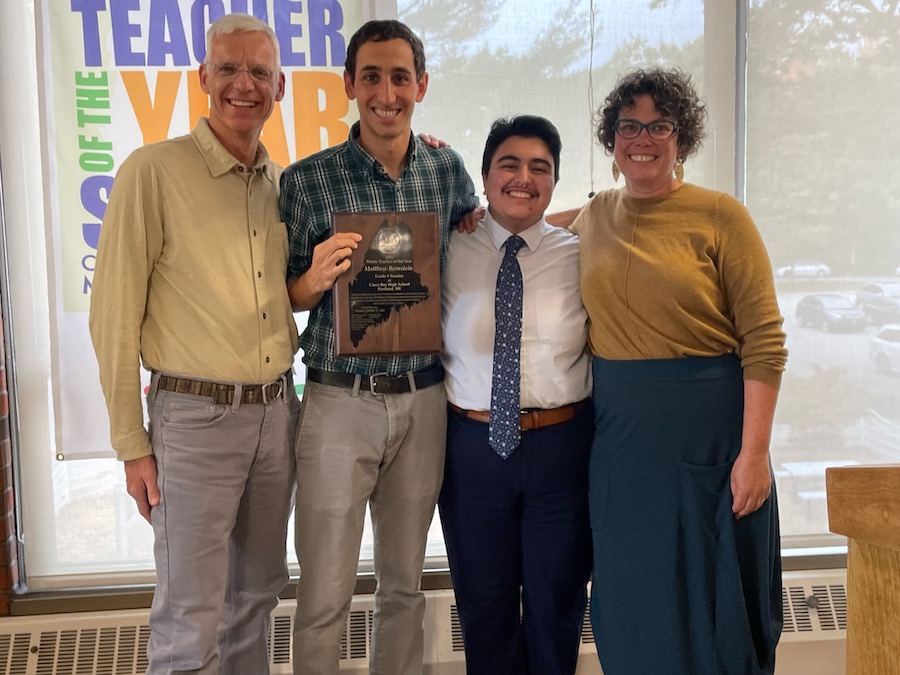 Part of that extended family comprised a strong Bowdoin showing, including Yusur Jasim '25, a former student of Bernstein at Casco Bay High School, who nominated him for the honor and spoke at the ceremony about Bernstein's support and how he inspired Jasim to apply to Bowdoin.
"[He] really changed my life," said Jasim. "I'm an education and history major. And I plan to be a social studies teacher just like him in a couple of years, hopefully."
Barry N. Wish Professor of Social Studies and chair of the Department of Education Charles Dorn, Assistant Professor of Education Alison Riley Miller, and Professor of Education Doris Santoro were also there to show their support.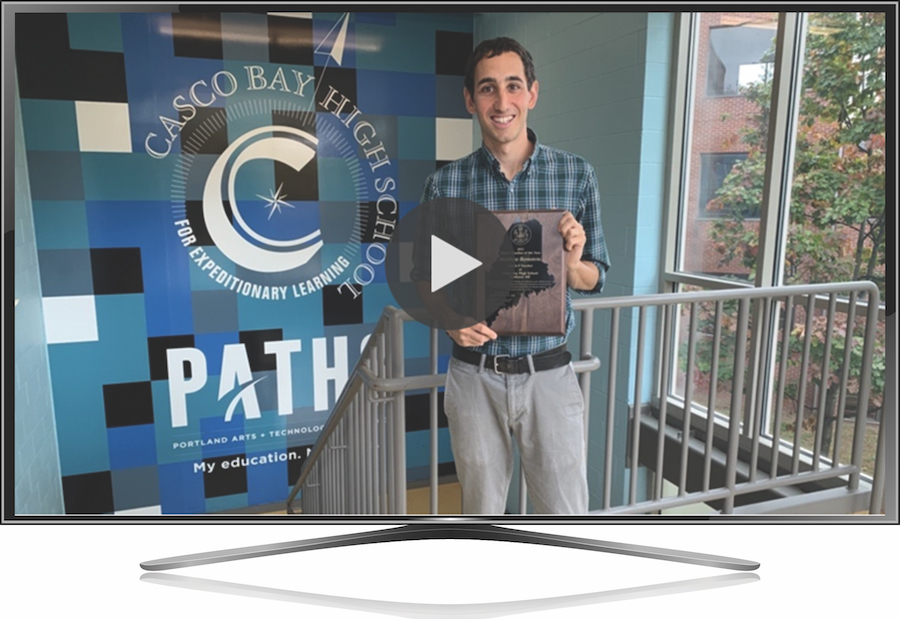 Bernstein is a member of the Portland Public Schools Social Studies Vertical Content Team, collaborating with teachers across the district and local experts to develop a Wabanaki studies curriculum. 
Bernstein was recently named a 2022 National Endowment for the Humanities Summer Scholar, participating in the seminar, "Teaching the Holocaust through Visual Culture," and in May was named Teacher of the Year for Cumberland County.
The Teacher of the Year Program is a year-long process that involves educator portfolio and resume submissions, interviews, oral presentations, and classroom visits made by a selection panel comprised of State Board of Education members, school administrators, Maine Department of Education staff, legacy Teachers of the Year, and other Maine business partners.
The Maine Teacher of the Year program is administered by Educate Maine, a business-led advocacy organization in partnership with the Maine Department of Education, the Maine State Board of Education, and the Maine County and State Teachers of the Year Association (MCSTOYA).