Published October 27, 2022 by Rebecca Goldfine
An Evening of Music and Conversation with Toshi Reagon and Maine Artists, Activists, Writers
Joseph McKeen Visiting Fellow Toshi Reagon
was in Brunswick last week in advance of the production of her opera
Parable of the Sower
next spring. Over two days, she met with artists and community organizers as well as performed her music.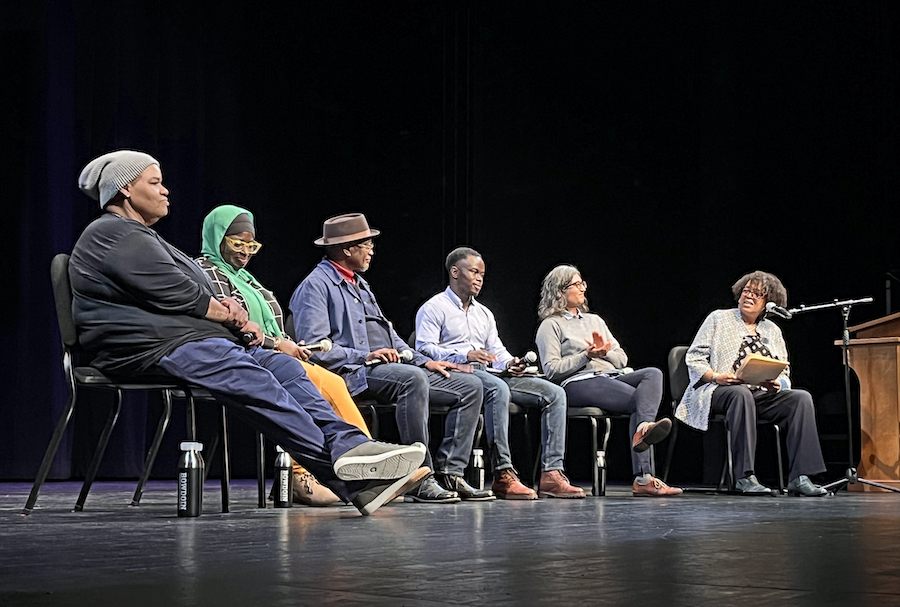 On a recent evening in Pickard Theater, Reagon appeared before an enthusiastic audience. Accompanied by just her guitar, she sang five songs before joining a panel of Maine artists, writers, and activists on stage to talk about art, dreams, and basic rights, among other topics.
People in attendance were rarely silent throughout Reagon's forty-five-minute performance, during which she urged spirited participation. The crowd answered her questions with a full-throated "Yeah!" (or "No!" depending on which was more positive) and joined her in singing. 
"Many parts of this song cry out for call and response," Reagon said at one point. "I won't tell you what they are; you will probably figure it out, because you're brilliant."
At the end of a particularly robust communal song, Reagon opened her arms wide and said, "This is a huge hug to every single person in here!" A woman in the audience air-hugged back.
The two days Reagon spent at Bowdoin and in Brunswick set the stage for the opera she created with her mother, Bernice Johnson Reagon, based on Octavia Butler's 1993 dystopian novel, Parable of the Sower. It will be presented by Indigo Arts Alliance and Portland Ovations in association with the College, and will be performed April 14, 2023, at Merrill Auditorium in Portland.
Judith Casselberry, who introduced Reagon on Wednesday night and also moderated the panel, described the opera as "a stunning libretto grounded in two hundred years of Black music." Casselberry is Bowdoin's Geoffrey Canada Associate Professor of Africana Studies and a musician.
As she opened the event, Casselberry stressed the relevance of Parable of the Sower to our lives today. She described the story as one that opens "in a world terribly similar to the one we live in now," with "climate disaster, scarcity of resources, and violence in all of its forms."
Reagon's vision is to bring Parable to communities across the country and use the text and opera as a starting point to discuss the challenges facing our world. As a part of what she calls the Parable Path, she collaborates with communities to bring these conversations to the forefront. She spent all day Thursday at the Curtis Memorial Library in Brunswick, meeting with community and arts organizations—and with artists—from around the state to discuss their involvement in Parable Path Maine.
Intermittently throughout her performance, Reagon also touched on some of Parable of the Sower's main ideas—environmental ruin, racial equality, and social justice. The novel features a fifteen-year-old empathic protagonist, Lauren Olamina, who alone recognizes the danger her gated community faces as civilization collapses outside of it. She prepares to move, and eventually does, going on a perilous journey that coincides with her developing a new theology based on change. "God is change," Reagon said, reciting Butler's lines. "All that you touch, you change. All that you change changes you; the only lasting truth is change."
Reagon urged the audience to consider dropping the illusion that we are separate from people around the world who are suffering, even while we are comfortable. "If we grew up in a culture that would let us be part of the entire planet instead of the specific space we're in, we'd say, 'These things are happening to us,'" she said. "If there is no water there, we would say 'we don't have water.'"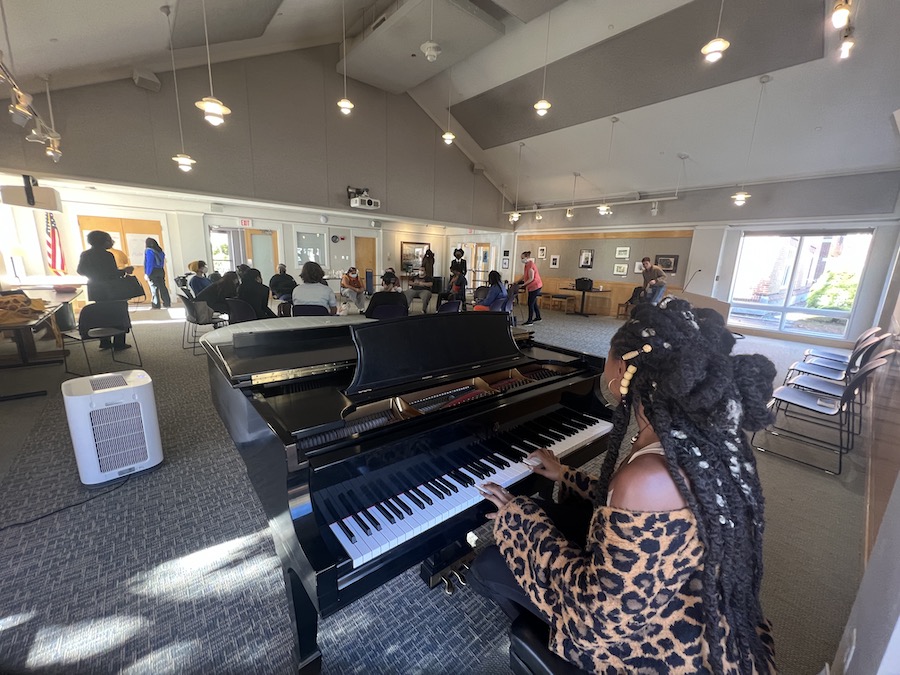 "So the most important, glorious, amazing, transformative, beautiful action to take is to understand that we are a part of the ecosystem, we are in it," she said. "It is not something over there, it is something inside of us."
Casselberry urged everyone in the audience to engage with Reagon's work and its message. "Why wait until we are in total collapse to act with urgency," she said. "Why not plant the seeds of this new belief system now? This is the 'Parable Path'...a powerful vehicle to help us move through horrific conditions, to catalyze connections and solutions, and to understand the transformative power of the arts."
The panel
After Reagon put away her guitar, Casselberry moderated the panel of five speakers: Reagon; Samaa Abdurraqib, executive director of Maine Humanities Council; Daniel Minter, cofounder and artist director of Indigo Arts Alliance; Ladi Nzeyimana '24; and Samia Rahimtoola, assistant professor of English at Bowdoin.
Casselberry asked questions that touched on the themes of Reagon's songs, "to follow Toshi's arc." 
"What is your dream? How do you think about dreaming in the context of the work you do?"
"What are our basic rights and what does that mean in the context of what you are doing?"
"How did you come to do what you are doing? Why do you feel like that was what you had to do?"
The answers were both personal and political. Below is a brief sampling:
Abdurraqib: "I dream that all people have what they need to survive and live. I dream about people coming together to talk about the things that make us human and make up our lives."
Rahimtoola: "Poetry is so often song. It is this slight thing, it is so ephemeral, it's not your 900-page book. There is something about that slightness that makes it an open space for dreaming."
Reagon: "I am grateful to my high school teacher who told me if something bad is happening in a dream, to turn around and face it."
Nzeyimana: "My dream is a world where youth voices are empowered."
Nzeyimana: "A basic right is for people to be seen."
Abdurraqib: "I wanted to stay in Maine, Maine is a beautiful place of healing. I felt committed to learning about this place and caring for this place. I felt connected to the people of Maine."
Minter: "My role [in my family] was always to listen and to interpret and to respect, and to do that in pictures or by making things. I only recently started to call myself an artist, because I did not believe that the definition of artist was the role I was trying to fit myself into. But I realized I can define it myself. So I am an artist."