Published July 20, 2022 by Bowdoin Magazine
Project '72: Olympians at Bowdoin
Inside a dusty box, a local man found gold—a treasure trove of photos from the ten days in the summer of 1972 when Whittier Field transformed into Olympus.
"We were in my wife's family home in Bath doing some tidying," recalls Todd Coffin, "when I found an old box tucked away on a bookshelf. Inside was this dusty stack of about twenty black-and-white photos of athletes, mostly runners." The athletes and the surroundings were familiar to Coffin, a Colby graduate and former distance runner.
"I realized these prints might be a big deal when I came across a signed photo of legendary long-distance runner Steve Prefontaine and the setting was clearly the Bowdoin campus." There were many other familiar faces too: gold medal winners like marathoner Frank Shorter H'16, middle-distance specialist Dave Wottle, sprinter Eddie Hart, and the legendary decathlete Bruce (now Caitlyn) Jenner.
The photos had been given to Coffin's father-in-law, the late Bud Caverly '56. No one in Coffin's extended family knew where the photos—which were clearly the work of a professional—came from or who took them, but everyone was familiar with the occasion. In July 1972, most of the US men's Olympic track team held a training camp on the Bowdoin campus just before heading to the Munich Olympics. Three Bowdoin community members were instrumental in making it happen.
"Bowdoin's head physician, Dr. Dan Hanley '39, was the US Olympic Team's chief doctor at the time," explained Coffin. "Bowdoin head track coach Frank Sabasteanski '41 coached the US national team in the late '60s," and Frank's wife, Barbara, had been the US Olympic team nurse in three previous Games.
Coffin knew the images should be seen by others, and he began research to find additional photos of the historic visit. Thanks to Steve Podgajny, former director of the Portland Public Library (and a notable distance runner himself), Coffin gained access to dozens of photos, unseen for decades, from the Portland Press Herald archives, housed at the Portland library.
This summer, Coffin hopes to publish his retrospective, Olympians in Vacationland, to coincide with the fiftieth anniversary of the Munich Olympics. The Munich Games have special meaning because of the infamous Palestinian terrorist attack that killed eleven Israeli athletes. The Games continued in spite of the terror and in deference to the sacrifice of the athletes.
"We have to spread the word by our performance that barbarism only makes Olympians stronger," said Shorter, who went on to win gold in the men's marathon, one of thirty-three awarded to the US Team in the summer of 1972.
For additional photos and background, see When the Olympians Came to Campus »
---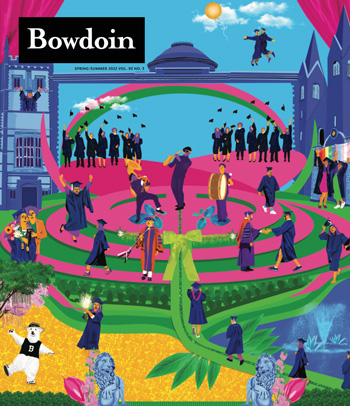 This recipe first appeared in the Spring/Summer '22 issue of Bowdoin Magazine. Manage your subscription and see other stories from the magazine on the Bowdoin Magazine website.