Mellon Mays Fellows Have 'Absolutely Phenomenal' Summer
Published by Rebecca Goldfine
Six Bowdoin juniors—plus four Smith College students, plus five students from the University of the Witwatersrand in Johannesburg, South Africa—worked together with mentors and faculty this summer to launch ambitious research projects.
This year was the thirtieth anniversary of the Mellon Mays Undergraduate Fellowship (MMUF) Program at Bowdoin. The research program, which supports promising young scholars in the humanities and social sciences, was launched on campus in 1992 with funding from the Mellon Foundation to increase diversity in academia.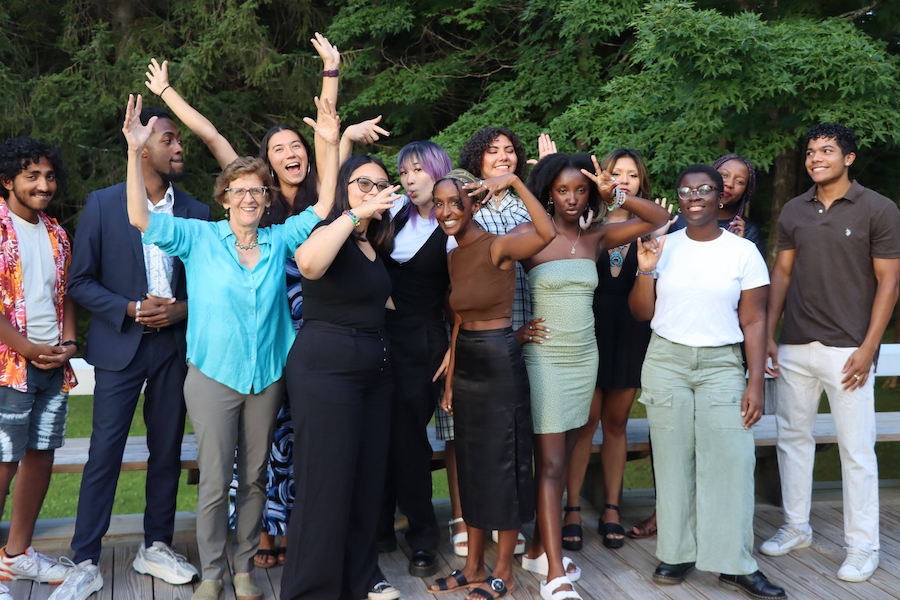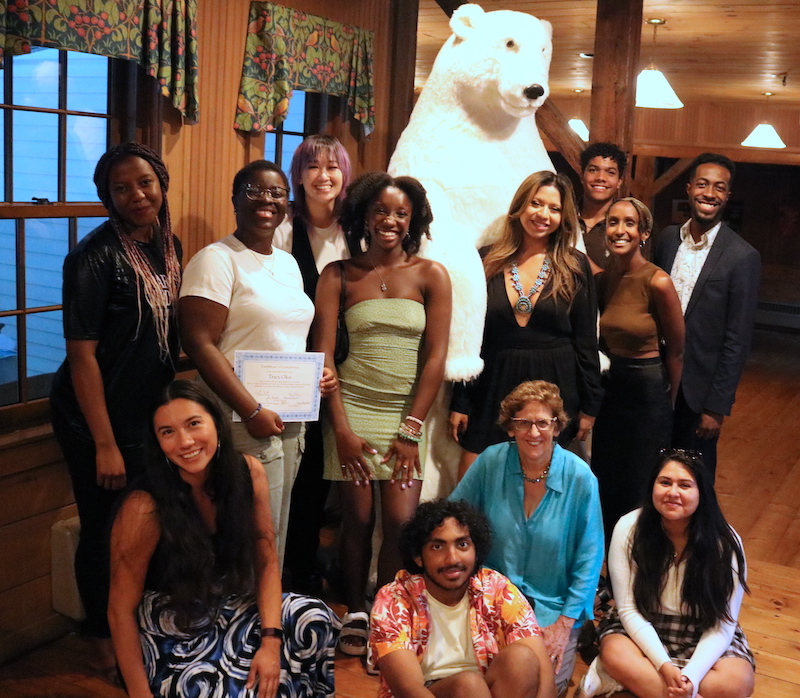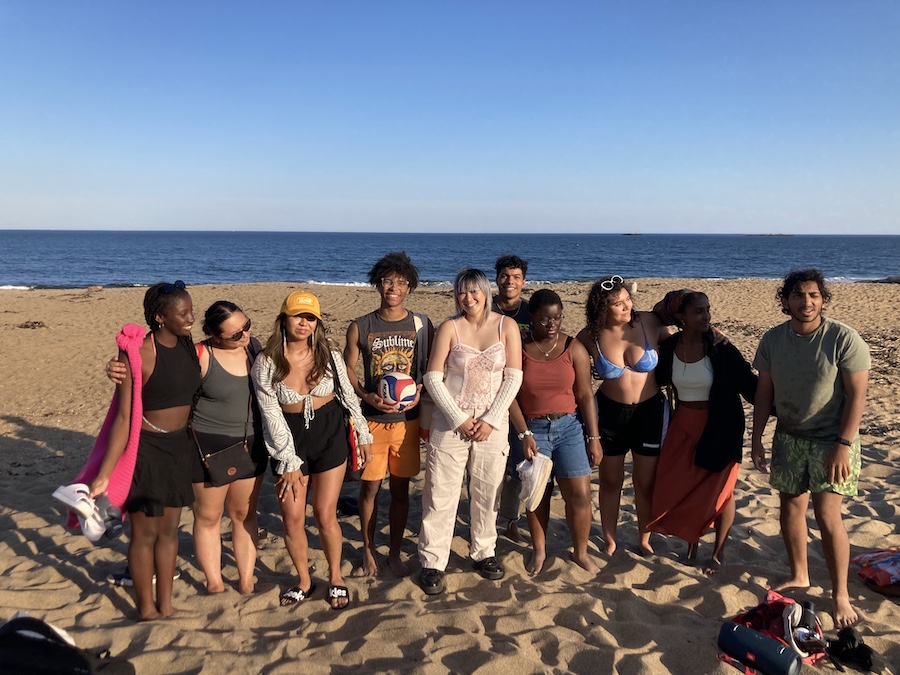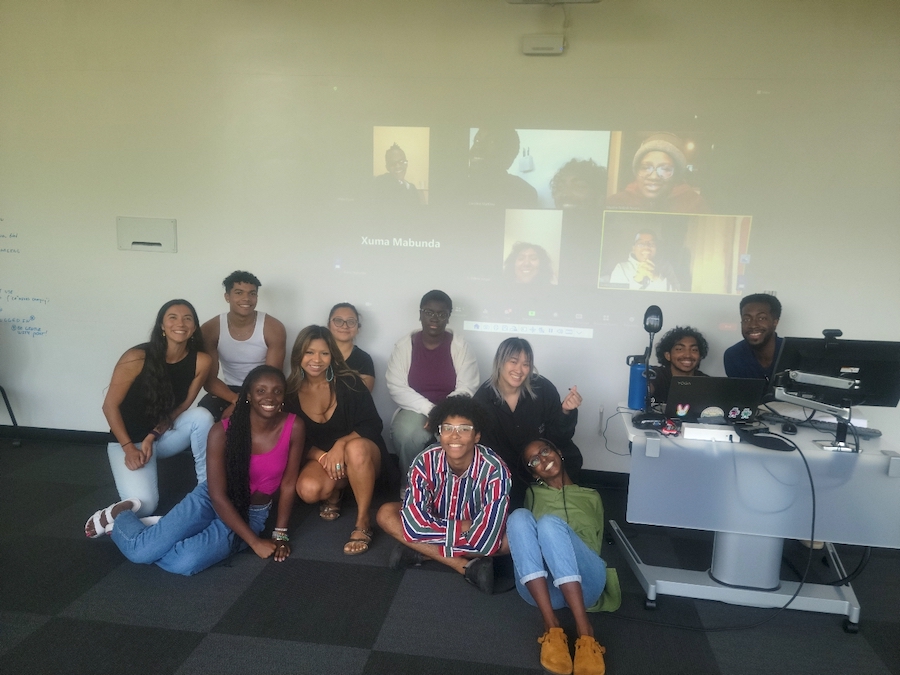 This summer, with the Smith and Bowdoin students in person and Witwatersrand students joining online, the fifteen fellows each produced an "outstanding project" across the fields of anthropology, dance, English, government, history, and more, according to director Elizabeth Muther. 
"The MMUF students are so brilliant and supportive of each other—and skilled in bringing ideas into focus and presenting them with power. Their research projects this summer were absolutely phenomenal," she said.
The staff—two instructors and two program assistants—were all former Bowdoin Mellon Mays fellows. Speaking about the instructors and assistants collectively—including past instructors like Golden Owens '15 and Kris Klein Hernandez '12—Muther described the group as "just over the top. They are such inspiration for our students." 
Krista Van Vleet, Anthropology
Jay Sosa, Gender, Sexuality, and Women's Studies
Lindsay Livingston, Theater and Dance
Hilary Thompson, English
Belinda Kong, English
Fernando Nascimento, Digital and Computational Studies
Steph McIsaac, Anthropology
Ericka Albaugh, Government and Legal Studies
Irina Popescu, Latin American, Caribbean, and Latinx Studies
Page Herrlinger, History
Barbara Elias, Government and Legal Studies
Guy Mark Foster, English
Brian Purnell, Africana Studies
Many Bowdoin faculty agree to mentor Mellon Mays students over the summer, volunteering extra hours to help guide their research. "Dozens of faculty members have supported this program and participated over the years," Muther said, noting that Bowdoin faculty also mentor the Wits and Smith students.
Over the past five weeks, Lead Program Instructor Faith Macharia '17 and Program Instructor Caroline Martinez '16 taught two courses—Research Seminar and a class called Interrogating the Academy, which explores what it means to be transformed by and to transform the academy as a student, particularly a student of color. 
Martinez is a PhD sociology candidate at the University of California–Irvine. Macharia is a PhD candidate in anthropology and African American studies at Yale University. Program Assistant Osa Fasehun '18 completed a master's degree at the University of Chicago, and will be applying for PhD programs next year, and Resident Assistant Danielle Quezada '22 graduated from Bowdoin this May and will be going to Spain on a teaching Fulbright Fellowship this fall.
Over the course of the program, each student develops an original research project, which for many will evolve into a senior-year honors thesis or independent study, and is meant to be a stepping-stone to graduate school.
"Bowdoin is honored to be part of the extraordinary network of MMUF schools that has produced more than 1,000 PhDs since the Mellon foundation initiated the program in 1988," Muther said.
Some of this year's student participants said it was exhilarating to be surrounded with intellectually enthusiastic and committed peers. "It was nice living with a group pf people who are passionate about many things," Ahmad Abdulwadood '24 said. "Their work was imaginative and original."
Marcus Gadsden '24 also commented on the strength of the friendships he formed. "Being in the cohort was the best part," he said, adding that he also loved pursuing intensive research in a beautiful, peaceful place—Brunswick in the summer.
When asked what their favorite aspect of the summer was, Kami Atcitty '24 and Liat Tesfazgi '24 answered, "the people" and "the cohort."
"I'm glad we got to do this as a team," Tesfazgi went on. "It's fulfilling to do academic work on a subject I care about" with, she added with a smile, a "nerd corps." Then she said, "a nerd corps that looks like you and who is having a similar experience as you in college. I cherish that."
"For many of us, the faculty nominations for Mellon Mays and mentorship was the first time we have ever truly been acknowledged. Acknowledged not in the sense of our academic labor, but in the value of our beliefs, our passion, and our identities. We were acknowledged as scholars, a title that many [of us, particularly first-generation students] struggle to embrace."
—2022 Mellon fellow Salma Vargas, Smith College
Student projects
The students presented their research prospectuses at a colloquium at the end of the five-week program.
Kami Atcitty '24, Bowdoin: "Reclaiming Stories and Perspectives of Diné Dances Through a Reframed Anthropological Lens"
Dylan Richmond '24, Bowdoin: "breaking, expressing, and creating language: the e/motion/al magic of ntozake shange's choreopoem"
Karla Lainez '24, Bowdoin: "Fighting Gender-Based Violence: Performance, Visual Art, and Oral History as Activism in Latin America"
Liat Tesfazgi '24, Bowdoin: "Complicating Ethiopian Nationalism and Historiography (1935-1991)"
Marcus Gadsden '24, Bowdoin: "Justice or Death: Racial Bias within Capital Punishment"
Ahmad Abdulwadood '24, Bowdoin: "Mediating Radical Politics with the Constitution: Organizing Community Resistance"
Penelope Phan, Smith: "The Effects of Post-War Memory on the Mental Health of Queer Vietnamese Americans"
Tracy Okai, Smith: "Sense of Belonging for East African Students in 21st Century Norway"

Sena Amuzu, Smith: "Blackness a Boundless Medium: A Sociohistorical Interrogation of Blackness Within the Museum and Its Relation to Notions of 'The Body'"
Salma Vargas, Smith: "The Politics of Subjectivity: Melancholia vs. Mourning in Neoslave Narratives"
Senkhu Mufamadi, Witwatersrand: "Social and Cultural Understandings of Gallbladder Cancer in Mindalore, Krugersdorp"
Maxine Nyoni, Witwatersrand: "What Now? An Analysis of Post-industrialism in Springs, Johannesburg"
Xuma Mabunda, Witwatersrand: "The Socio-cultural Consequences of Migration in Southern and Eastern Africa"
Ziyaad Moola, Witwatersrand: "Hypocrisy: A Closer Look into US Foreign Policy"
Hlela Dyasi, Witwatersrand: "Queering Apartheid: An Intersectional Critique of the Struggle"
Where are they now? Updates on a few recent Bowdoin Mellon alumni (including two current students):
George Aumoithe '11, Harvard University: Assistant Professor of History and African and African American Studies
Kris Klein Herndandez '12, Connecticut College: Assistant Professor of History
Teona Williams '12, Rutgers University: Assistant Professor of Black Geographies
Isaiah Bolden '15, Georgia Tech: Assistant Professor at the School of Earth and Atmospheric Sciences
Golden Owens '15: 2022 Ford Foundation Fellow and PhD candidate at Northwestern University
Adaiah Hudgins-Lopez '18, Cambridge University: Gates Scholar, entering a PhD program in social anthropology
Elijah Koblan-Huberson '20, University of Virginia: Entering a PhD program in French

Ellen Gyasi '20, Teachers College, Columbia University: entering an MA program in anthropology and education 
Colby Santana '23, Kyrgyzstan: US Department of State Critical Language Scholarship (to study Russian)

Shandiin Largo '23, Tbilisi, Georgia: SRAS program (to study Russian)

Read about more Bowdoin Mellon Mays alumni.