Published May 10, 2022 by Rebecca Goldfine
Adaiah Hudgins-Lopez '18 Receives Second Gates Cambridge Scholarship
A year ago, Adaiah Hudgins-Lopez was awarded
a Gates Cambridge Scholarship
to study for a master's degree in social anthropology at University of Cambridge. Recently, she learned she would receive a second scholarship to pursue a doctorate in social anthropology there.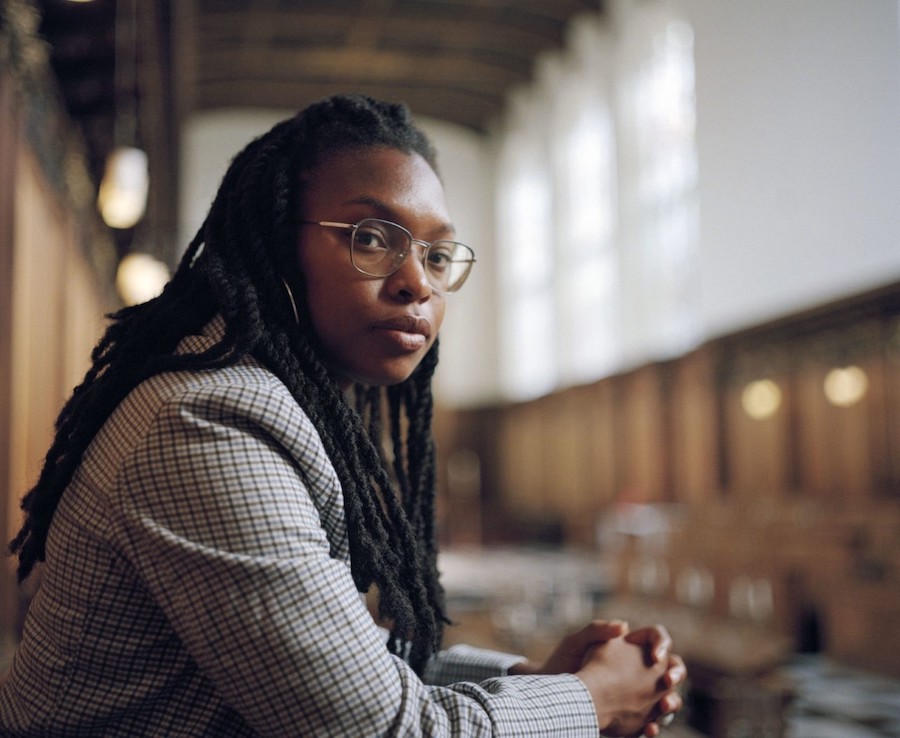 Starting in the fall, she will build on her master of philosophy degree and conduct PhD research on the relationship between legal systems and immigrant communities in Detroit, Michigan, and Windsor, Ontario.
"By researching immigration law, legal consciousness, and how undocumented immigrants form collective identity, I hope to elevate immigrant voices and promote the autonomy of immigrant communities," she wrote on her Gates Cambridge page.
In a recent interview, she described her current MPhil research: "I am trying to think how the legal landscape of immigration has shifted over time and am trying to answer an even larger question by looking at the law's treatment of undocumented people: How does the law attribute personhood?" She is answering this question "by diving into the histories" of the two cities that share an international border.
Her PhD research, which continues this initial work, "focuses more on how undocumented Latinos in the Detroit-Windsor transborder region build community and community-identity while considering how encounters with immigration law and their evolving legal consciousness shapes this."
At Bowdoin, Hudgins-Lopez participated in the Mellon Mays Undergraduate Fellowship program, which she said fueled her love of research, and maybe even more importantly "gave [her] the space to struggle and the tools to climb out of the pit!" 
"It was the first time I asked a question and the program administrators were like, 'Cool, run with it, have fun with it," Hudgins-Lopez said. "You take your initial question, figure out how to answer it, and you're supposed to flop and reframe your question. I started my research in English, then moved to anthropology. Even having that carved-out time to do research junior and senior year was important."
She is also grateful to her Mellon Mays and independent study advisor, Professor of Anthropology Sara Dickey. "She has been a huge figure for me in accessing anthropology," Hudgins-Lopez said. "She has been massively supportive, and I have learned from her academically and personally."
She first became interested in the topic when, in 2019, she worked with immigrants in Detroit—her home city. "I heard the stories of people—a lot of stories were hopeful, dreams of what they would do when they obtained legal status. I was curious how the law could be both restrictive and also could help them achieve their goals."
She's excited to spend the next three to four years in Cambridge while she pursues her doctorate. "It's exactly how you would imagine a quintessential English town, sprawling over the countryside, with lots of green space," she said. "The city is beautiful, and you know you are walking among history. There are echoes of the past everywhere." 
The Gates Cambridge Scholarship provides outstanding students from outside the UK with tuition remission and an annual stipend (currently £18,000) for graduate studies at the University of Cambridge. It also provides funds for travel to and from the UK and covers all fees related to acquiring a UK visa. The scholarship also covers extra expenses like travel to conferences or assistance with technology.
Since starting her master's degree in 2021, Hudgins-Lopez has taken anthropology classes on kinship, economics, politics, and religion, as well as a course called development, poverty, and social justice.
It's been valuable to study her subject outside of the US, she said. "The anthropology canon in the UK is very different than in the US, and it has a different orientation toward immigration." For instance, she's read more scholars who study the Middle East, Europe, and Asia.
After earning her PhD, Hudgins-Lopez is considering a few different paths. She's contemplating pursuing another degree—in law or policy—or she'll become a researcher and teach anthropology as an academic. She is also interested in exploring how she can incorporate public-facing anthropology into her career. One thing she is certain about: she wants to elevate the voices of people who exist and navigate life in the silences and gaps in public discourses.
"I really don't think that academia and service work have to be in tension with one another," she said. "I think there is a way to do both and to do both well. ...What I want to do is uplift the stories of the people we don't hear. I am asking these questions and trying to untangle these legal webs because I want to make it legible for other people and get them where they want to be."