Published July 20, 2018 by Rebecca Goldfine
Mellon Graduates Return to Bowdoin to 'Pay it Forward'
For four summers, Kris Klein Hernandez '12 has returned to Bowdoin to teach students in a unique academic program, the Mellon Mays Undergraduate Fellowship Program, which is designed to increase faculty diversity in higher education. Joining him this summer and in 2016 was Golden Owens '15.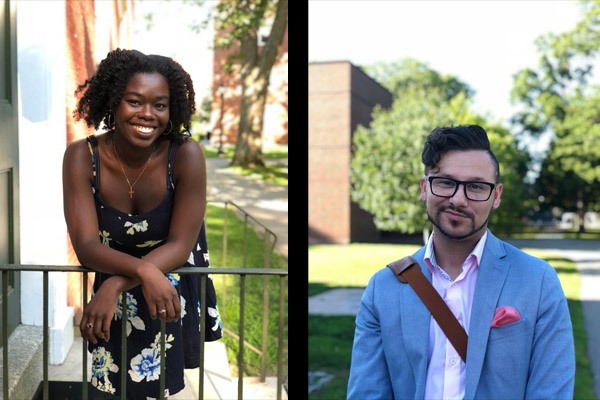 As the program's two current faculty members, Owens and Klein Hernandez not only help students launch ambitious undergraduate research projects, but also prepare them to succeed as graduate students and tenured professors one day.
The two make for good research mentors because they are doing it themselves: both are in the midst of earning doctoral degrees. Klein Hernandez is in his fifth year at the University of Michigan's American studies program. Owens is in the second year of Northwestern University's Screen Cultures program in the School of Communication.
Yet they make the time to spend at least a month at Bowdoin, summer after summer. Their commitment stems in part because they were once Mellon fellows themselves, when they were Bowdoin students. The Andrew W. Mellon Foundation established its international Mellon Mays Undergraduate Fellowship Program in 1988 to expand minority faculty in higher education. Bowdoin set up a Mellon Mays program on its campus in 1992.
"There is a sense of paying it forward," Klein Hernandez said, explaining his loyalty. He credits the program for helping him get the most out of his Bowdoin education, "because Mellon gave me a voice to speak up in class." His GPA jumped significantly from his first year to his senior year.
Owens said her commitment comes from her belief in "the power of what the program can do." She continued, "It is built and designed to ensure these students come away with a sense of their academic selves and what they can accomplish."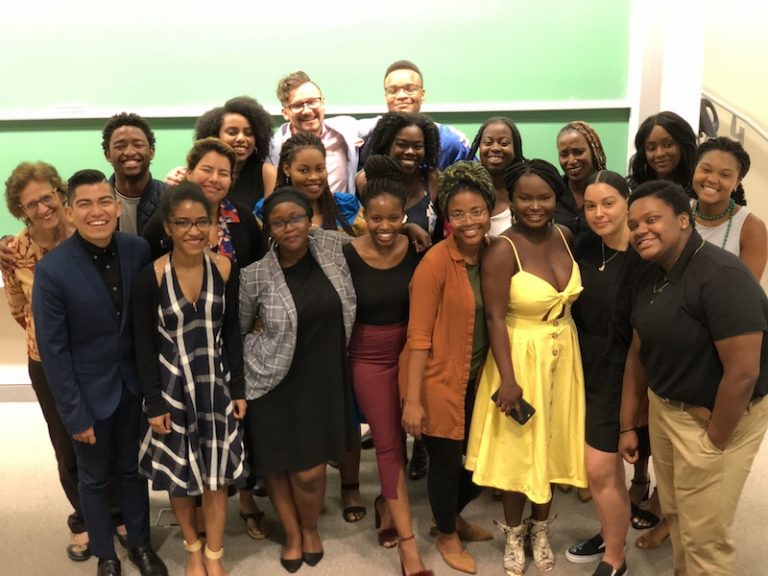 Bowdoin students with demonstrated academic ability and an aspiration to pursue a doctoral degree in selected humanities, social sciences, and physical sciences are eligible to apply for the Mellon Mays program their sophomore year. Once accepted, they participate in an intense summer program during which they build the foundation of a scholarly project that often culminates in a senior-year honors thesis.
Indeed, in some cases, these projects stretch beyond college, evolving into graduate dissertations. When she was at Bowdoin, Owens investigated the representation of black women on reality TV, dissecting two shows' presentations of characters' images, identities, and authenticity. Today, at Northwestern, she is deepening her inquiry into the portrayal of black women on television.
"The longer I have been embarking on this academic journey, the more I realize how helpful it has been to me," Owens said. "Mellon Mays taught me how to do academic research, how to refine and shape my research, and how to articulate my thoughts and interests."
As a Bowdoin senior, Klein Hernandez wrote his honors thesis on the "immigrant narrative" in the TV show Ugly Betty. As a doctoral candidate, Klein Hernandez is writing about borderland conflicts during the sixty-six years following the 1848 Treaty of Guadalupe Hidalgo, which gave two-thirds of Mexican land to the U.S. In the next 60-odd years, the U.S. built 100 military bases along the new border.
"My dissertation is looking at moments in which various borderlands communities, many of which were ethnically and racially diverse, utilized similar behaviors they observed from the state to operate as collaborators, interlocutors, and intermediaries in their own communities," Klein Hernandez said, "to emphasize how border folks living the region cannot be measured by or may not have been bound solely by their citizenship and national origin. As my dissertation unveils, these residents and their alliances to the nation-state were not in concert with their social or economic interests. Therefore, these communities and individuals acted, at times, in manners that were contradictory to the welfare of their own communities or states."
As Bowdoin Mellon Mays' faculty, Klein Hernandez and Owens teach courses and run research clinics and writing workshops. Owens teaches a class called Interrogating the Academy, to "demystify the academy," she said. It covers issues of history, access, and what students might expect when they enter graduate programs. Klein Hernandez teaches a seminar on research methodology and writing.
They both acknowledge that they, like other students, are considered by the Mellon Foundation to be lifelong Mellon fellows, as the program continues to support its students through their academic careers.
Owens said, "It is so rewarding to have the opportunity to come back to Bowdoin and work closely with these students, and to give back to the program that has given so much to me."