Published July 20, 2022 by Bowdoin Magazine
Eyes of the World
Mariya Ilyas '13 had her sights set on a completely different career before finding her calling with the US Foreign Service.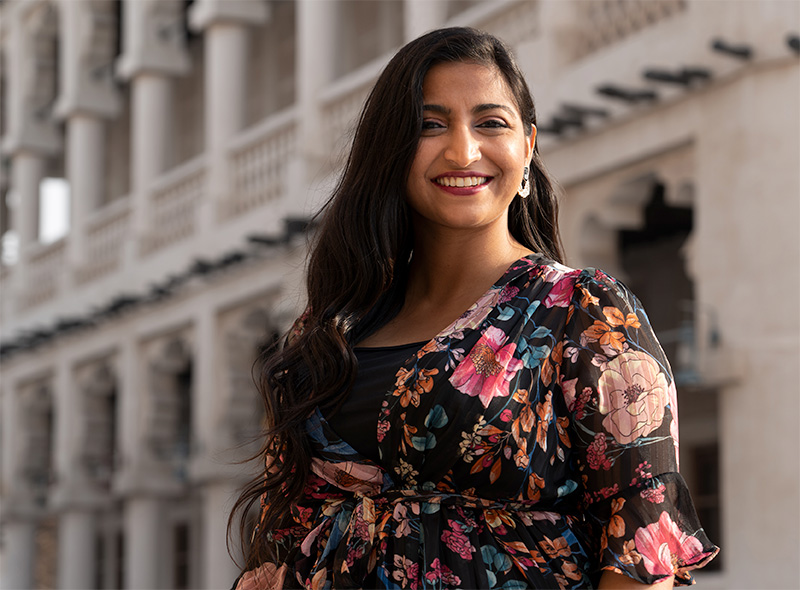 Can you tell us a little about your professional path?
After graduating from Bowdoin in 2013, I pursued a job in the corporate sector as a product analyst for a big insurance company in Boston. There, I sharpened my analytical skills but did not feel I was impacting people's lives in a meaningful way. Bowdoin had instilled in me the value of the common good and I wanted to work in public service, so I reconnected with Bowdoin's fellowships and career offices to explore my options. I applied for a Fulbright Scholarship, a Thomas R. Pickering Foreign Affairs Fellowship, and to a top graduate school for international affairs. I was surprised and humbled when I was selected for all three opportunities! My year teaching English in Turkey was an extended version of the semester abroad I never had as a college student, and it cemented my desire to pursue a career in international affairs. After completing a master's at the Fletcher School of Law and Diplomacy in Boston and taking all the necessary US Foreign Service entrance examinations, I joined the US Department of State as a diplomat in fall 2018.
What interests, experiences, and inspirations have guided you along the way? 
I am serving my nation because it has given me a voice, an aspiration, and opportunities. I was eight years old when my family and I immigrated to the US from Pakistan to the Washington, DC, area, where I grew up. That moment in time profoundly changed the trajectory of my life: from being a young girl growing up in a small village expected to be a housewife to becoming an educated woman with the ability to chart my own future. My interest in writing, initially spurred through high school journalism, allowed me to tell stories and understand my world using words. My experiences of attending public schools, growing up Muslim in the nation's capital, and attaining a liberal arts education have given me a unique appreciation for diversity, service, and identity. My father, who took a leap of faith to uproot himself and start a new life in America; my teachers and friends, who have supported my development as a human being; and my travels in foreign lands connecting with others in different languages have inspired me to lead a life of mercy and optimism.
What are you most proud of?
I am proud of being a teacher. I taught math, Spanish, and writing to my younger siblings. I tutored my peers in calculus. I taught journalism and blogging to Pakistani youth and English to Turkish high school students. I like when others feel empowered. 
When you think back to your arrival at Bowdoin (as a teenager!), what were you passionate about then?
When I visited Bowdoin through the Experience Weekend for accepted students in April 2009, I knew nothing about this small liberal arts institution or Maine. Up until that point in my life, the farthest I had traveled from home was New York City on a family trip. Something about Bowdoin's charm and air told me it was the right place for me. When I arrived in Brunswick, I was passionate about math and law because I wanted to become an astronaut or a lawyer. I ended up majoring in math and minoring in government studies, but my coursework in sociology, religion, acting, and forensic science gave me new lenses to understand the world and the human spirit. My involvement through the McKeen Center for the Common Good further taught me the irony of service as a selfish act—that creating a better world for others inherently meant a better world for us all. After working in the private sector, teaching overseas, and returning to academia for a master's, I realized my true passion was connecting with people and telling their stories. I feel lucky that in my current profession as a diplomat I can be an "astronaut" who travels to unfamiliar, faraway places and a "lawyer" who analyzes information and advocates for what is right.
What role has Bowdoin played in your life?
Bowdoin has played a significant role in my life. It is the place where I found and accepted my identity, gained an appreciation for nature and art, and was able to evaluate my past with a critical eye. I had many formative experiences at Bowdoin that contributed to my coming of age. Bowdoin opened many doors of opportunities for me and, as a proud alumna, I try to pay it forward to future Polar Bears.   
What would you want people to know about you that you believe they might find enlightening, motivating, refreshing, or even joyful?
When I was in elementary school, I dabbled in the violin and the clarinet. I was not good at either and my parents were relieved when I gave up on the instruments. During junior year of college, I spontaneously decided to take part in the Middle Eastern Ensemble—it was a complete gamble as I knew I had zero musical ability. Much to my surprise, the concertmaster commended my rhythmic abilities and assigned me to play the riq, a type of tambourine with jingles and a translucent head used in traditional Arabic music. Our semester-long practices culminated in a concert at Studzinski Hall—my first stage performance ever!
This was a profound experience for me because a professional musician took a chance on me, trained me, and brought out a talent in me that I did not know I had. Now that I live in the Middle East, I want to learn more traditional instruments. Playing folk or classical music connects me to the past, and the rhythms of life deepen my spirituality.
---
Mariya Ilyas '13 is currently stationed with the US Department of State as vice consul at the US Embassy in Doha, the capital of Qatar. 
---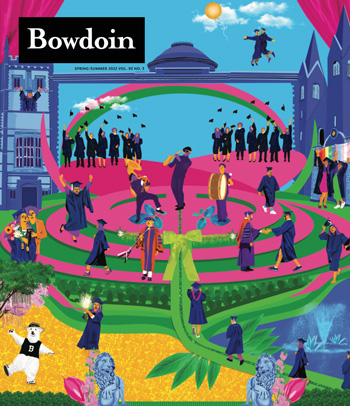 This story first appeared in the Spring/Summer '22 issue of Bowdoin Magazine. Manage your subscription and see other stories from the magazine on the Bowdoin Magazine website.