Published July 20, 2022 by Emily Cohen '20 for Bowdoin Magazine
Book Club
At the beginning of the pandemic, Emily Cohen '20 and a group of classmates started a virtual book club simply to stay in touch. In the end, they were surprised where it took them.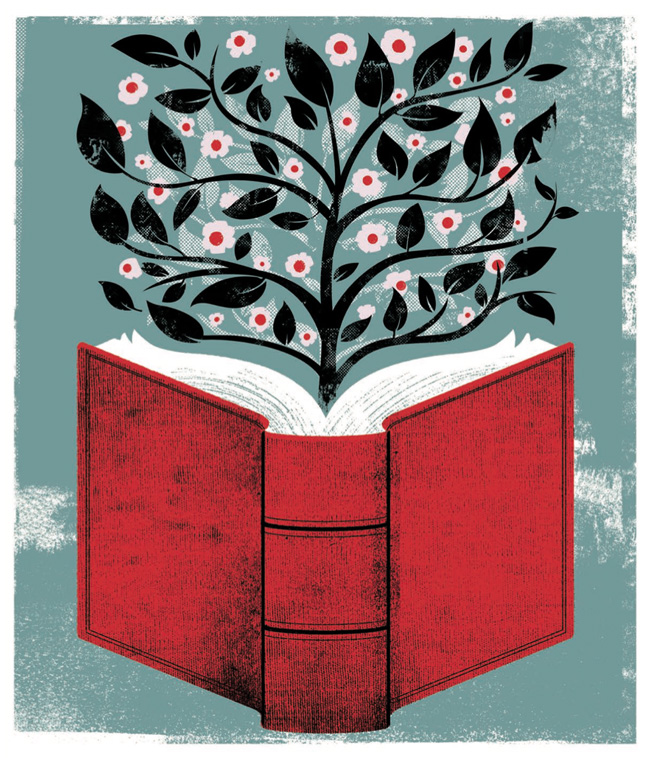 Almost exactly two years ago, I graduated from college. I sat in my childhood home and watched my name scroll past with my classmates', the cast of the cursed Class of 2020. A friend of mine glibly compared the ceremony—the list of our names and a montage of pictures—to an "in memoriam" segment of an awards show. It's not that I'm still bitter about the virtual commencement, or even about just getting my diploma in the mail. Looking back on it now, two years into the pandemic that changed everything, it was the best Bowdoin could do for a while. But we didn't know that yet.
It felt silly and surreal to end my time in college in such an anticlimactic way. I Zoomed with my friends afterward and we commiserated about it, but also reminisced and gossiped and laughed for hours, as we would have if we'd graduated in person. We did a lot of that back then: simulating face-to-face gatherings and interactions to stay in touch and, more fundamentally, to give us something to do.
Like many people, one way we did this was through the formation of a virtual book club. Ours had its first meeting in August 2020; we read The Outsiders by S. E. Hinton, taking inspiration from the bookshelves filled with paperbacks we hadn't touched since middle school. At first there were only a handful of us, but after the first successful meeting we extended the invitation to about a dozen of our classmates. We weren't all friends, necessarily, though we all had Bowdoin in common as well as a desire to replicate some sense of community that we'd been missing those last few months.
Not that I had been part of a book club before then. I'd have been hard-pressed, in fact, to name the last book I had read for fun, meaning not for school. It had probably been something I read while on vacation, liberated from the papers and tests and Blackboard discussion posts that had for four years dictated what, when, why, and how much I read. More than that, I'm a nerd who enjoys school and I'd insisted I was reading "for fun."
But then I picked up The Outsiders again and was transported to the gang-riddled streets of a 1960s Tulsa, Oklahoma, evoked so profoundly by its teenage author. Next, we went to colonial West Africa in Yaa Gyasi's sprawling Homegoing, following the story to antebellum Baltimore to Reconstruction Birmingham to revolutionary and independent Ghana and back again to modern day. After that, we went to a dozen distinct scientifically advanced worlds in Exhalation: Stories by the inimitable Ted Chiang. It wasn't always fun, but I was reminded, for the first time in a while, of the unique ability of literature to engross and move, emotionally and seemingly physically, too.
As a collective, Book Club was keenly aware of distance and location. Our members at one point spanned ten time zones, from Alaska to Kenya. I was in Austria, teaching English somewhere in the space between lockdowns with Microsoft Teams meetings and masked classrooms with the windows open. Like many people during that first dark pandemic winter, I was lonely much of the time, and I was probably a bit depressed too. I filled my time by cooking, going for walks. I watched all of The Good Place, The O.C., and New Girl—that one twice.
And, thanks to Book Club, I read a lot more than I had in years. Finding times to meet that worked for all of us was no small feat, and we didn't always succeed. But when we did, our discussions flourished, taking up space, sometimes upwards of two hours, because of our enthusiasm, and because what else did we have to do?
Those Zoom calls connected me not only to my friends but to my home as well. I have never felt more American than I do in Austria, in a job where I'm often asked to share my perspective as an American on some uniquely American issues and current events, like mass shootings and the January 6th insurrection. But I always felt like I was talking about these things with people who didn't get it, who could never get it, not fully.
Intentionally or not, we talked a lot about America in Book Club. In our discussion after reading Tayari Jones's An American Marriage, we disagreed about loyalty in the face of grave injustice. We read Jhumpa Lahiri's The Namesake and wondered how the experiences of first- and second-generation Americans have changed over time, with three of our members being second-generation themselves. We debated the merits of J. D. Vance's Hillbilly Elegy. Maybe I was seeking to understand my home better now that I was asked to explain it. Maybe I was just homesick.
I returned to the US over the summer, in part so I could attend the celebration for the Class of 2020 that Bowdoin held for us in August. In Book Club we talked excitedly about seeing each other in person; it would be the first time in over a year for some of us. The weekend was busy and overwhelming and fun—and sufficient. By the end I felt ready to move on from Bowdoin. I hadn't realized before that I wasn't.
Book Club fizzled out, our group chat growing more and more dormant as people got busier, started new jobs, and moved to new cities. Back in Austria, I moved into a new apartment and started work again. In a more open phase of the pandemic, I had less free time, less time to read. It was sad, but not surprising. Book Club couldn't last forever; this we knew from the outset. Indeed, in the first email inviting people to join our virtual meetings we called the club the "Fall 2020 Book Club." Some things last longer than we expect them to.
But, I missed Book Club. More than the incentive to read again, more than the quasi-intellectual stimulation, I missed my friends. And more than the ability to access dozens of places beyond my own, occasionally bleak, one, I missed my home. It was then that I realized that my friends and my home were one and the same.
A few weeks ago I opened up the Book Club group chat for the first time in months and started to type. "Hey, friends, it's been a minute..."


---

Emily Cohen '20 is a writer and English teacher in Vienna, Austria.


---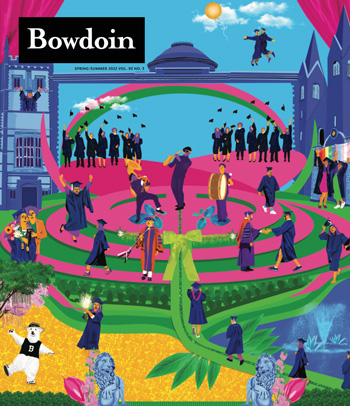 This story first appeared in the Spring/Summer '22 issue of Bowdoin Magazine. Manage your subscription and see other stories from the magazine on the Bowdoin Magazine website.