Published July 20, 2022 by Bowdoin Magazine
Axe Master
Mark Mirasol '10, a professional axe thrower and 2021 big axe world champion, holds the imposing title of "Axe Master" at the Lazy Axe indoor throwing facility in Albany, New York, that he owns and operates with his wife, Kristyn.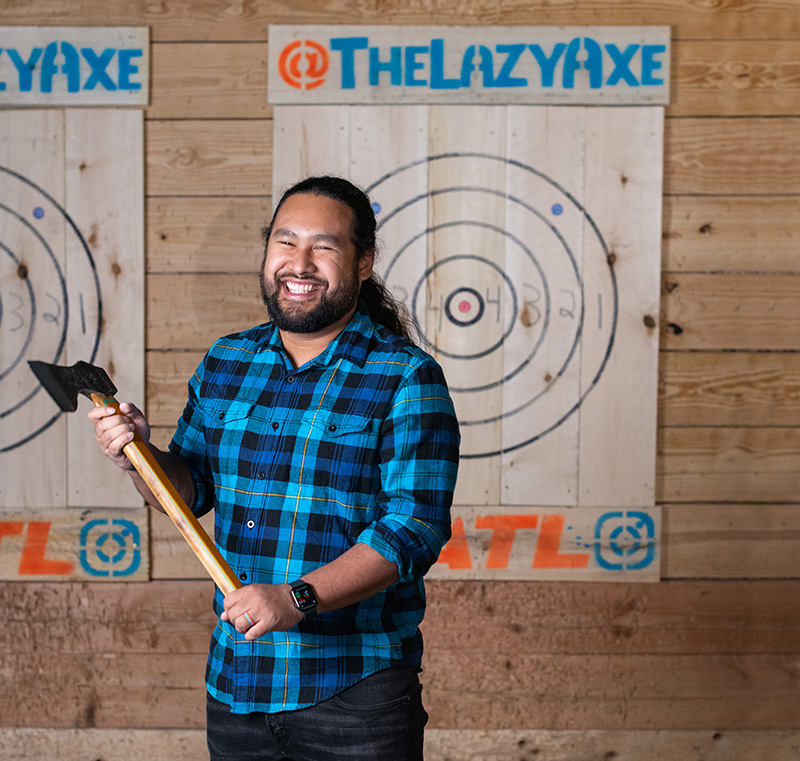 What led you and Kristyn to start the Lazy Axe?
Kristyn is on a mission to visit all fifty states, and back in the summer of 2018 we did a trip across the Midwest and Southwest. Part of the trip included following a leg of Jason Mraz's tour (he's my favorite musician), which ended with Kristyn proposing to me as we sat front row at his Red Rocks show (we also got invited backstage for a toast with his band)! After that, we looped down from Denver to Albuquerque, through Amarillo to Oklahoma, and up through Kansas on our way back to the Denver airport. We stayed one night in Wichita, Kansas, and were looking for something fun to do. It turns out there was an axe-throwing venue just opening—we arrived about two hours after they received their permit to accept customers. Initially, they told us to come back the next night for their soft opening, but we convinced them to let us be their test subjects. They allowed us to throw, and I was terrible! I was terrified that the axe was going to bounce back, and I kept running away after I let it go. Kristyn picked it up quickly, and really enjoyed it. When we arrived home, we looked for a nearby venue, but there wasn't one within two hours of Albany. So, Kristyn built a target in our backyard. I hate not being good at things. I kept at it and found my stride. Meanwhile, we invited friends and family to our house to throw, and it seemed like folks really enjoyed it, so we thought that it would be cool to create a venue in the New York Capital Region. By October 2018, we filed the paperwork for the LLC and began the hunt for a viable space. We signed the lease in April 2019, got access to the space by July 1, and opened on July 19!
Axe throwing seems to be a popular pastime in recent years; what is it about the activity that's led to its popularity? What's your favorite aspect of it?
Yes, it's definitely begun to grow in popularity since around 2015. Based on my experience teaching folks, I think that there is a perceived danger that comes along with the sport that causes hesitation, but somehow draws folks to the activity. The sense of accomplishment that folks feel when they successfully stick the axe into the target, along with the feeling of going up to the board to pull the axe out of the wood, is quite satisfying. I also think that throwing a sharp object at a target is cathartic, and we definitely have people come in to throw as a form of stress relief. Personally, I love the competitive aspect of the sport, as well as the camaraderie among the community. Going to tournaments kind of feels like going to summer camp—I get to hang out with a bunch of good friends for a weekend!  
Your title is "Axe Master," and your LinkedIn profile says that you're the "culture cultivator and energy giver" at Lazy Axe—can you explain a little about those roles?
Yes, great question! Kristyn is the "Task Master," taking care of the behind-the-scenes work for the business. As the "Axe Master," I manage the day-to-day operation. I hire and train the staff (a.k.a. axeperts), run throwing sessions, and make sure things are running smoothly for our guests. In my experience as an educator in many contexts, I've seen firsthand the importance of an organization's culture. As "culture cultivator and energy giver," it is my job to make sure that the staff feels supported and that morale is high. Sometimes, that means jumping in to help with a session to make sure that an axepert can take a quick break, sometimes it means having feedback conversations with them, and sometimes it means being the outward face of the organization (for media interviews, social media posts, etc.). In one of my earliest jobs after Bowdoin, serving as an AmeriCorps member for Playworks in Washington, DC, I was turned on to the idea of "playful professionalism." Basically, I take the work I do very seriously, but I don't take myself too seriously. I've tried to incorporate that philosophy into how we run The Lazy Axe, and I'm very proud of the genuine close sense of community we've created among our staff, as well as our "axefam."   
Is there official training—certification, even—involved in becoming an axe master?
Not really. However, before we opened The Lazy Axe, Kristyn and I visited more than twenty venues across the US and in Canada, analyzing how each approached teaching axe throwing and how they ran sessions. We picked what we liked and created our own method of axe-throwing instruction.
Can you tell me a little about your experience competing in the axe-throwing championship this past year?
Competing in the 2021 Signarama World Axe Throwing Championship (WATC) was intense. It is the biggest tournament of the year, and the finals are televised on ESPN, so there's a lot of pressure and expectations heading in. I already had experience throwing at the highest level of the sport, having thrown in the 2020 WATC and the 2021 US Open (along with a number of other major tournaments throughout the year), so I, more or less, knew what to expect. I was only one of thirteen throwers who qualified for all four disciplines (hatchet, big axe, duals, and knife), so I knew that it would be a long weekend! The first event was the knife-throwing tournament on Friday, where I went farther than expected, finishing tied for seventeenth out of sixty-four throwers. 
After the knife tournament (on the same day) was big axe. I had just received a newly forged ax (from my sponsor, The Umbrella Forge), which was handled by my "axe guy," Ben Paultre (he makes fine axe handles), less than a month before the tournament. Usually, it's not prudent to switch axes so close to a major tournament, but this one immediately felt good when I first received it. I actually won an invitational tournament down in Tennessee in November (within a week of receiving the axe) and felt confident in my big axe game heading into World's. I felt great throughout the tournament, and (with a little luck) I defeated the odds-on favorite, Tyler Flynn, to make it to Sunday's finals against Josh Russo.
Saturday morning brought on the start of the hatchet tournament, where I lost in the final of my bracket, finishing tied for fifth place out of 128 throwers. Typically, I regard hatchet as my second-weakest discipline (after knife throwing), so I was completely shocked at my high placing. Looking back, I think I had some good energy and confidence going into the hatchet tournament from Friday evening's big axe success, and I was able to keep my focus to prevail through some tough matches throughout the day. Immediately following the hatchet tournament, we jumped into the duals tournament. Duals is my favorite discipline—two people throwing as a team at the same target at the same time. My duals partner, Gary "Dragon" Dayter, and I had good success in past duals tournaments, placing fourth at the 2020 WATC and third at the 2021 US Open. We were feeling good going in, but, unfortunately, we went up against some stiff competition and missed one throw too many and got knocked out early. It was a disappointing result but has made us hungry to come back stronger in 2022!
On Sunday, I had one match left—the big axe final against Josh Russo. I went in thinking that I'd be fine, but I struggled through my five practice throws as well as my first game. I found myself down one game and one point going into the final throw of the second game. In big axe for the World Axe Throwing League, you have the option to go for the "kill shot" on your final throw. If you call the kill shot, you must hit it in order to get eight points. If you miss, you get zero points. As is customary at the higher levels of World Axe Throwing League tournaments, both Josh and I called the kill shot. I hit mine, and Josh missed his! That brought us to the tie-breaking third game, where I finally caught my stride. We both threw 31s (one point from a perfect game). In the World Axe Throwing League, a tie is broken by both players throwing at a kill shot, and whoever gets their axe closer wins (if both players hit the shot, they have to throw again until someone misses or both players miss). Our first tiebreaker throw was close, and the judge was getting calipers to measure, but Josh and I mutually decided to foot fault together in order to throw again. I missed my second tiebreaker throw, and in that moment I was certain that I had let the match fall out of my hands. Somehow, Josh's throw missed by a larger margin than mine, and before I could ask Josh to foot fault again, the judge declared me the winner. The 2021 World Champion in Big Axe! It was amazing to get to celebrate with Kristyn, the Lazy Axe team, and all of my friends who were in attendance! 
How much do you practice each day to reach that level?
In 2020, we had to close The Lazy Axe for about three-and-a-half months because of the pandemic. I used that time to work on my focus and technique, and that was really when I leveled up. Even though I have unlimited access to the facility, I can't spend that much time throwing because I have a business to run. Honestly, I typically don't practice much on a daily basis. We have a designated practice night once a week when we invite our league folks to come in and throw for two hours. Also, I participate in one of our leagues to stay sharp. If there is a big tournament coming up, I do kick my training up so that I feel as prepared as possible going in. Prior to the 2021 WATC, I was throwing at least an hour (closer to two) a day. 
What sort of exercises do you do to train for professional ax throwing?
I play a bunch of tennis to stay (relatively) in shape. In terms of training for axe throwing, it's (obviously) a lot of throwing. When I won my big axe bracket at the 2021 WATC, I threw well over 150 axes that evening (and that's not counting the other three disciplines!), so building up arm strength and stamina to be able to perform deep into tournaments is a definite must. The most underappreciated aspect of the sport is the mental piece—this includes strategy as well as focus. It takes quite a bit of focus to hit a one-and-a-half-inch circle consistently under immense pressure and in front of a bunch of spectators. So, I definitely spend time on my mental game, whether it's trying to beat my record for consecutive bullseyes or kill shots, putting myself into game scenarios, or going through visualization exercises.
What are your goals/objectives for your axe-throwing career? For the Lazy Axe?
When I first started out, I didn't really have any expectations with regard to my competitive axe-throwing career. It's wild to think that I'm one of the best throwers on the circuit. I always try my best to focus on the task at hand, but it's hard to not look ahead at the tournament schedule. My first thought after winning the 2021 championship was, "When's the next one?" At the moment, I am preparing for a major tournament in Pennsylvania at the end of April, and then it's the US Open in July. My biggest goal for this year is to defend my title at the World Axe Throwing Championship, but I'd also love to win a big duals tournament with Gary. In addition, the sport of axe throwing is expanding its team format, the Melee Championship Series, and I was asked to join one of the teams, the "Legends," which features former and reigning hatchet and duals world champions as well as a few other elite-level throwers. I'm excited to see how that format goes and hope we do well this season. 
Kristyn's and my goal for The Lazy Axe remains the same as when we first opened: to create a safe, high-quality, accessible, and unique experience that brings people together through the thrill of axe throwing. We have built a wonderful community, and I hope that we continue to grow! 
This year will be an especially interesting journey because Kristyn is due to have our first child in June, so being able to balance my axe-throwing career, the business, my career in education, and my personal life will be quite a challenge. I'm excited for it all!
What is/was the inspiration for the business's name (being lazy with an axe seems dangerous!)?
When we were naming our business, we went through all the axe puns imaginable! We wanted an original name that was not taken on social media and that had a relatively easily accessible web domain. The Lazy Axe stood out to us because it did not have the stereotypically hyper-masculine, aggressive connotation that a lot of axe-throwing venues have. Again, part of our goal is to make axe throwing accessible, so we tried to stay away from any intimidating language and imagery. Our main colors are orange and blue, and one of our slogans is "Chillaxe at The Lazy Axe." We had our good friend, Sean Lamoureux, design our logo, and we loved the cozy feel that it invokes.  
How much of your time is spent with the Lazy Axe and how much is spent with the Math Pathways Program at SUNY?
I spend most of my time at The Lazy Axe. Recently, I've been trying to cut down on my hours at The Lazy Axe, but I'm there almost every day that we're open, unless I have a competition. I work half-time for SUNY, about twenty hours a week. 
Among your many accomplishments, what are you most proud of? 
I think that starting a business and being able to navigate through the COVID storm has been a huge accomplishment that I'm especially proud of. The fact that we have built such a wonderful, supportive community of throwers in the relatively short amount of time we've been open is amazing. It's really cool that The Lazy Axe is the most competitive axe-throwing venue in New York state!
I'm also quite proud of my success as a competitive axe thrower. As I mentioned earlier, I was terrible the first time I tried it. To be mentioned alongside giants of the sport is immensely flattering, and a testament to the work that I've put in to succeed as an axe thrower. As a Filipino American, I am proud to represent people of color in a sport dominated by white throwers.     
What gets you out of bed in the morning? What are you passionate about? 
I am passionate about working with people. Since graduating from Bowdoin in 2010, I have sought out opportunities to work with people. My professional background is education—I have served in a variety of roles in different educational settings. The common thread that I can weave through all of my work experience (including The Lazy Axe) is that passion for working with people. There is nothing more gratifying than investing time and effort into someone's development and seeing them succeed! 
What makes you feel most alive?
Playing. I think we sometimes take ourselves too seriously, and we need to take a moment to break out of that. Whether it's participating in a game or being silly, there's something reenergizing/restorative in playing for me. The power of play is quite strong.
Who is your hero and why? 
My wife, Kristyn, is my hero. She works full time, helps with The Lazy Axe, throws competitively, and serves as a member of the World Axe Throwing League Council—and she's pregnant (due in mid- to late-June)! She's a force!  
Is there something you believe few people know about you that they may find surprising?
My close friends know this about me, but I've been told it's not immediately apparent: I'm super competitive. Working with young people at camps and schools, coupled with my jovial demeanor, has helped me hide it well. It comes out when I need it!
What pursuits, other than axe throwing, do you enjoy in your spare time?
I am a sports nut (especially tennis), a ukulele enthusiast, and theater nerd.
Is there anything else you'd like to share?
I'd like to explain the equipment that I use for tournaments:
Jeremiah Backhaus (Umbrella Forge) won the "Viking Battle Axe" episode of the show Forged in Fire. After I saw that episode, I knew that he was the guy that I wanted to make my throwing axes. I contacted him, and he graciously agreed to be one of my sponsors. He hand-forges my beautiful axes to the exact specifications that I like. Ben Paultre crafts all of my axe handles by hand and shapes them to perfectly fit my grip. He also makes sure that my blades are thinned out and sharp!
---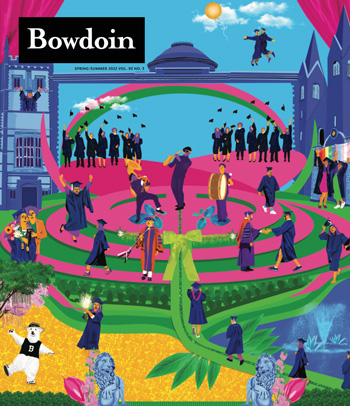 This story first appeared in the Spring/Summer '22 issue of Bowdoin Magazine. Manage your subscription and see other stories from the magazine on the Bowdoin Magazine website.