Eat Local Seafood, Two Students Urge
By Jane Godiner '23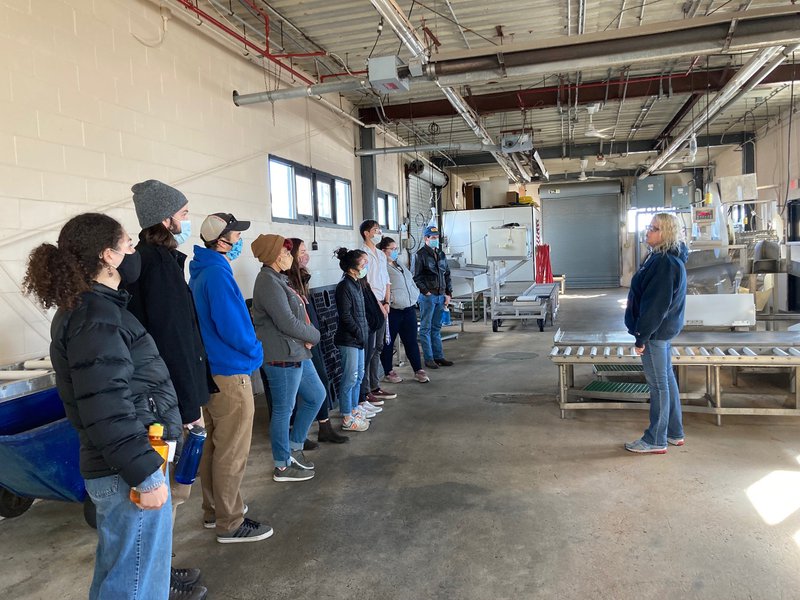 Mullen and Thomas, along with eight other students from four New England schools, are offering their college communities information and initiatives to promote the ethical consumption of seafood on campus. Bowdoin's ambassadors are starting with Dining Services, which has been receptive to their efforts.
"Bowdoin is unique in that we have our own dining service—we don't work with any large corporations—so we have a lot of power to source things locally," Thomas said. 
GMRI is a nonprofit focused on supporting the Gulf of Maine ecosystem, including the people and towns that depend on it. The insitute combines marine research with community and educational programming.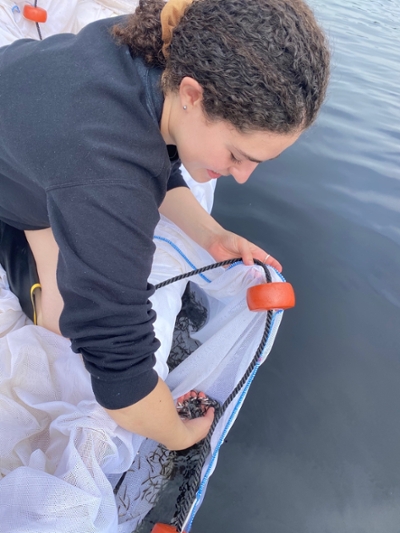 One of GMRI's current initiatives is to encourage more people to eat local seafood to help secure the long-term fate of coastal fishing communities. "As the Gulf of Maine experiences climate change impacts, including shifts in the distribution and abundance of different fish, encouraging flexibility among consumers will be even more important," the organization explains on its website. "When consumers are open to what is abundant and choose a variety of seafood, they ensure that coastal communities can diversify and continue to depend on the water for their livelihoods." 
As part of this work, GMRI is focusing on New England's residential campuses, seeing these schools as "an important marketplace for our region's seafood."
Mullen got involved with the student ambassador program after hearing of the opportunity through the environmental studies program. "I was interested in joining this team because I have spent the past few summers working along the lines of the fishing industry, and I care about supporting local fishermen and the seafood industry in sustainable ways," she said.
An earth and oceanographic science major, Mullen has had a National Science Foundation-funded summer internship with the Bigelow Laboratory for Ocean Sciences in Boothbay, Maine, and a research internship with Maine Center for Coastal Fisheries in Stonington, Maine. She's currently a research assistant in the lab of Michèle LaVigne, a Bowdoin associate professor of earth and oceanographic science. 
Thomas, an environmental studies major at Bowdoin, heard about the ambassador position from his thesis advisor, Anne Hayden, an environmental studies teaching associate. He's working on an honors project that focuses on broadening the scale of analysis for the relicensing of federal hydroelectric dams. This will "better account for the role river herring play in the Gulf of Maine," he said, and help stakeholders make more informed decisions about dams based on current science. 
"I became interested in fisheries after taking a class on the Gulf of Maine with Anne last spring," he said. "When I heard about the GMRI internship, I thought it would be a fun opportunity to highlight the importance of supporting local food systems and connecting it back to my work about the importance of river herring and their connection to cod and other groundfish."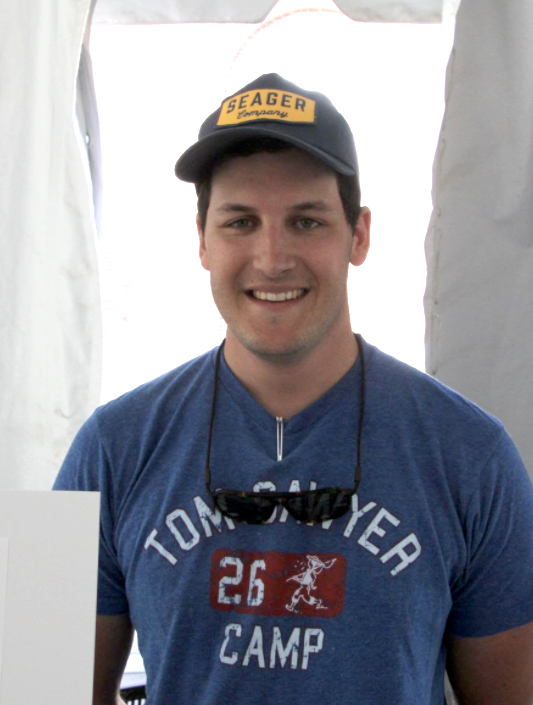 He added that he also hopes to make "a tangible change at Bowdoin."
The first phase of the ambassadors' efforts included a campus-wide survey, which received 300 responses about Bowdoin students' experiences with seafood in the College's two dining halls.
"We're working on data analysis right now," Thomas said. "We're looking at student preferences about preparation style and flavor profile, and then what external factors motivate them to choose seafood or try new types of seafood."
Two fish species that students might see served in Moulton and Thorne dining halls in the future are dogfish—a flaky white fish when cooked—and monkfish, which is slightly meatier than dogfish, like lobster.
While the ambassadors are still crunching numbers, they already have one recommendation they plan to pass along to Dining Services: to include laminated display cards indicating the locality of different seafood options.
"I was surprised, personally, that more people don't care about where their fish comes from and the environmental impacts of it, because that's something that I think about a lot," Mullen said. "I love local food, and I care about supporting local harvesters and people who work with the land."
Matthew Caiazzo, assistant director of menu, sourcing, and human resources for Bowdoin dining, said he's looking forward to the opportunity to collaborate with Thomas and Mullen.
"Our role is to be able to provide that local seafood, support them in their initiative, and, if they have ideas for an event, help them navigate those decisions and tell them what we think will and won't work," he explained.
"I'm really happy that GMRI was able to get the grant that they did and to think of us as one of the schools to choose to try and implement this program," Caiazzo added. "I think that's really important and cool, and I hope it has a positive impact."
Other campuses involved in GMRI's local seafood student ambassador program are Boston College, Southern Maine Community College, the University of Maine at Presque Isle, and the University of New Hampshire.
Published March 01, 2022