Published July 29, 2020 by Tom Porter
Summer Intern Works with Coastal Fisheries
A conversation with Alexis Mullen '23, who is spending the summer in the fishing community of Stonington, in Downeast Maine. She's pursuing an internship with the Maine Center for Coastal Fisheries (MCCF), a nonprofit working to secure a sustainable future for harvesters of the ocean, in Maine and beyond.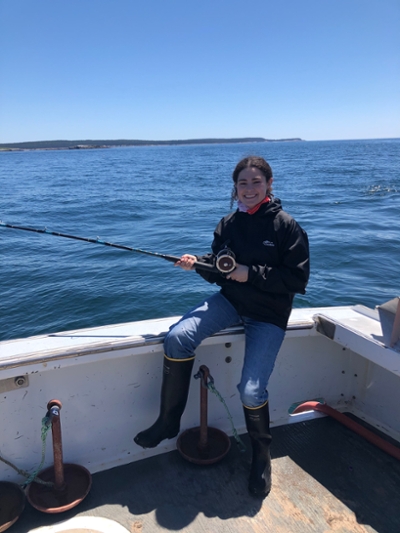 Despite the limitations imposed by the COVID-19 pandemic, Mullen says she was able to secure an in-person internship because she had a place to self-quarantine before shifting to social distancing at the MCCF office.
Do you have a typical day?  
Stonington is known for its success in the lobster industry, and a testament to this is hearing the humming of lobster boats each morning at 3:00 a.m. This implies that I actually wake up at 3:00 a.m. and then go to work…not true J I usually work from eight to four , but my workday has rarely been "typical."
Working at a small nonprofit has given me the freedom to participate in projects across the board. I've converted coordinates from groundfish fishing logs from the 1980s and then used the data to locate fishing spots for this summer's groundfish survey trips run through MCCF and the University of Maine. Rebounding groundfish play an integral part in the diversification of Maine's fishing industry, hopefully providing a safety net for lobster fishermen. 
I have also been doing research on fishery licensing programs across the US. Maine has rebounding fishery resources and, recently, several species have shifted geographically and become more abundant in the Gulf of Maine. My project aims to aid Maine in its effort to establish an effective entry method into these emerging/rebounding fisheries. It will hopefully serve as a resource for fishery licensing divisions across the US.  
I've gotten the opportunity to go along with coworkers on their ground fish survey trips (where we do get up at 3:00 a.m. and then fish all day in the name of science). I've also helped with juvenile alewife testing in local ponds—these fish spawn in ponds but eventually become food for many of the fish off the coast of Maine.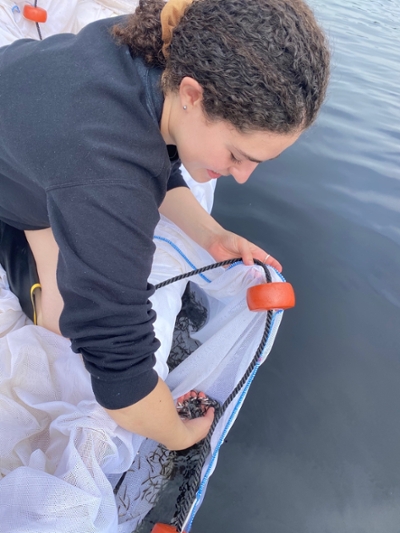 What drew you to this particular internship?
I loved learning about fisheries in my Introduction to Environmental Studies class (ENVS 1101) last fall. Also, the oceanography I took with Professor Collin Roesler (EOS 1505) really led me to fall in love with the ocean and its incredible interconnectedness. Consequently, I was pretty determined to spend the summer learning more about Maine's fishing industry. The rapid warming of waters in the Gulf of Maine, the strong fishing communities along the coast, and the dependency of those communities on lobster are all factors that make Maine a fascinating place to study fisheries.  
Thanks to Career Exploration and Development and this grant, I am able to spend the summer by the ocean, where I feel reassured in my love for ocean sciences.  
Now you're more than halfway through the internship, what are some of the key things you've learned?
My experience in Stonington has taught me the importance of centering working-class perspectives in environmental education—this summer has helped augment my learning at Bowdoin. Fishermen are crucial to marine science: They are often the ones reporting new species or different trends in their fishing to scientists. Students studying conservation, especially at Bowdoin, should make a continuous effort to build strong and genuine relationships with local fishermen, farmers, and business owners.
Stonington is centered around fishing, but there is also a local community that benefits from the success of the fishery, so one decision that impacts fishermen can affect the whole town.
I understand how crucial small organizations can be to the success of local communities, and therefore how critical it is that nonprofits receive proper funding. A small nonprofit such as MCCF can be the bridge between fishermen, scientists, and policy makers.  
Working on the Maine coast has been an amazing experience and far removed from my origins: I grew up on a small family-run farm in rural Iowa, where my dad grows soybeans and corn. It has been exciting to experience a different type of "farming" – that is, fishing! Everyone at MCCF has been incredibly kind and helpful; I am very grateful to them.
Mullen is the recipient of a grant from the Williams Family Internship Fund, one of 102 awards distributed to students by Bowdoin Career Exploration and Development this year, enabling them to pursue unpaid summer internships.