Published November 19, 2021 by Bowdoin Magazine
Grace and Hope
Hope Marden has been sharing her seemingly limitless energy with the Bowdoin community for the past thirteen years. She got to know students well in her eight years in housekeeping, and for the past six years, she's been part of the team in the campus mail center. She's scheduled to retire in January.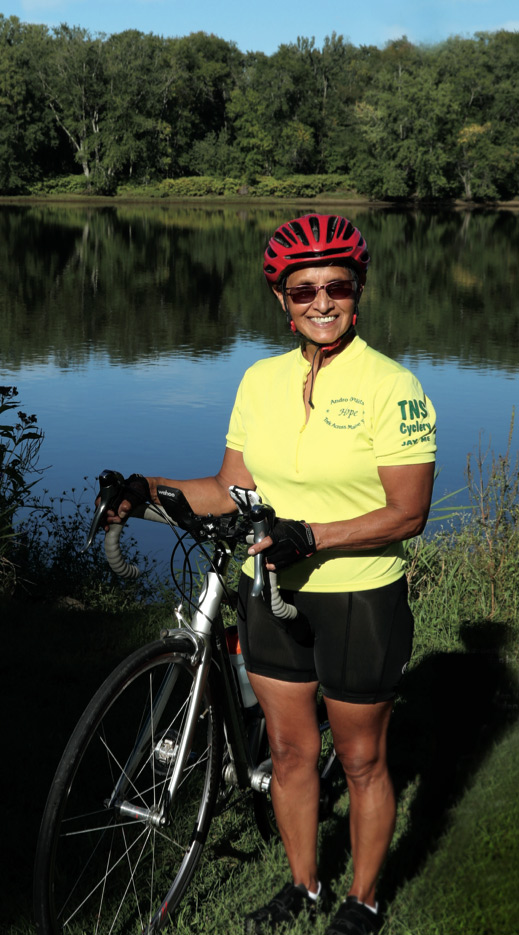 I take a lot of pride in my job, no matter what I do. But the best part about being at Bowdoin is the students. That's what I'm going to miss most.
Brian and I have been married for thirty years. And we still like each other! We found that out during the pandemic. We're always doing something together. I also found time to work in the garden and helped some neighbors out. Brian's uncle is in his nineties, and he can't be pruning bushes and all that anymore. My neighbor from Florida couldn't come up, and she hired me to do her lawns. Then, of course, I got a lot of biking time. I did the Trek Across Maine, a virtual ride, and I rode over 2,000 miles on my bike last year.
My workouts get me out of bed in the morning. I can't go without them. If I do, I get very grouchy! Even when I'm tired, if I work out, I feel better mentally. Biking is my favorite. When you're out there, you don't think of anything—it's just about your surroundings and trying to get up a hill.
I'd like to age gracefully. I want to be able to play with my grandkids when I'm in my nineties. When my grandson was little and would come over, he already knew that when he got to grandma's, we were going to be doing push-ups! I want my kids to be proud I am still doing something.
I'm so proud of them. Just the fact that I had them so young and that they got an education that I never did. And they're good people—kind, thoughtful, and loving. What more could I ask?
---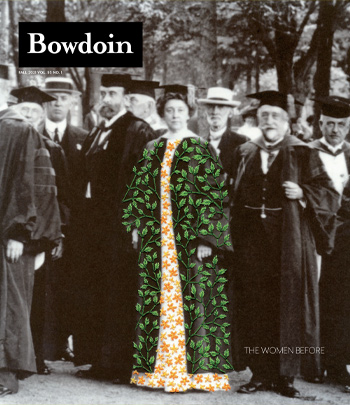 This story first appeared in the Fall 2021 issue of Bowdoin Magazine. Manage your subscription and see other stories from the magazine on the Bowdoin Magazine website.