Published June 17, 2021 by Bowdoin Magazine
Age is No Barrier
Norm Cohen '56, H'90, P'89, P'95, retired attorney and Bowdoin trustee emeritus, is the College's longest-serving class agent. Recently, Norm helped lead the Class of 1956 in record-setting 65th Reunion giving, exceeding their fundraising revenue goal by 222 percent, with more than 75 percent of the class participating.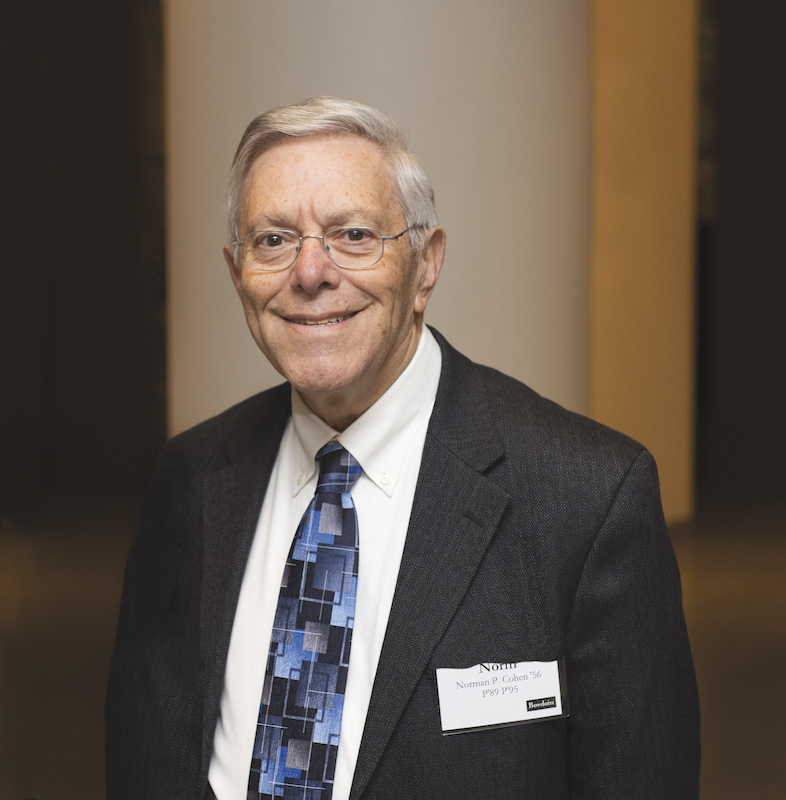 How did you end up focusing on the practice of municipal law?
Following my Bowdoin years—taking, among others, courses in constitutional law from Athern Daggett, economics from Albert Abrahamson, and history from Ernst Helmreich and Bill Whiteside, and then serving in the army—I entered Harvard Law School with the thought that I would end up in Washington, DC, helping to solve national problems. I did not take courses in state and local government law. Three years later, I accepted a one-year appointment as a law clerk to Justice Arthur Whittemore of the Supreme Judicial Court of Massachusetts, and at the urging of another justice, began interviews at large Boston law firms. I became an associate at Palmer & Dodge when my clerkship ended. As a new associate, I was to spend three months in each of four areas of the firm's practice. While I knew I could handle writing appellate briefs or assist in estate planning, I had no idea what a municipal bond was. Fortunately, as it turned out, I did have to spend three months in municipal law and finance, which allowed me to understand that it is local government that most directly touches our lives.
Among your many accomplishments, what are you most proud of?
I am extremely proud that my service to Bowdoin was thought worthy enough to award me an honorary degree.
You served as a lieutenant in the Army and, after retiring from law, as a town selectman, as well as your many volunteer roles with Bowdoin over the years—can you speak a little to why service is important to you?
The commitment to the common good that Bowdoin promoted while I was a student has always resonated with me. The ability to make positive changes in the community where we live and work can be very fulfilling. One of my most rewarding volunteer activities was the many years I spent on the board of Bridge Over Troubled Waters, founded by three Catholic nuns to serve runaway youth in the Boston area.
Why do you serve as a class agent? What do you feel you're able to contribute or accomplish, and what do you get out of it in return?
The first two class agents for '56 had each served for five years when I was asked. It was difficult to say no to Bob Cross '47, my freshman English professor and the head of the Alumni Fund—and besides, five years would be doable. Five has now turned into fifty-five years of fundraising and friendships. Classmates I did not know well at Bowdoin became good friends, and my time as a fund director enabled me to appreciate the College even more. Staying connected to my classmates has paid off, as witnessed by the fundraising records we have set over the years. When I reported to the class before our fiftieth reunion that the then fiftieth-year fund record of $2.6 million might be difficult to break, 99 percent of the class responded, and we contributed just over $15 million. (The one classmate who did not contribute sent in his gift two months later.)
Is there anything that stands out for you as having been a particular source of pride or memorable moment during your years of service to the College?
In 1990, I had a six-month sabbatical leave from my law practice, which I filled primarily by teaching state and local government at Bowdoin. One half of each week that I taught, I lived in a home being rented by John Cross '76 and his family. I was able to meet with and offer advice to my students and connect with a number of other faculty members. When the semester ended and the student evaluations were sent to me (the Class of '56 in our time never had the opportunity to offer formal evaluations), my then senior in high school son read each one to his mother and me.  Except for one, the evaluations were great, but it is the one I still remember: "So boring, this guy should be a lawyer, not a professor."
What are some of the changes at Bowdoin that you've observed that you feel are particularly inspiring? 
The diversity of the student body today is so different from what it was then. The College has come a long way from my memory—when it was all male, four Black students, and three or four percent who identified as being Jewish. Today, Bowdoin is a much more diverse and inclusive campus and is willing to acknowledge that a number of societal injustices have to be dealt with.
Through the generosity of many of my classmates, among others, Bowdoin has a need-blind admissions policy today and has done away with student loans that must be paid back.
Looking ahead, what are your hopes for the College?
When the pandemic is finally over, I hope that the College can return to normal and continue to pursue the goals set forth in the current campaign for Bowdoin. Bowdoin must continue to provide an education for every talented student.
What pursuits do you enjoy in your spare time?
When I am not busy with my volunteer activities on behalf of Bowdoin and the many municipal boards and committees on which I serve, I like to spend time with family and friends, keeping up with current events, going to the gym, taking walks, and just relaxing at my home on Cape Cod.  Age is no barrier to contributing to society.
Is there anything else you'd like to share?
Writing answers to these questions brought back memories of a 1978 Bowdoin Convocation, at which my parents were present to see me receive the Alumni Service Award. My mother sat there agreeing with every word that was said. My father wanted to know who they were talking about. I am convinced more than ever that my own professional and civic accomplishments are due in no small measure to the wonderful liberal arts education that Bowdoin provided, with hands-on professors who wanted to teach first and foremost. This is why I continue to give back, and continue to promote the virtues of small colleges and the liberal arts.
---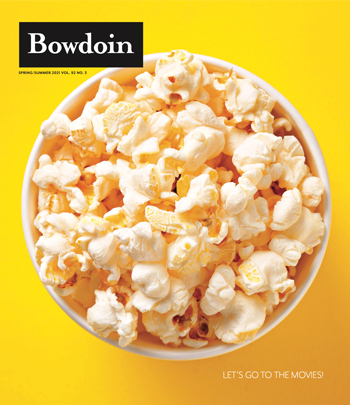 This story first appeared in the Spring/Summer 2021 issue of Bowdoin Magazine. Manage your subscription and see other stories from the magazine on the Bowdoin Magazine website.