Published December 22, 2020 by Rebecca Goldfine
Bowdoin Sustainability Adds More Electric Vehicle (EV) Chargers
Anticipating a rising need for chargers as more people drive EVs, Bowdoin has added four more charging spots on campus.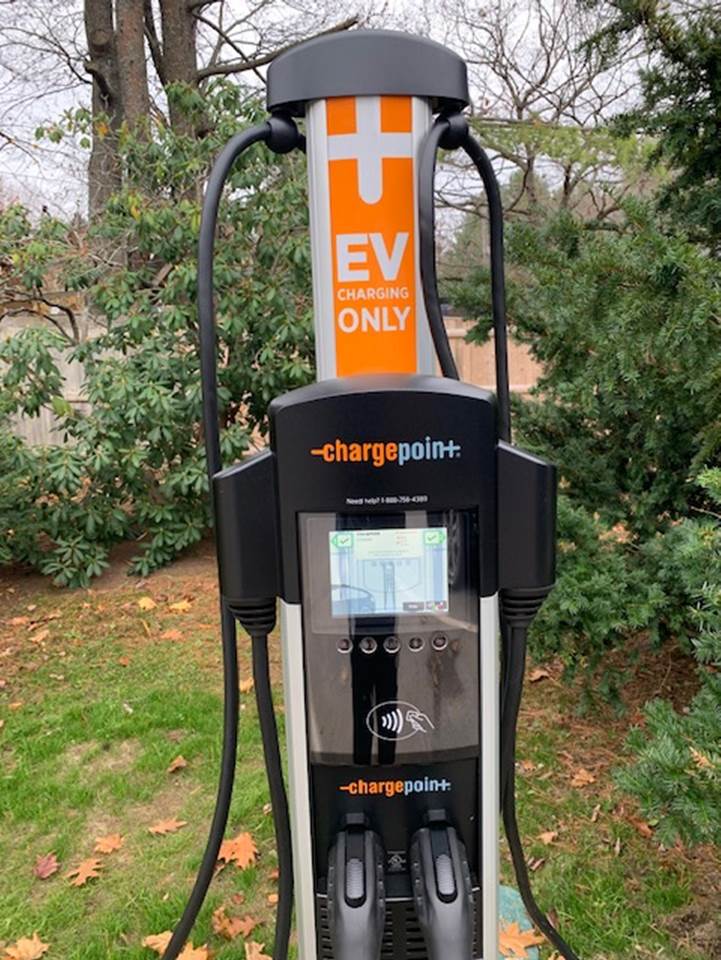 The multi-port ChargePoint chargers, which are in the parking lot next to the Roux Center for the Environment, allow up to four vehicles to plug in at the same time.
To help cover the roughly $30,000 expense of the chargers—which included electrical and site work—Bowdoin received a $10,000 grant from Efficiency Maine. A quasi-state agency with oversight from the Maine Public Utilities Commission, Efficiency Maine is the state's sole administrator for energy efficiency programs that provide financial incentives to improve energy efficiency and reduce greenhouse gases in Maine.
"We appreciate Bowdoin contributing to Maine's growing network of public EV chargers," said Michael Stoddard, executive director of Efficiency Maine Trust. "In addition to serving Bowdoin's needs to accommodate students, staff, and visitors, this infrastructure is critical to meeting the goals of Maine's new Climate Action Plan."
Bowdoin is an appropriate place for public chargers, Associate Director of Sustainable Bowdoin Keisha Payson noted, as it is usually an active hub year-round. "Bowdoin is home to over 1,800 college students, an employer of 1,367 full- and part-time faculty and staff, and a tourist destination for over 100,000 annual visitors," she said.
From students, faculty, and staff to visiting friends and families, to people parking to go to a talk, museum exhibition, concert, or play, "we anticipate a high volume and wide variety of users all year long."
The chargers are free for the first four hours, but cost $3 per hour after that. This fee is prorated every fifteen minutes and is meant to serve as a gentle nudge to encourage people to move their car and share the ports, Payson said.
Charger users must enable Apple Pay on their phones and download the ChargePoint app. Those who want to skip these steps can request a ChargePoint card instead but still need to provide credit card information.
With these new chargers, Bowdoin now has eight places on campus to charge electric vehicles, six of which are available to the public. Two public chargers are in the parking lot adjacent to the John Brown Russwurm African American Center.
"We feel that adding four additional chargers will satisfy the demand for now, but we may need to add more as more people transition to EVs," Payson said.