Published November 17, 2020 by Bowdoin Magazine
Respond Fall 2020
That Running Vibe
Congratulations to Alison Wade '97 and Bowdoin Magazine for the insightful piece, "Why We Run." Even at my age, I identified with it, especially the parts about those who run alone long after their college days. As a marked under-achiever at Bowdoin, my main athletic endeavor consisted mostly of running to a bar before closing time. It came as quite a surprise to my family and friends when in my mid-thirties I announced that I planned to run each morning before work.  I kept my word and it changed my life. Running led to bicycling and eventually to mid-distance triathlons (one-and-a-half-mile swims, twenty-five-mile bike rides, ten-mile runs). It also led to numerous century (100-mile) rides and bicycle tours through the Alps, Dolomites, and Rockies. Now, well into my eightieth year, my running days have passed, but I still bicycle 3,000 miles a year and do a lot of walking. My times for any of my past feats were never impressive, but the peace of mind, focus, and happiness they brought to all aspects of my life were, and still are.
Dick Benfield '62
Why We Run Redux
While we thoroughly enjoyed Alison Wade '97's article in the latest Bowdoin Magazine, the title "Why We Run" captured our attention. Our uncle, Bernd Heinrich, wrote a book on running with the same title. Bernd is a well-known and accomplished distance runner. He won the masters division of the Boston Marathon in 1980. He was inducted into the Maine Running Hall of Fame in 1996. The organization noted that the only other person inducted into the Maine Running Hall of Fame, who also owned a world record, was Joan Benoit Samuelson '79. Bernd's ties with Bowdoin running also include a twenty-four-hour run on Magee Track in August 1983, when he ran 156 miles and 1,388 yards for an American record. Currently, he is a research associate in biology at Bowdoin.
Charles Sewall '87
Christopher Sewall '88
Ed note: Heinrich, emeritus professor of biology at UVM, was a research associate in the biology department at Bowdoin from 2017–2019.
Disappointed
When I opened the spring/summer issue of the alumni magazine shortly after the July 4th holiday, I was disappointed to see that there were no features related to the Bowdoin community's response to state-sponsored violence against Black and brown bodies, protesting, anti-racism, or any other element of the movement that has arisen since the killing of George Floyd on May 25. With due respect to the months of planning that I know must go into each issue and the journalism contained within it, it's a shame that the topic of racism could not be incorporated into the spring/summer issue. In a moment when white people (myself included) must commit to taking action of some kind, I would hope that each facet of this predominantly white institution would strive to do better as well. I look forward to a future feature in which this magazine appropriately reckons with its whiteness and its responsibility. 
Sadie Nott '12
Ed note: We received two similar letters and responded individually to say we agree completely with the importance of this subject. Unfortunately, our spring/summer edition was already printing in the days immediately following George Floyd's murder.
Got Iron
Thanks for the lore on the Searles building. I have a bit more to add. At the start of [one] renovation, there was a period where the building was closed, but not locked. There were forty-yard dumpsters lined up on the Maine Street side. Certain faculty and staff were not completely thrilled at the renovation plans and were keen to keep some of the artifacts of Searles's original design from filling the dumpsters. Being employees of the College, none of them were interested in being directly involved in the rescue mission, but some recent graduates were. Various interior features of Searles were rescued and preserved. Some of us quite literally keep memories of Searles close by. Eventually, the Class of 1987 Searles Lecterns will be presented to the College. Made from the true wrought iron balustrades specified by Searles, they are a part of the original building. Not quite so ornate as the Yellen wrought iron gates at Special Collections, they are still interesting. There is enough Searles wrought iron left for at least one more project. I am open to suggestions.
Currently the Searles iron is in my garage resting next to another interesting artifact: Chamberlain's limber chest. Exactly how Chamberlain's chest got from Appomattox to Oregon is a story for another time, but the ironwork on the chest plays a key role.
Ironwork from the Mary Frances Searles Science Building is remarkably similar to that at the former Searles house in Windham, New Hampshire, and that is a good thing. My sister-in-law was getting married in Massachusetts and was to have the reception at Searles Castle in New Hampshire. My wife was maid of honor, and we flew in from the West Coast to a jumbled scene of relatives, schedules, locations and lots of driving. The wedding party could not all fit in one limo, so I got to drive the maid of honor about fifty miles to Searles for the photo session. The directions to Searles, provided by the hotel, where wrong. Very wrong. This was at the start of the cell phone era, and even if we had a good phone, nobody was going to answer from the bridal party. The hotel had the wrong information, so it was no use calling them. 
It is hard to convey in writing just how eager and insistent the maid of honor was about getting to the Searles site to join the rest of the bridal party for the photo shoot. With no instructions, no directions, and no map, I could only rely on my familiarity with how Searles thought and his style of construction. The only other information available was that the site was "off exit 3 of route 93."
Having spent plenty of time near and in the Searles Science building, I knew the style and details pretty well. In addition to physics, I studied a bit of architecture, and visited Shelburne Farms, Neuschwanstein castle, Versailles, Castle in the Clouds, and Windsor Castle. Searles liked the subtle, but also the sort of set-design architecture found at Shelburne and Neuschwanstein. The English castle themes are also quite clear. Thinking for a bit, I said to my panic-stricken (but Oxford educated) wife, "Searles house would be  like Windsor Castle above the Thames. It will be above the water with a view down to the lake. But that would have been 100 years ago and the forest has now grown in." I looked around for the most likely hill and drove toward it. 
We were at the base of the hill in about two minutes. There were no signs of any wedding. At that time, the Searles house was a convent that would hold occasional events. On the left, there was a stone pillar, rusticated cut stone similar to Searles's work in Methuen. On that pillar was an iron bracket—the same shape, size, and style as used to hold up the stairway from the first to second floor of the Searles Science  Building at Bowdoin. It was essentially identical, including the bracketed twists on the diagonal arm. Never doubting where I was, we took the left and drove up past the first and second line of trees to the hidden Searles home. The photo session began right then.
As it turned out, nobody else invited to the reception had studied at Bowdoin, and nobody else had directions to get to the reception. We had the place to ourselves for a while, and we got to do a close inspection of the architecture and design. Some of the features of the two Searles buildings are identical. 
So, thanks to Searles for his consistent use of wrought iron! Otherwise it might have been a bad day. Although I never did get a photo of the iron bracket outside Searles  house, I have its twin from Bowdoin. 
Frank Perdicaro '87
---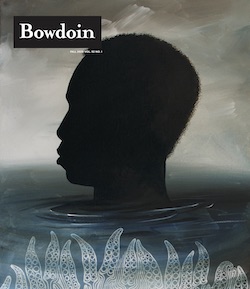 This story first appeared in the Fall 2020 issue of Bowdoin Magazine. Manage your subscription and see other stories from the magazine on the Bowdoin Magazine website.