Published June 17, 2020 by Bowdoin Magazine
One More Cup of Coffee
Bowdoin students might be centennials, but plenty of them dig the Smith Union Café's classic rock 'n' roll.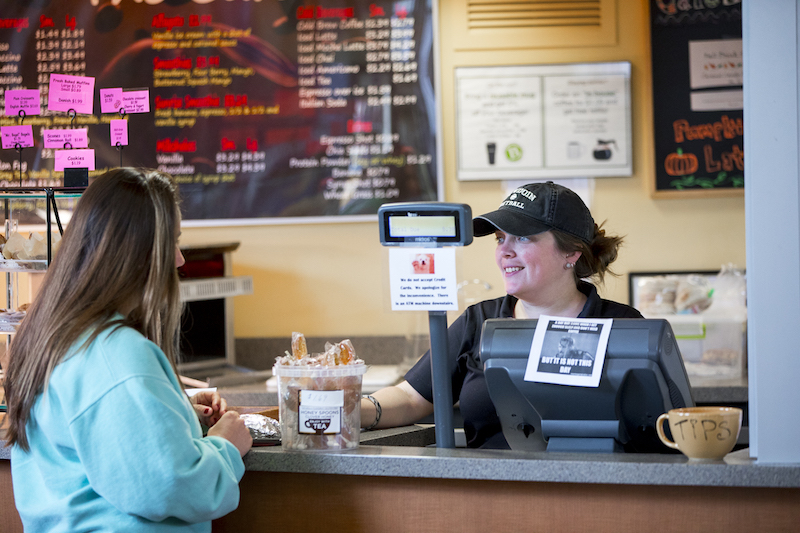 Dining Service's Molly Safford, who runs the café, keeps classic hits station 107.5 FM playing throughout her shift. "A lot of students have complimented me for my music," she said, "and asked me for my playlist!"
Safford grew up in Freeport and Brunswick with music as a constant part of her life. "Listening to the radio while riding in the back seat of my parents' car, flipping tapes over on my very first Walkman, sitting in my cousin's bedroom and playing The Doors albums on her record player."
While she loves songs from the '60s to the early '80s, Safford says she appreciates all music. Her teenage girls have even softened her to current pop.
Safford first started working in dining at Bowdoin in 1997, when she was a high school sophomore. She's been working full time since 2001 and took over as acting caf. manager last fall.
Her favorite parts of the job are "the fast pace, the hustle and bustle," and her regulars. The café typically serves between 400 and 600 people a day.
These days, she's missing the caf. routine and her team of student workers.
"They're exceptional, bright, and they pick right up on our fast, friendly expectations," she said.
Safford especially exemplifi es the friendly aspect of her role. "You never know if someone woke up and heard the worst news of their life," she said. "So, I always smile and tell them to have a nice day. It's a way to acknowledge students' feelings and set the tone."
Listen to "Molly's Café Playlist" on the Bowdoin College Spotify channel.
---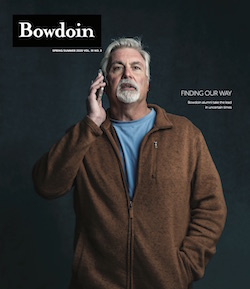 This story first appeared in the Spring/Summer 2020 issue of Bowdoin Magazine. Manage your subscription and see other stories from the magazine on the Bowdoin Magazine website.