Published June 17, 2020 by Bowdoin Magazine
Maine Crab Breakfast Flatbread
Recipe by Isaac Aldrich
This flatbread was the winning entry for the 2020 Incredible Breakfast Cook-Off held in South Portland in February to kick off Maine Restaurant Week. It was the second first-prize finish for Bowdoin culinary manager Isaac Aldrich, who also won the contest in 2016.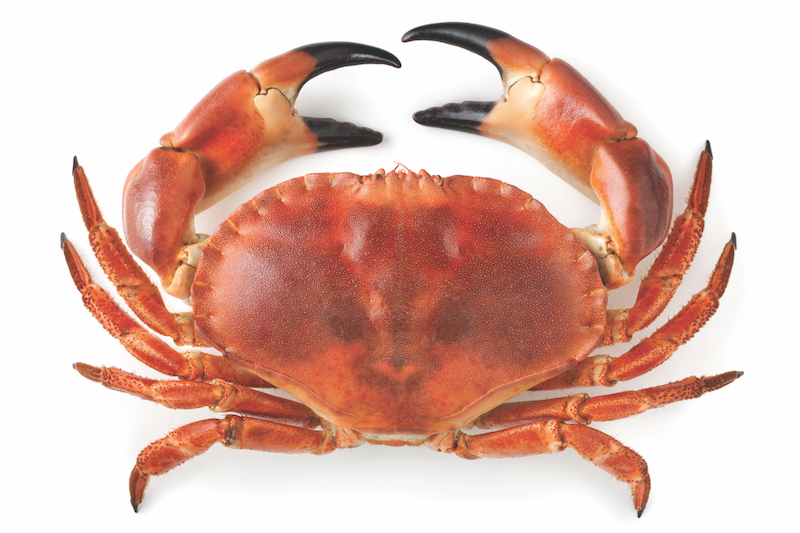 Ingredients:
Serves four to six
½ pound applewood-smoked bacon
Flatbread sauce:
5 ounces cream cheese
2 eggs
2 teaspoons sugar
2 tablespoons lemon juice
¼ teaspoon kosher salt
½ cup milk
To assemble:
3 naan flatbreads
1 red bell pepper, small diced
½ bunch fresh tarragon, finely chopped
1/2 pound fresh Maine crab meat
1 cup candied or sweet sliced jalapeños*
*Jalapeños may be purchased, or see our recipe below.
Directions:
Preheat oven to 400 degrees.
Cut the bacon into three- to four-inch strips and place them in a single layer in a skillet; brown over medium-low heat until crisp and set aside. While the bacon is cooking, combine all ingredients for the fl atbread sauce in a medium saucepan and cook gently over low heat, whisking occasionally, until well-combined and smooth. Add additional milk if the sauce seems too thick to spread easily.
Place the naan on a cookie sheet or baking tray. Spread a third of the sauce over each piece of naan and top each with a third of the crab, bacon, and red pepper. Bake for 12 minutes or desired crispiness. Remove from the oven and top each with a pinch of tarragon and some candied jalapeños.
Candied Jalapeños
Ingredients:
12 ounces fresh jalapeño peppers
½ cup apple cider vinegar
1 cup sugar
One small lime, zested and juiced
Directions:
Wearing gloves, wash and trim the root end of the jalapeños. If they are large, slice them in half first the long way. Cut the peppers into ¼-inch slices—in rounds if they are small, in half-rounds for larger ones. Cut away any large bits of spongy interior, but do not fully seed them.
Add the vinegar, sugar, lime juice, and lime zest to a medium saucepan. Cook, stirring, over medium heat until the mixture begins to boil. Simmer for three to four minutes, until the sugar is fully dissolved.
Add the jalapeños to the saucepan and bring the mixture back to a simmer. Cook, stirring occasionally, for five minutes, or until all the peppers have lost their bright green color. Using a slotted spoon, remove the jalapeños and place them in a jar or other sealable container. Continue to cook the syrup for another five minutes, until it is reduced and slightly syrupy (be careful not to let it burn). Pour the syrup over the jalapeños, pushing them down if need be to submerge them in the liquid. Seal the jar. Once the peppers are cool, you can use them immediately or store them in the refrigerator for later use.
Did You Know?
Maine crabmeat comes from two species—peekytoe (also called rock crab) and Jonah crab. The name "peekytoe" was coined by a seafood merchant in Portland, as a version of what Down East Mainers were calling "picked toe" (in that vernacular, "picked" is a word for "sharp").
Isaac Aldrich is culinary manager for Bowdoin Dining Service, where he works in Thorne Hall. Prior to coming to Bowdoin in 2019, he worked as executive chef in catering companies in Maine and Colorado, and he was executive chef at Sebasco Harbor Resort. He earned his culinary degree at New England Culinary Institute, and he's online at @ChefAldrich.
---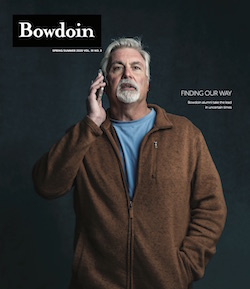 This story first appeared in the Spring/Summer 2020 issue of Bowdoin Magazine. Manage your subscription and see other stories from the magazine on the Bowdoin Magazine website.