Published April 22, 2020 by Rebecca Goldfine
A Bright Spot: Bowdoin Pushes Forward on Major Solar Projects
It's Earth Day, and so it's a good time to share the news: Bowdoin is pursuing a substantial expansion to its Navy base solar array, as well as several other renewable-energy projects around the state. Together, these new ventures could cover 100 percent of the College's electricity needs.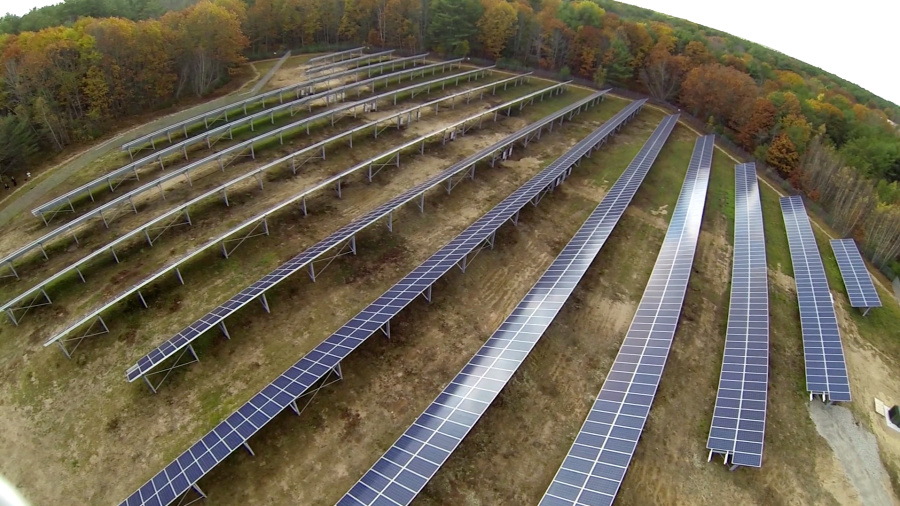 Last summer, the College began planning an addition to its existing solar capacity at the former Navy base and on campus. Additionally, it has been exploring partnerships with other Maine schools, businesses, and organizations for a possible joint investment in a number of large renewable-energy projects. 
Together, these efforts could, within two years, offset the College's electricity use with 100 percent Maine-based renewable energy, according to Associate Director of Sustainable Bowdoin Keisha Payson. 
Bowdoin hopes to finalize its newest solar ventures this spring.
Payson said the ambitious projects are helping to buoy her through difficult times. "As the world prepares to celebrate the fiftieth anniversary of Earth Day on April 22, we find ourselves amid a global pandemic—not an easy time to feel celebratory," she said. "One thing I am thankful for this Earth Day is that I live in a state that is taking aggressive action to address climate change."
Last year, the state legislature passed a bill to incentivize more large solar projects in Maine. "Bowdoin quickly jumped at the opportunity," Payson said. The new legislation increases the allowable size of solar projects that can "net meter," or supply power to the electrical grid, from 660 kilowatts to 5,000 kilowatts. "That was a significant game changer for Bowdoin," she added.
While it is too early yet to share specific details, Payson said Bowdoin is hoping to develop a large new solar array close to its current solar field on the old Navy base. Power from the new array could feed directly into the electrical grid, providing Bowdoin with RECs, or renewable energy credits.
In return for supplying solar power to the grid, Bowdoin would receive utility bill credits. "With the financial tough times ahead due to the coronavirus, the monetary savings to our utility budget would be greatly appreciated," Payson said.
Since 2018, when Bowdoin joined a consortium of New England colleges to support the construction of 22 megawatts of a 75-megawatt solar project in Farmington, Maine, the Sustainability Office has been looking for more ways to "push the needle further to achieve a goal of 100 percent renewable energy for the College," Payson said.
Bowdoin's portion of the Farmington solar development will generate enough RECs to offset roughly 45 percent of the college's electrical load, roughly equal to 8,000 megawatt-hours. This project, which is under construction, expects to be fully operational by the fall of 2021.
Bowdoin's investment in renewable energy is "a win-win-win all around," Payson said. "It's an opportunity to reduce our carbon footprint, save the College money, and further stimulate the green jobs economy in Maine. So, on this fiftieth anniversary of Earth Day, I am thankful to the Maine legislature for making these opportunities possible and thankful I work for an institution that is engaged in teaching, researching, and acting to address climate change."