Published October 22, 2019 by Rebecca Goldfine
Profiles in Residential Life: Tabitha Hacker '22
The Office of Residential Life—or, more commonly, Res Life—plays a big part in making the campus a comfortable place for students to live, study, work, and have fun. Its mission is to make Bowdoin feel like home for every student.
Tabitha Hacker '22 is one of thirty-five proctors living with sophomores in one of Bowdoin's first-year residential halls. 
This profile is part of a series on students who work for Res Life.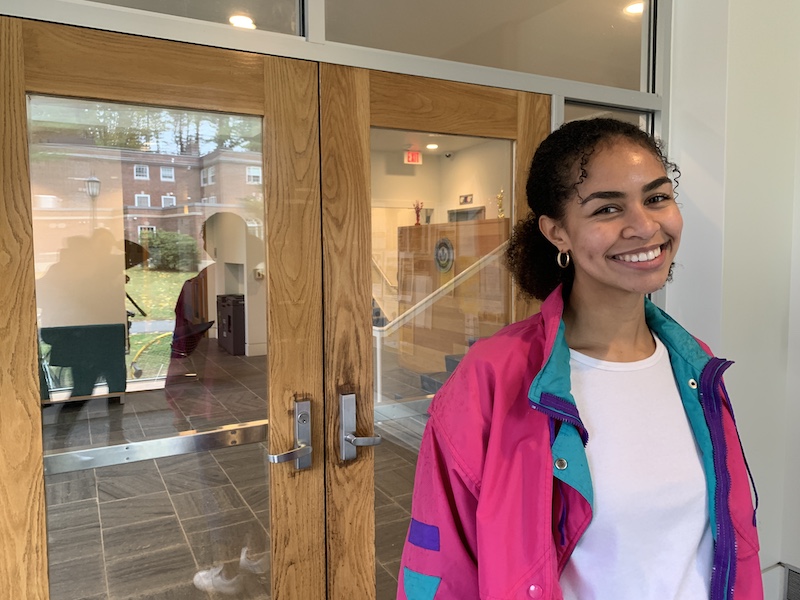 Tabitha Hacker is the proctor for West Hall's fifth floor. An aspiring neuroscience and Africana studies major (she'll officially declare her major in the spring), Hacker wants to practice medicine for underserved populations.
What made you seek out this job? Last year I had a great RA and a great proctor [Ben Hopkins '20 and Brianna Canning '21]. They seemed like they cared a lot about our floor and our transition to Bowdoin. I decided I wanted to be that person for first years. I'm from Arizona, so I know the transition of coming all the way across the country and living on campus with people so different from you can be difficult. Having someone who's there to help you with that and who understands what you're going through is important.
What's an important part of your job? As a proctor it is important for me to facilitate a really tight community.
How do you do that? It can be little things like decorating your floor, having a birthday poster, and giving students opportunities to hang out together. We also turned our common space into something that feels really homey—we have some outside furniture, we always have snacks in there, and there are outlet strips so people can work. I have a very diverse floor, so I need to make sure that mostly everyone's needs are being met within the space and that they will want to be in the space. I think communities happen a lot of times on their own once people feel comfortable.
Do you feel that you had good Res Life skills to start with, or do you feel you have acquired them through the job and the training? I think both. I've always been a middle-ground person where I can see both sides of most stories and see why each person feels the way they do. Res Life really refined that skill and taught me how to be an effective listener and communicator and how to get points across. 
How do you see yourself changing or growing in this position? This position is helping me learn how to advocate for myself by learning how to advocate for other people. Also, I've always worked well with people, but there are so many different personalities on staff and on my floor and everyone has a different communication and learning style. When I learn more about how other people communicate, learn, and listen, it teaches me a lot about how I communicate, learn, and listen. I'm better with people now. Much better.
---
 A bit of background on Residential Life's student program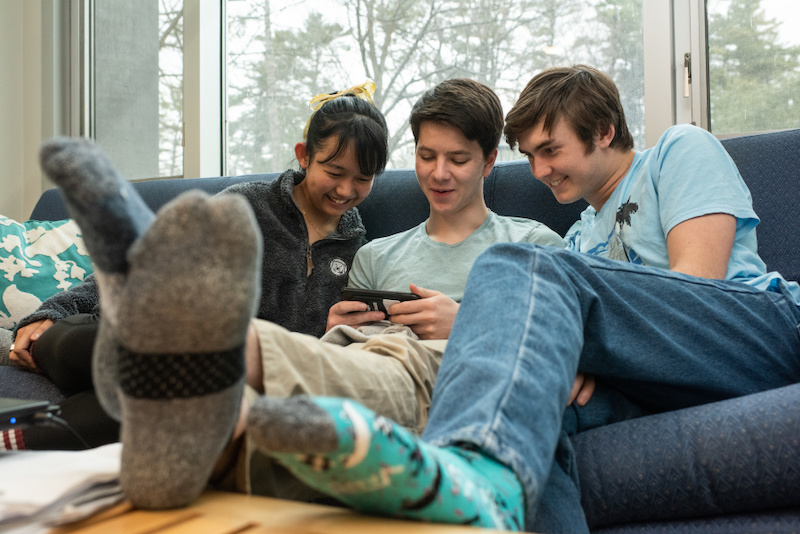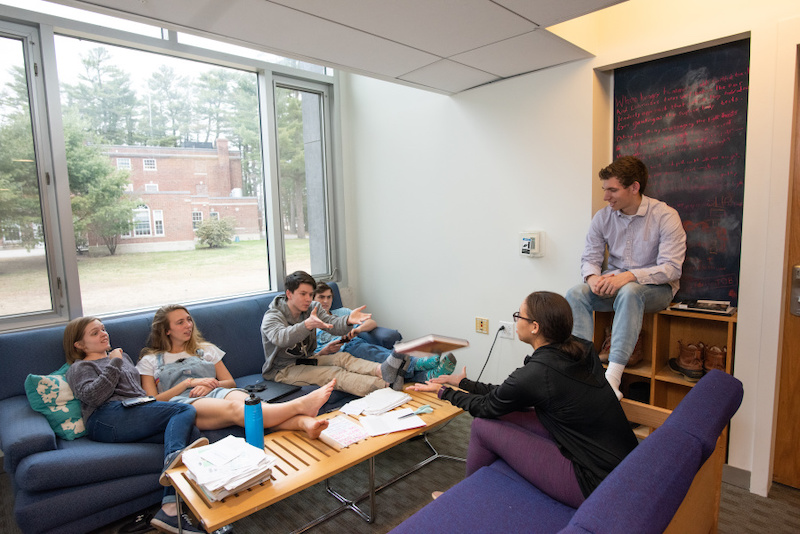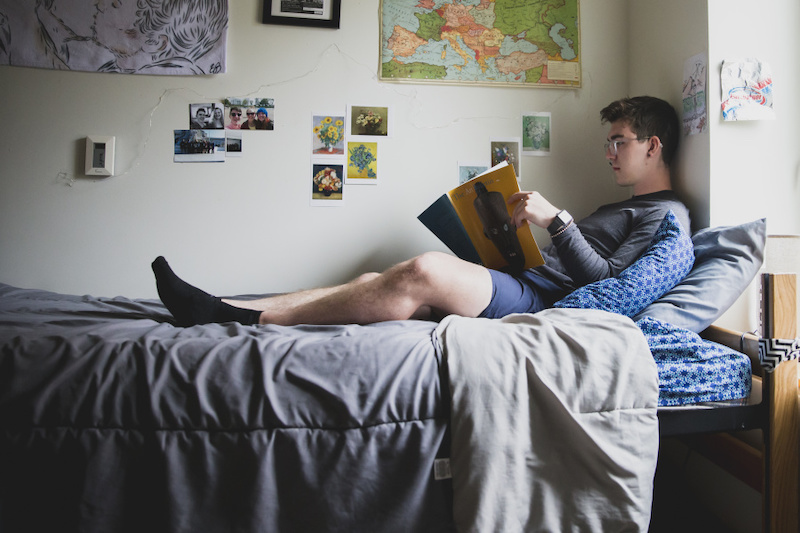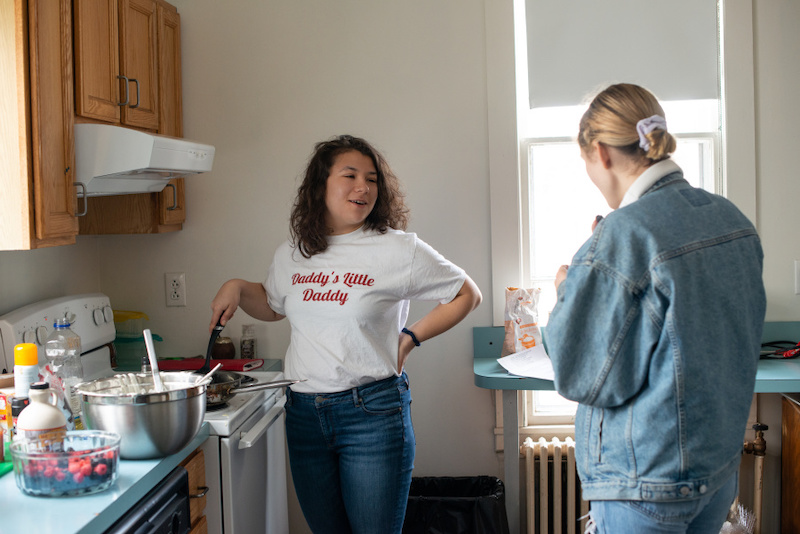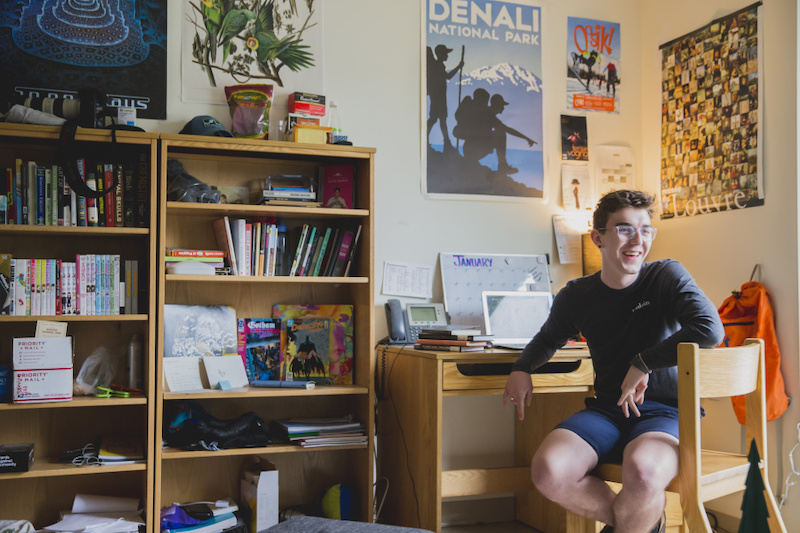 As director of residential education, Whitney Hogan '07 oversees all the training for her corps of student employees—instruction that includes weekly Wednesday night programs in addition to two intensive sessions in August and January. She says the responsibility of each of the seventy-nine students on the Res Life staff is to ensure that every student feels a place of belonging at Bowdoin.
"In the first-year spaces, we're focused on thinking about all of the things that get in the way of making Bowdoin feel like home for someone," she said. "Is it homesickness, is it adjusting to the social scene, is it finding community in the residential hall or outside the residential hall, is it navigating a mental health issue, or figuring out gender expression?"

Res Life staff are trained to remove those barriers, either by helping students one-on-one or pointing them to campus resources. They're taught to address mental and physical health issues and alcohol and drug use—as well as work with diversity and difference.
"We're doing crisis response and making sure people are safe and supported, but we're also thinking critically about how we can make sure people feel a sense of belonging and community in residential spaces," Hogan said. "So a lot of our focus is on inclusion, diversity, and difference, and making sure we're meeting the needs of all students."
There are several types of Res Life staff positions: first-year proctors, residential advisors (RAs), College House proctors, head proctors, and head RAs. All are relatively well-paid campus jobs that are awarded, in a competitive application process, to sophomores, juniors, and seniors. (It's common for over 100 students to apply for about thirty new positions every year.) 
Each of the thirty-five floors that comprise the eight first-year residential halls has a proctor who lives in a single on the floor. Additionally, these proctors collaborate with an affiliated RA who lives elsewhere but helps out with dorm programs. In their own dorms, RAs also focus on building cohesive communities. College House proctors live in one of Bowdoin's nine College Houses.
"The common denominator across all people on staff is they believe Bowdoin is a place where everyone can belong. The biggest set of skills are softer leadership skills—how to communicate about differences and across differences," Hogan said. "They can live their own authentic selves and are also pretty magnetic—people are drawn to them."