Eight Students Honored at President's Awards Luncheon
Published by Rebecca Goldfine
Each May, as the spring semester winds down, the president of Bowdoin invites a small group of students to a special lunch to recognize the ways they've enhanced the College.
Students are recognized for their leadership and service to Bowdoin, as well as for good writing. Four of the awardees submitted essays that have won them the honor of speaking at the upcoming Commencement and Baccalaureate ceremonies.
The prizewinning essayists this year are Ayana Opong-Nyantekyi '23, Ethan McLear '23, Sarah Lührmann '23, and Zoë Ellis Wilson '23.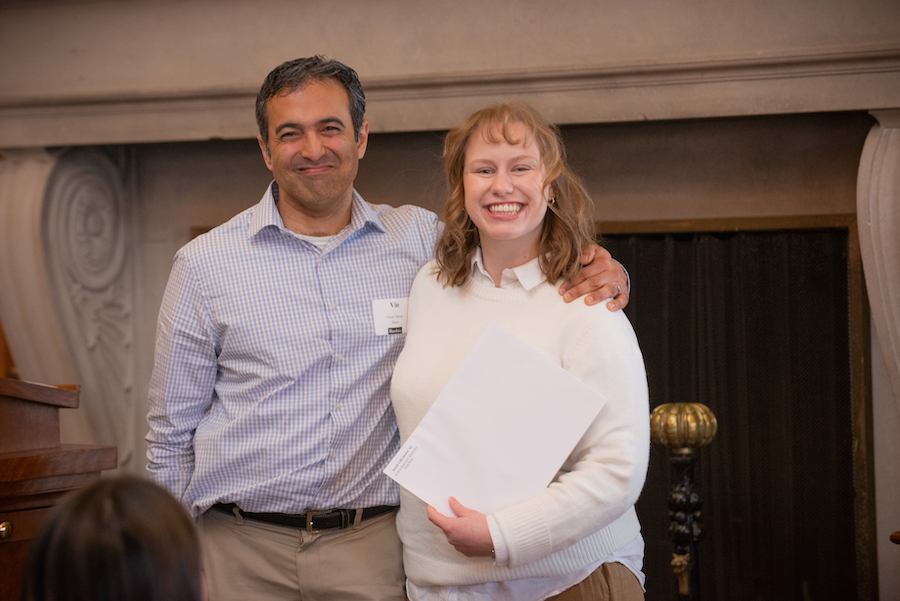 Photo album:
Professor of Music Vin Shende, who presented the essay awards, with the winners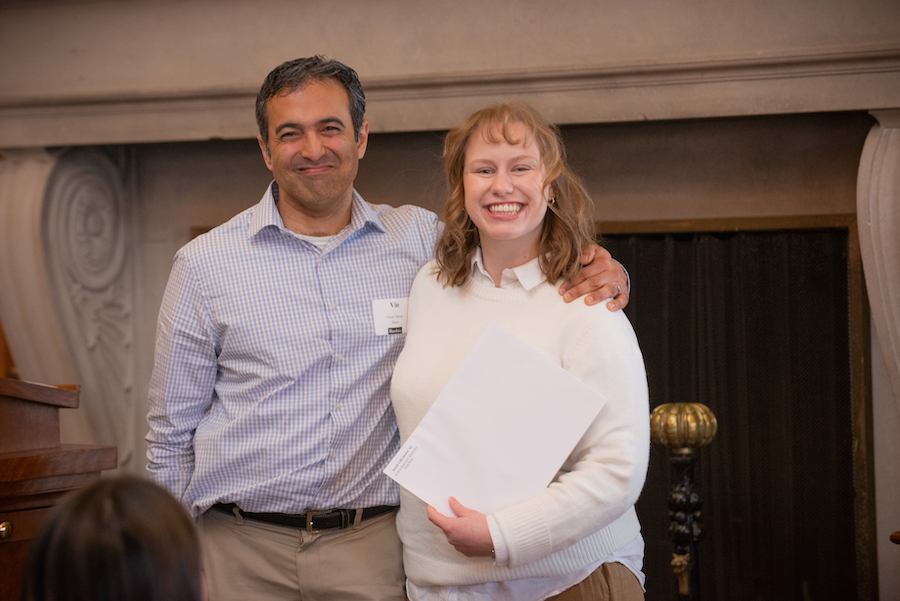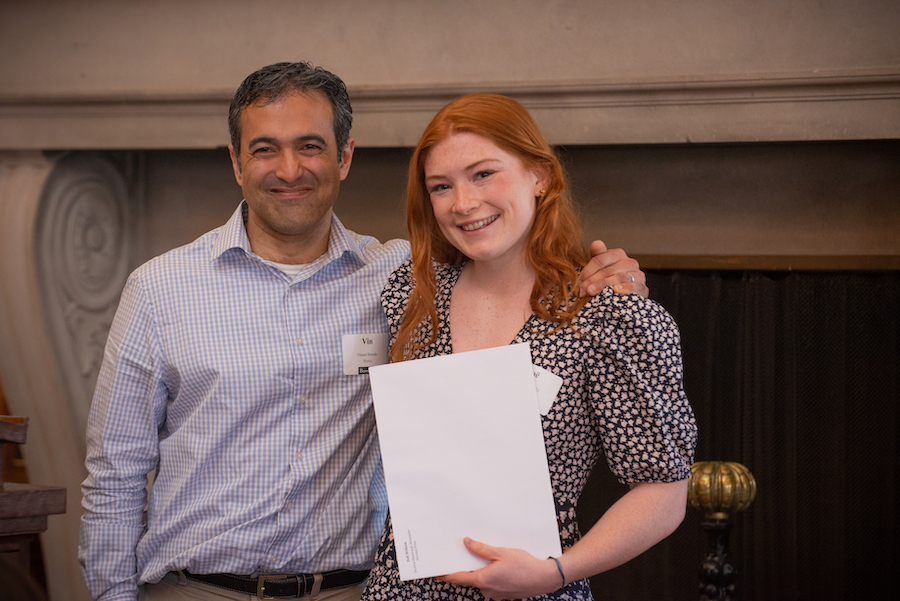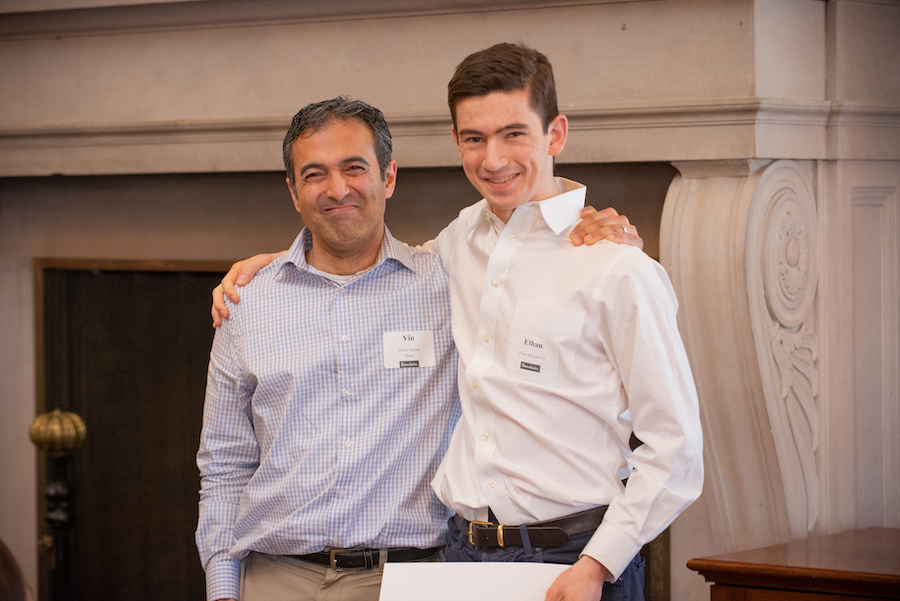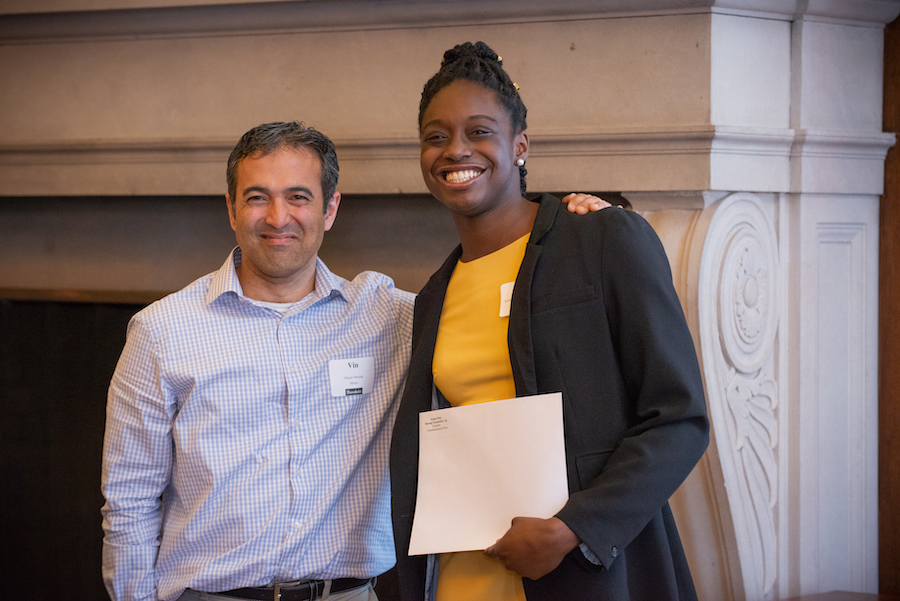 For her essay, "The Power of the Open Heart," Opong-Nyantekyi received the Goodwin Commencement Prize. McLear was selected for the Class of 1868 Prize for his essay, "Let College Change You," and Lührmann received the DeAlva Stanwood Alexander First Prize for her address, "Bowdoin, Our Compass." Wilson's speech, "The Places of Tomorrow," received the DeAlva Stanwood Alexander Second Prize as the alternate.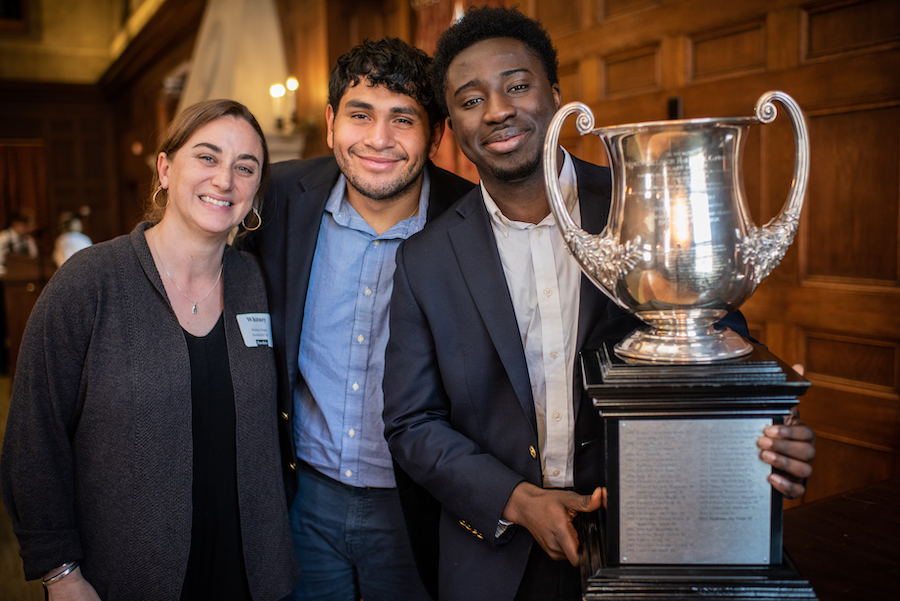 Leadership Awards 
After the Commencement and Baccalaureate speakers were applauded, Sarah Seames, director of the McKeen Center, presented prizes in recognition of three exemplary campus leaders.
Souleman Toure '23 received the Andrew Allison Haldane Cup, which each year is inscribed with the name of a senior who displays outstanding qualities of character, in memory of Captain Andrew Allison Haldane, Class of 1941.
Toure, a computer science major and an economics and finance minor, served many roles on campus: facilitator for Bowdoin's Program for Nonviolence and Conflict Resolution, an admissions tour guide, manager of the squash team, member of the After-Hours Improv group, member of the Bowdoin men's rugby team, and a computer science learning assistant. He ws also a proctor his sophomore year and a head proctor his junior and senior years.

Last summer, Souleman interned at Silicon Valley Bank with the sales and implementation team in the product division, where he worked on projects involving culture change, vision, and team alignment. After graduation Souleman will move back to New York to be closer to his family and will pursue a master's degree in computer science or business.
"Souleman loves being around people and has spent his four years at Bowdoin exploring many different aspects of Bowdoin life—sports, comedy, and service to the community to name a few—always looking for opportunities to bring people together," Seames said.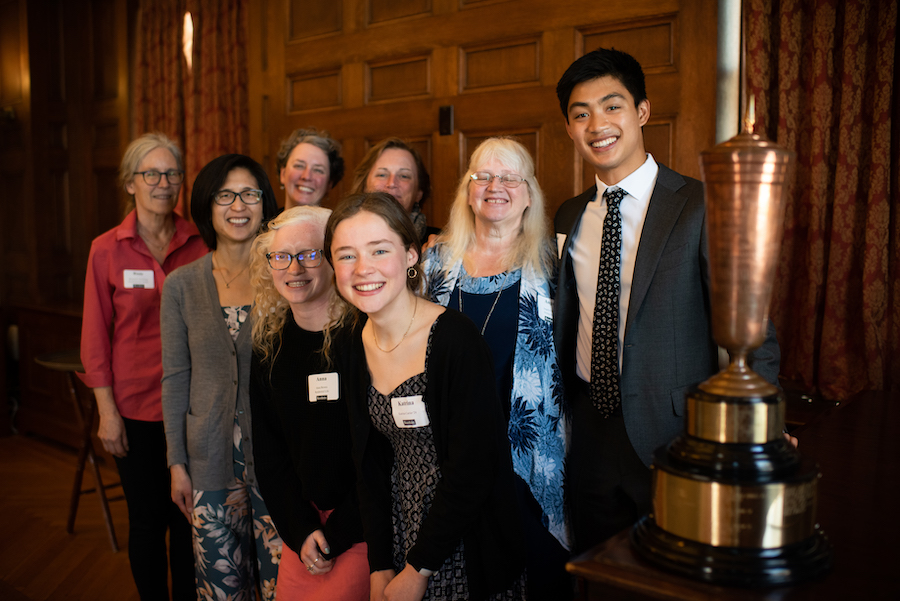 Paul Wang '24 was this year's Franklin Delano Roosevelt Cup winner—which is awarded to a first-year, sophomore, or junior—as his "vision, humanity, and courage most contribute to making Bowdoin a better college," Seames said.
An environmental studies and biology major and economics minor, Wang is a Bowdoin Student Government representative, a dining employee, a proctor in Moore, an environmental studies teaching assistant and department ambassador, a Bowdoin Outing Club trip leader, and member of the Ultimate Frisbee team. He is also passionate about fishing and loves to bring his friends along.

This summer Wang will intern in the areas of ocean conservation and aquaculture development with a McKeen Center Denning Fellowship.

In his years at Bowdoin, Wang has earned a reputation for being generous with small acts of kindness. His peers say he has made a point of learning many of their names. He never lets someone eat alone when they want company. And if he finds out someone is having a tough week, he'll bring them a snack, some flowers, or invite them for a walk around the Quad.
One of the most important pieces of advice he received was shared with him by biology lab instructor Beth Whalon. When he was struggling in a challenging class, she told him to keep showing up and everything would be okay. Paul says that he realized she's right: "By showing up, things get done."

Even better: if he shows up with a good attitude, "they generally get done well," he adds.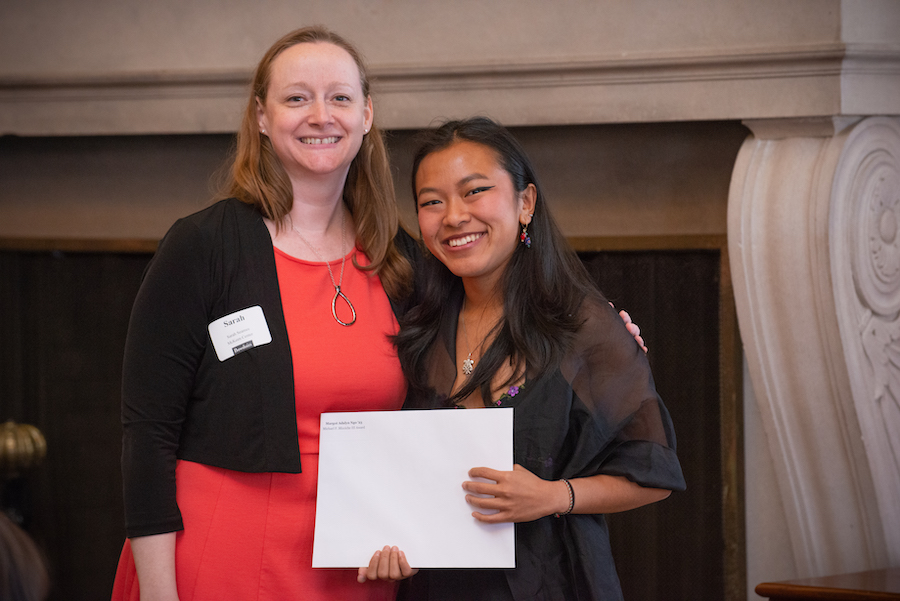 Margot Adalyn Ngo '23 was selected for this year's Micciche Award, as she "embodies the entire Bowdoin experience, engages the College community, achieves academic excellence, and earns the respect of their peers and professors," Seames said.
A government and legal studies and education major and an anthropology minor, Ngo has been actively engaged with the McKeen Center—including as an anti-racism fellow, a McKeen Fellow, a development committee member for the Common Good Grant program, and as a Global Citizen Fellow working with ProsperityME and YearUp.
In other work serving the common good, Ngo volunteered at the Midcoast Youth Center and its adjacent Bath Skatepark, where she was able to connect two things important to her—community engagement and skating.

Ngo has also been a writing assistant for the Baldwin Center for Learning and Teaching. Her interest in writing extends to poetry—her sophomore year she was awarded the Forbes Rickard Jr. Poetry Prize for a poem about her family, cultural histories, and colonialism.

Last summer, Ngo interned with the Century Foundation, a progressive think tank in Washington, DC, where she spent time studying dual-language immersion programs in schools and their ability to improve educational equity.

After graduation, she will be participating in the Fulbright Teaching Assistant Program in Vietnam.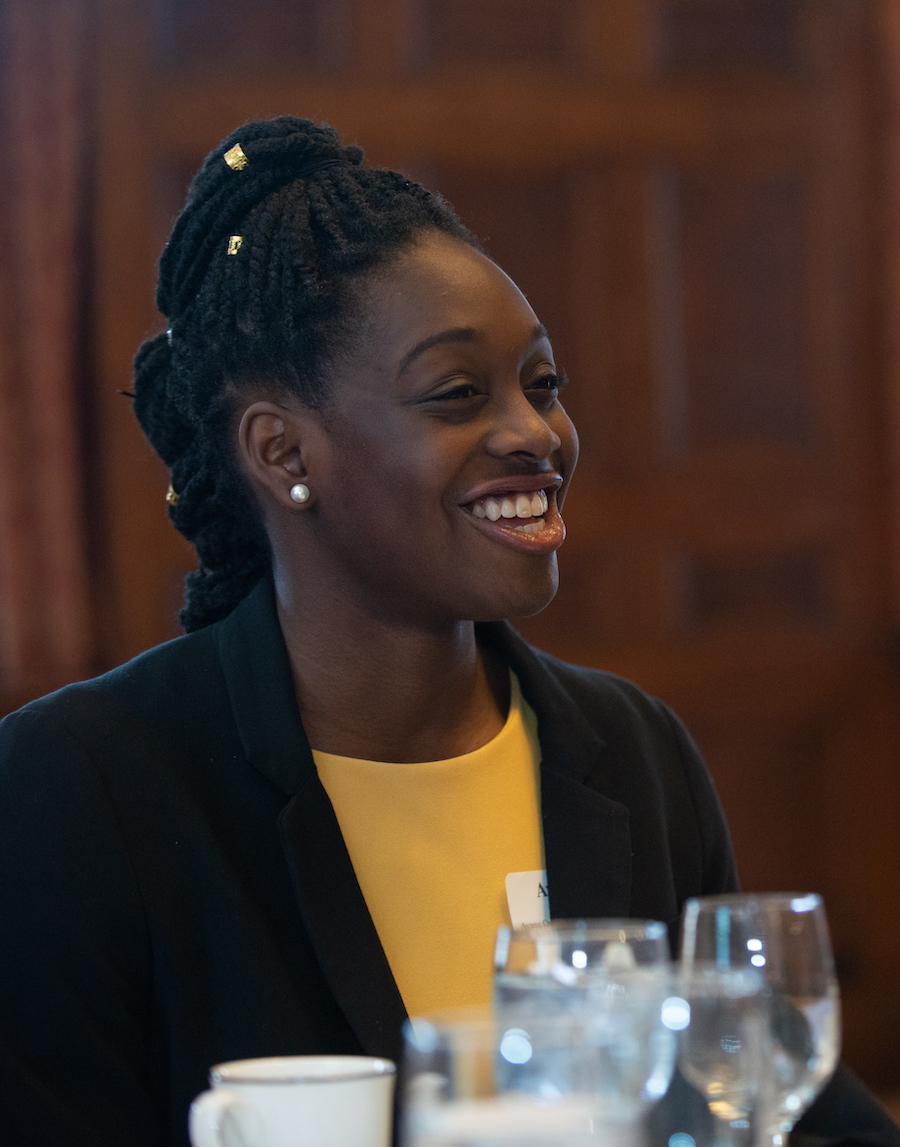 President's Awards
This year, President Clayton Rose presented the President's Award to two seniors: Ayana Opong-Nyantekyi '23 and Peyton Tran '23. Both happen to be swimmers on the women's swim and dive team, an accomplishment their teammates rejoiced in by meeting them outside Moulton after the lunch to give them a big cheer.
Inaugurated in 1997 by President Robert H. Edwards, the President's Award recognizes a student's exceptional personal achievements and uncommon contributions to the College.
Opong-Nyantekyi is pursuing a double major in Africana studies and economics and a minor in Hispanic studies, and if she could have added more, she would have! Her friends say she's taken a class in almost every discipline—even enrolling in five courses a semester—because her curiosity and thirst for knowledge are so strong. Though she's always got lots of academic work herself, she takes time to help her fellow students with their studies, steering them toward understanding with her unwavering patience and sense of calm.

In her senior year, Opong-Nyantekyi was captain of the swim team and has been a member of the outdoor track team. She's a head proctor for Residential Life, and in the past has been a proctor and residential advisor. She's a leader in the Athletes of Color Coalition, Black Student Union, Christian Student Association, and Multilingual Mainers.

She participated in the Bowdoin Public Service in Washington and the McKeen Center Alternative Spring Break programs. She received a Bowdoin Public Service Fellowship to work for Topsham in the summer of 2021. Her other jobs have included swim instructor, senior class agent, Sophomore Bootcamp assistant, Bowdoin Dining Services assistant, and Buck Fitness Center monitor. Last summer, she was a public finance analyst intern at Morgan Stanley.

Her jobs with Res Life have been particularly impactful. Beyond being grateful for the relationships she has formed with both student residents and coworkers, Ayana said the experience has made her a better communicator, problem solver, conflict resolver, and team builder.

Opong-Nyantekyi studied away in Cali, Colombia, where she became fascinated with the ways in which Black identity is projected and embodied there. The experience was so significant that, when she returned to Bowdoin, she continued researching the subject in an honors project with the Africana studies department. This winter, she returned to Colombia to do research with funding from the Allen Wells Travel and Research Grant and the Randy Stakeman research award in Africana studies.

After graduation, she will begin a job at Kaufman Hall in Chicago as a transaction track analyst.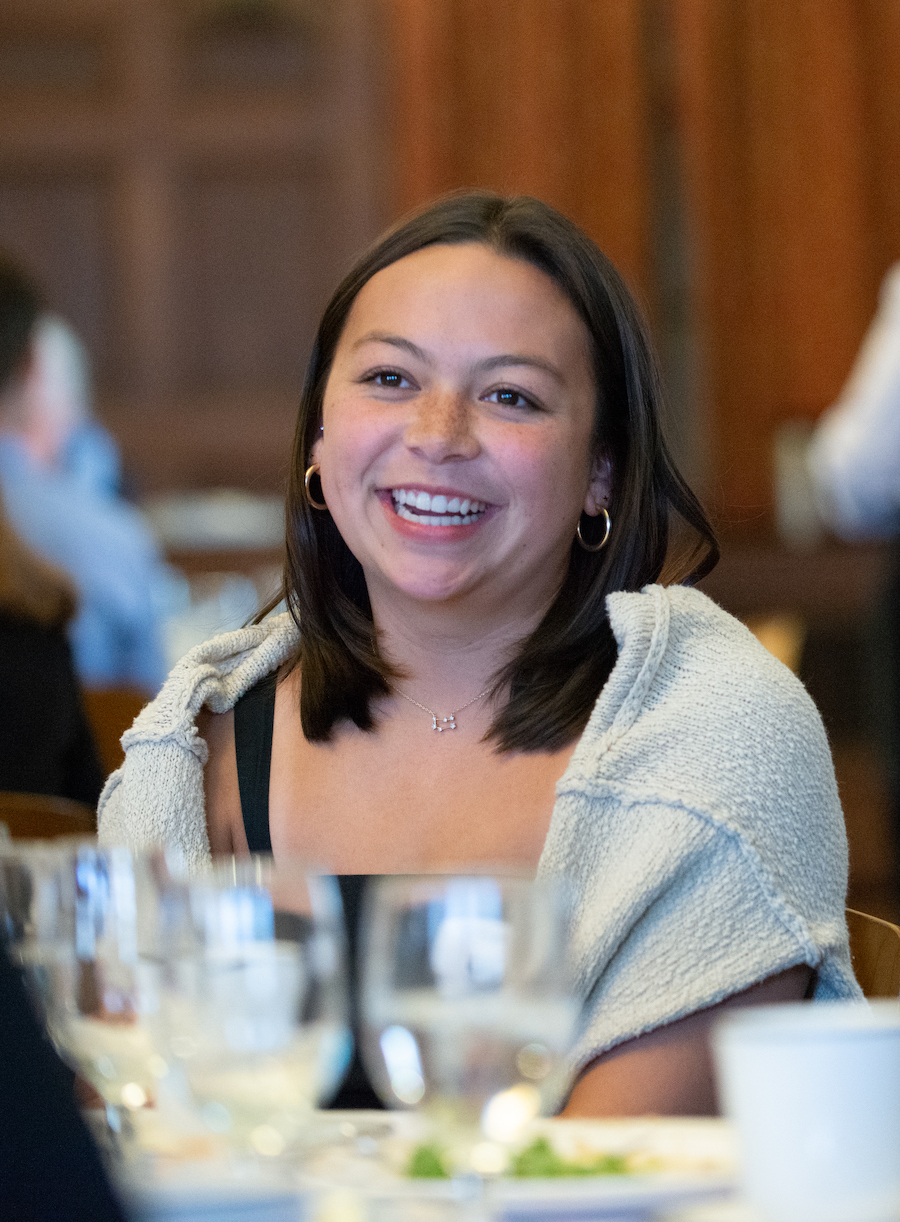 Tran, a biochemistry major and a gender, sexuality, and women's studies minor, has contributed to the life of the College in many ways.
She has been a member of the Bowdoin women's swim and dive team, a lifeguard and swim instructor, a facilitator for Bowdoin's Program for Nonviolence and Conflict Resolution, a summer community engagement fellow and special projects fellow at the McKeen Center, a research assistant for the gender, sexuality, and women's studies department, a laboratory teaching assistant for the chemistry department, and a member of the Committee for Continuity of Teaching and Learning.

Additionally, she serves as cochair of the Conduct Review Board. Her work on the board calls on her to make ethical and empathetic decisions and navigate institutional precedent and the nuances of the personal circumstances of her peers in front of the board. 

She pursued two independent studies this year. Her fall work was with the gender, sexuality, and women's study department, exploring what happens at the periphery of science and research and how different approaches change what becomes truth. This spring she worked on a biomimetic laboratory-based study to optimize and test a procedure that would allow scientists to recreate important brain receptors and study them more effectively.

Peyton is passionate about all the ways that medicine and gender, sexuality, and women's studies intersect, including the drugs and medications specific to queer health like transgender affirming care and antiretroviral therapy for HIV/AIDS.
After she graduates, Peyton will be working as a medical assistant at a small primary care clinic in Brookline, Massachusetts, and applying to medical school.