Published October 22, 2019 by Rebecca Goldfine
Profiles in Residential Life: Sasa Jovanovic '20
The Office of Residential Life—or, more commonly, Res Life—plays a big part in making the campus a comfortable place for students to live, study, work, and have fun. Its mission is to make Bowdoin feel like home for every student.
Sasa Jovanovic '20 is one of thirty-five residental advisors (RAs) living in one of Bowdoin's upperclass residential halls. She is in Coles Tower and is also affiliated with the first-years on Moore Hall's second floor.
This profile is part of a series on students who work for Res Life. 
---
Sasa Jovanovic is one of five RAs for Coles Tower, which has sixteen floors high and 218 students. As an upperclass RA, she is also affiliated with a first-year floor, and so teams up with the proctor of Moore Hall's second floor to help guide its fifteen students through their first year of college. A government and economics major, Hacker wants to practice law after she graduates. She also plays on the tennis team and was born in Serbia.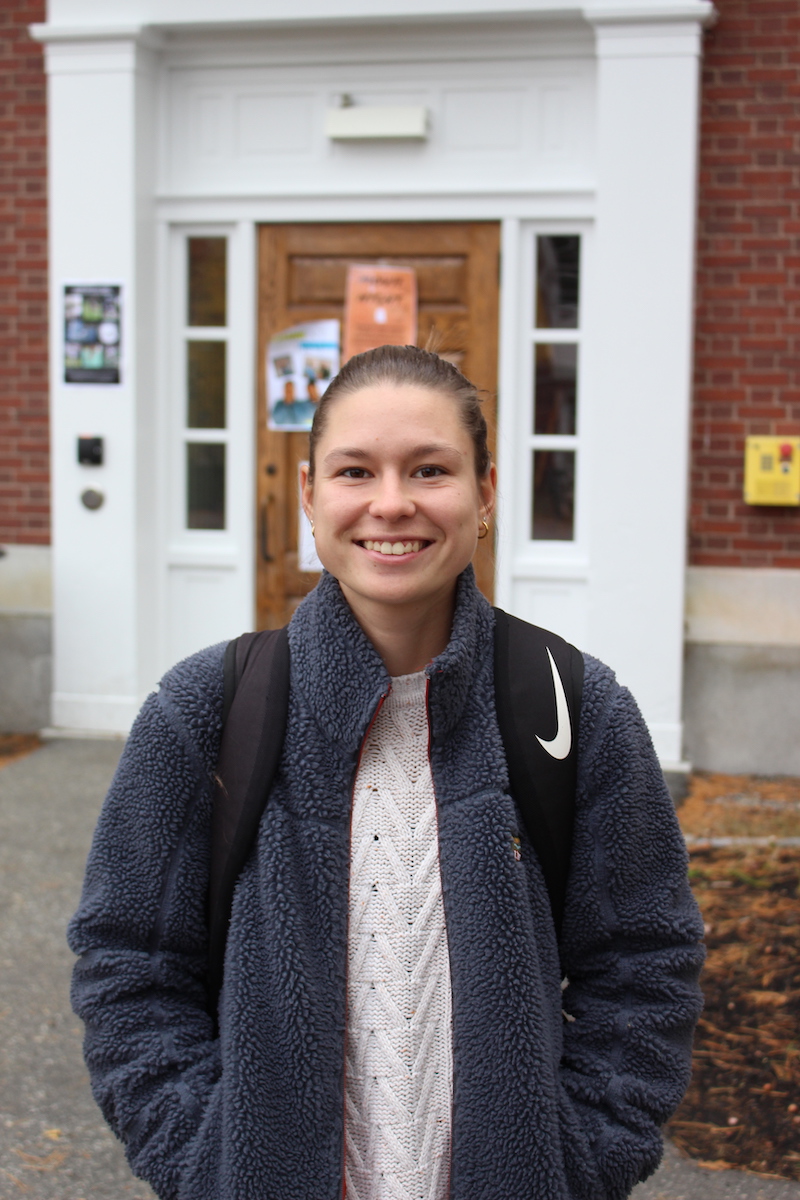 Why is Res Life important for Bowdoin? I think Res Life does two things: on the one hand, it ensures first-years feel warm and welcome when they first come in. We're their first point of contact, we're helping them move in, we're shepherding them to first-year orientation and classes. And then Res Life sustains that over all four years.
I have found at Bowdoin there are so many friendly, awesome, and amazing people, that Res Life gets the ball rolling and then a lot of times other students will end up doing community-building events themselves.
How do you go about building community? In Coles Tower, we've been doing a lot of programming—passive programming because you're dealing with upperclassmen who have friend groups already established. So we encourage them to talk to their neighbors and people they otherwise wouldn't.
One thing we're doing is we've come up with a list of questions to put in the elevator. Because there are sixteen floors in Coles, and that is a lot of travel time. I personally have found it to be super awkward traveling for sixteen floors in silence! So they are really random questions—from what would be your preferred way to die to what is your favorite ice cream. Hopefully it'll get people to chat.
And among the first years on your floor? We have flinners—floor dinners—which are weekly dinners with your floor, and with the proctor and RA. They're a weekly check-in to see how everyone is doing. At the beginning of year, they were focused on class selection, and now they're more focused on how is everyone doing halfway through the year and how are midterms hitting you—things like that.
How has Res Life changed you? It's a combination of Res Life and going through four years of the school. I came into school, like a lot of people do, a little timid. Res Life made me feel I was adept at handing relationship dynamics. And its training gave me more confidence and has led me to be a leader on campus in other ways. Plus, I think it has helped me be a better friend!
---
 A bit of background on Residential Life's student program 
As director of residential education, Whitney Hogan '07 oversees all the training for her corps of student employees—instruction that includes weekly Wednesday night programs in addition to two intensive sessions in August and January. She says the responsibility of each of the seventy-nine students on the Res Life staff is to ensure that every student feels a place of belonging at Bowdoin.
"In the first-year spaces, we're focused on thinking about all of the things that get in the way of making Bowdoin feel like home for someone," she said. "Is it homesickness, is it adjusting to the social scene, is it finding community in the residential hall or outside the residential hall, is it navigating a mental health issue, or figuring out gender expression?"

Res Life staff are trained to remove those barriers, either by helping students one-on-one or pointing them to campus resources. They're taught to address mental and physical health issues and alcohol and drug use—as well as work with diversity and difference.
"We're doing crisis response and making sure people are safe and supported, but we're also thinking critically about how we can make sure people feel a sense of belonging and community in residential spaces," Hogan said. "So a lot of our focus is on inclusion, diversity, and difference, and making sure we're meeting the needs of all students."
There are several types of Res Life staff positions: first-year proctors, residential advisors (RAs), College House proctors, head proctors, and head RAs. All are relatively well-paid campus jobs that are awarded, in a competitive application process, to sophomores, juniors, and seniors. (It's common for over 100 students to apply for about thirty new positions every year.) 
Each of the thirty-five floors that comprise the eight first-year residential halls has a proctor who lives in a single on the floor. Additionally, these proctors collaborate with an affiliated RA who lives elsewhere but helps out with dorm programs. In their own dorms, RAs also focus on building cohesive communities. College House proctors live in one of Bowdoin's nine College Houses.
"The common denominator across all people on staff is they believe Bowdoin is a place where everyone can belong. The biggest set of skills are softer leadership skills—how to communicate about differences and across differences," Hogan said. "They can live their own authentic selves and are also pretty magnetic—people are drawn to them."