Published February 14, 2019 by Rebecca Goldfine
From Their View: First-Generation College Students on Bowdoin
Bowdoin's Division of Student Affairs has launched a new program to hear directly from students.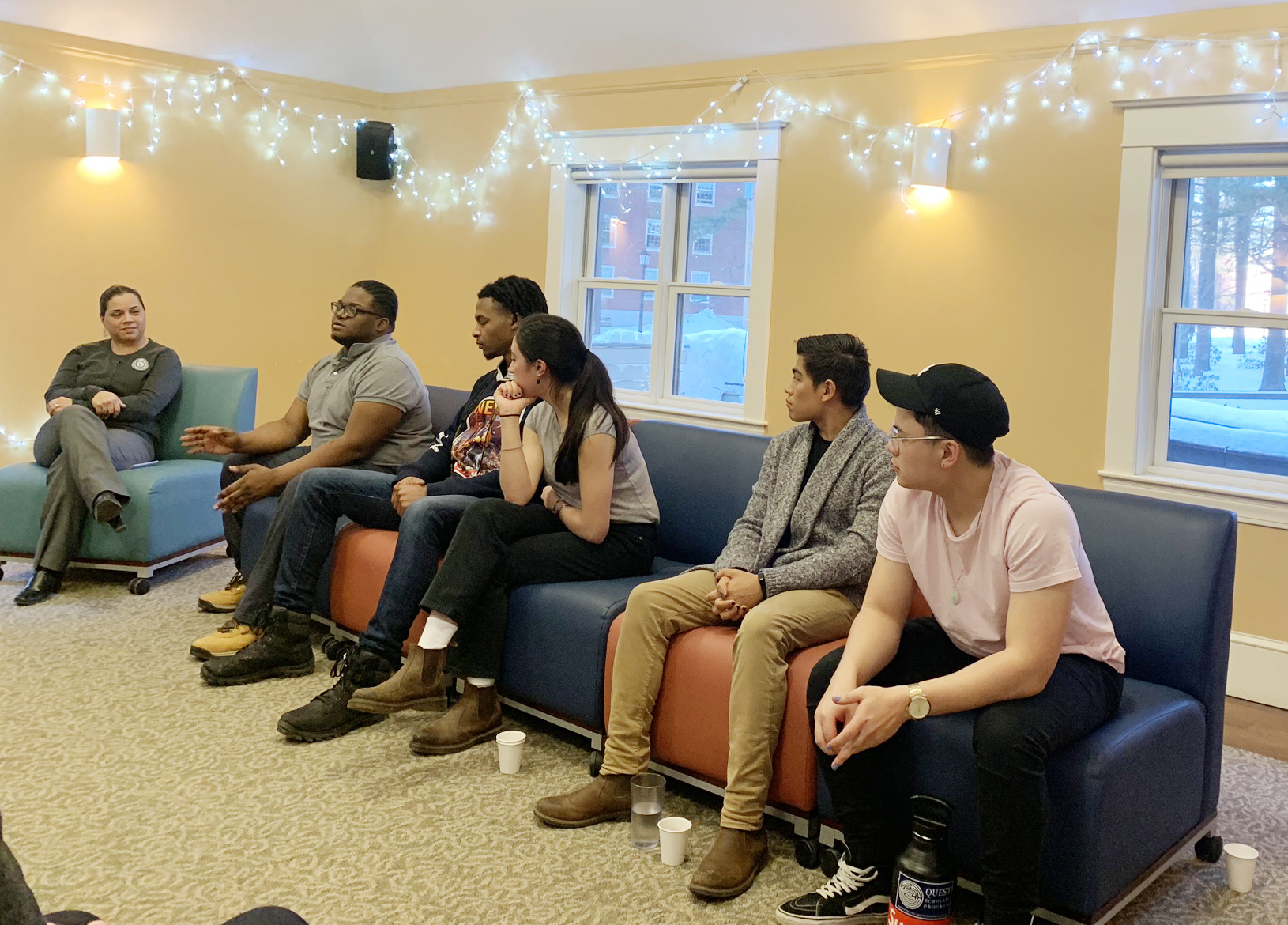 Last semester, Associate Dean of Student Affairs Wilmarie Rodriguez organized the first event of a new Bowdoin series, "Dialogue with Students." She invited five international students to talk about their families, backgrounds, and experiences at Bowdoin.
Recently, administrators and others gathered at 30 College Street to hear from five more students about what it was like to be the first in their families to attend a four-year college.
Bowdoin has 273 students who are (or rather, will be) the first generation in their families to earn a bachelor's degree. With this particular distinction comes both opportunity and challenges, and the student panelists shared a number of insightful reflections on being in this position.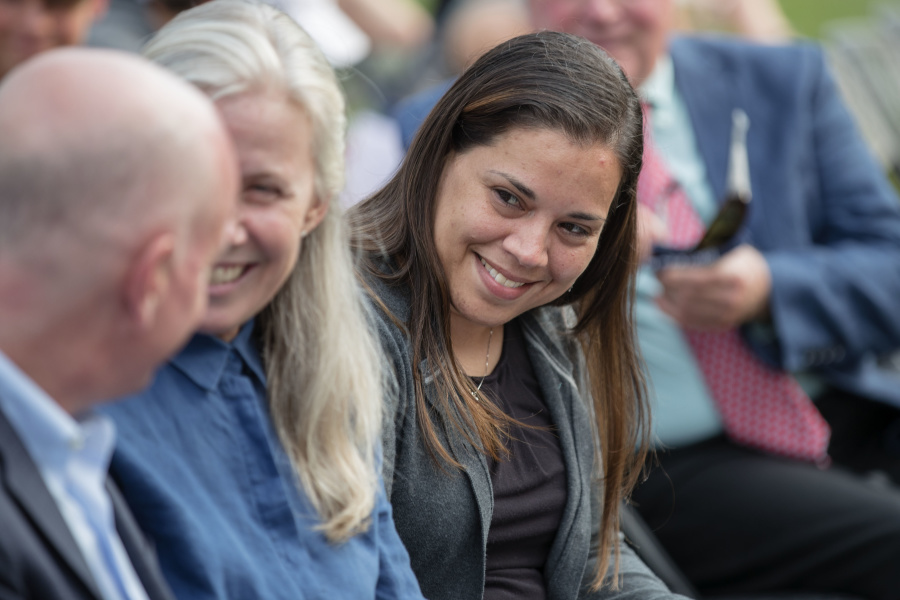 "This student program is part of the Division of Student Affairs' effort to connect students with staff and better serve them," Rodriguez said. "This way, their voices are being heard. When you listen to their stories, you realize they challenge some of our assumptions."
Below is an edited transcript of the recent discussion with first-generation students Arein Nguyen '21, of Phoenix, Arizona; Ray Tarango '20, of Houston, Texas; Lianna Harrington '21, of Nantucket, Massachusetts; Darius Riley '19, of San Jose, California; and Wayne Harding '21, of Brooklyn, New York.
Wilmarie Rodriguez: Why did you choose to come to Bowdoin?
Arein Nguyen: After looking into it, I saw that Bowdoin offers a big financial aid package. [My family] lives very much below the poverty line, so we needed funding to go to college. I wanted a rigorous school and saw that the culture of Bowdoin pushed people to be intellectual. And I looked at the diversity numbers; I didn't want to be in a really white space. And then I saw we were number two in food. I eat a good amount, so I wanted to spend my undergraduate years somewhere where I wouldn't be ruing my choice three times a day for four years.
Ray Tarango: Bowdoin gave me a good financial aid package, which helped because my parents didn't want me to leave. But having that [financial] peace of mind helped them get over that.
Lianna Harrington: I knew I wanted a small school and to stay in New England, and Bowdoin gave me the best financial aid package. I knew I wanted to be in a place where I felt really at home, and where I felt I knew the people I saw on campus every day. And I wanted a place where I knew that if I needed to reach out, I wouldn't feel lost in a sea of people.
Darius Riley: I came to Bowdoin through the Explore Bowdoin program, and it was fun! As soon as I got off the bus, I had a Philly cheese steak. I went to a very small high school, and I wanted to maintain a small environment and be able to get the attention I needed to be successful and keep pursuing learning. Learn, learn, learn, as much as possible. So Bowdoin was the place for me.
Wayne Harding: I went to a boarding school, Milton Academy. In a lot of ways, Bowdoin is Milton times one-point-five, times two. It was very comfortable for me to continue going on with things, and I liked the prospect of not spending a lot of time adjusting.
What has been your most challenging experience at Bowdoin?
AN: For me, the main thing is, it is cold. But there are resources in the deans' office to help students get winter coats, and that helped me out. Also, being a first-generation student, I get really like, I don't want to say mad, but like confused, when I hear people call back home for their parents to help edit their essays. My grandparents don't speak English. I never had that support growing up. I'm glad we have the writing center [at the Center for Learning and Teaching] for any assistance I might need.
WH: I'm not very good at processing my emotions, per se, or really looking inward. I'm very busy a lot of the time, so I'm always paying attention to other things. One night last year it was a very small thing I was reacting to, but I remember, within five minutes, I had spiraled down and was crying. It was 2:00 a.m. and there was no one to talk to, so I just went to sleep. I'm still struggling with that at times, just blowing through things and not processing them.
WR: Has your relationship with your family changed since coming to Bowdoin, and if so, why?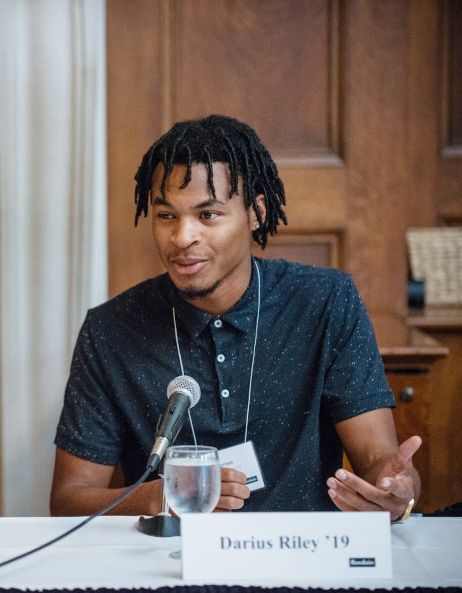 AN: My grandpa is old now, and recently he's been getting sick, and it's been stressing me and my family. But I have to keep doing work and keeping up all my extracurriculars, and so I have to put on a mask here of, 'I'm doing okay. I just gotta keep working.' I'm scared to take time off, or I don't have access to go home for a week, if anything were to happen.
RT: I don't always feel like I can tell my family my struggles here. I am a junior, and I still don't feel like I can be honest with them and tell them I'm struggling, because it is a tremendous privilege to be here, with all its resources and support—and then to be crying about an essay when my dad is struggling to go to work, you know?
LH: I am an only child. My dad was the only one of his siblings to finish high school. My mom grew up in the Philippines, and she didn't finish middle school so she could work on her family's rice plantation while her brothers went to school. So it is weird to compare what I am dealing with here to what they went through.
DR: Bowdoin has made me closer with my family. My sister is four years younger than me, and my little brother is eight years younger. They got to come here for Family Weekend, all the way from California, and they're like, 'Oh, you get to go to school where Harry Potter went!' Having my little brother and sister be able to see this space and say, 'Oh wow, this is what you're pursuing!' Even though they can't recognize the struggles we're enduring as students, I at least am giving them the idea [of going to college], an example.
WH: This is a trivial thing. But I have been acting since fifth grade, and I've kept it up [at Milton and Bowdoin]. I have never talked about inviting my mom or anyone to come to my shows. And it is not because I don't think she wouldn't want to see it, it's because I can't feasibly see how it would work out for her, with work and everything else, like expenses.
What do you wish Bowdoin staff would know when they interact with you?
LH: When I tell people I'm a first-generation student, they respond, 'Oh that's so good for you, congratulations for overcoming so much adversity!' It can feel sometimes like it is such a miraculous feat we're here! But we're at the same level as other students, and it would be nice for people to remember that when we're asking for help.
DR: One thing to acknowledge is that first-generation students, we all come from different backgrounds. Like Wayne, he went to boarding school at thirteen. I started boarding school at thirteen as well. Even within first-generation students, there are different levels of preparation between the schools they're coming from.
If you could change anything about Bowdoin, what would you change to help your Bowdoin experience?
DR: I would want an environment where people would feel more comfortable taking risks, whether that's in class or in the dining halls. For instance, in class, if I'm the only black person in class, I'll always raise my hand, always sit in the front, but I would encourage other people to not be afraid or shy to approach me. People, don't be so shy! This is Bowdoin, raise your hands!
RT: I wish there were more faculty and staff of color—and first-generation as well. The professors I lean on the most here are professors who have gone through the same experiences I have. And that can be so reassuring, to know someone who has gone through the same experience and can guide you in a better way because they understand. And it can be so validating to talk to them.
With so many demands and pressures, how does that feel to you, and how do you work with that?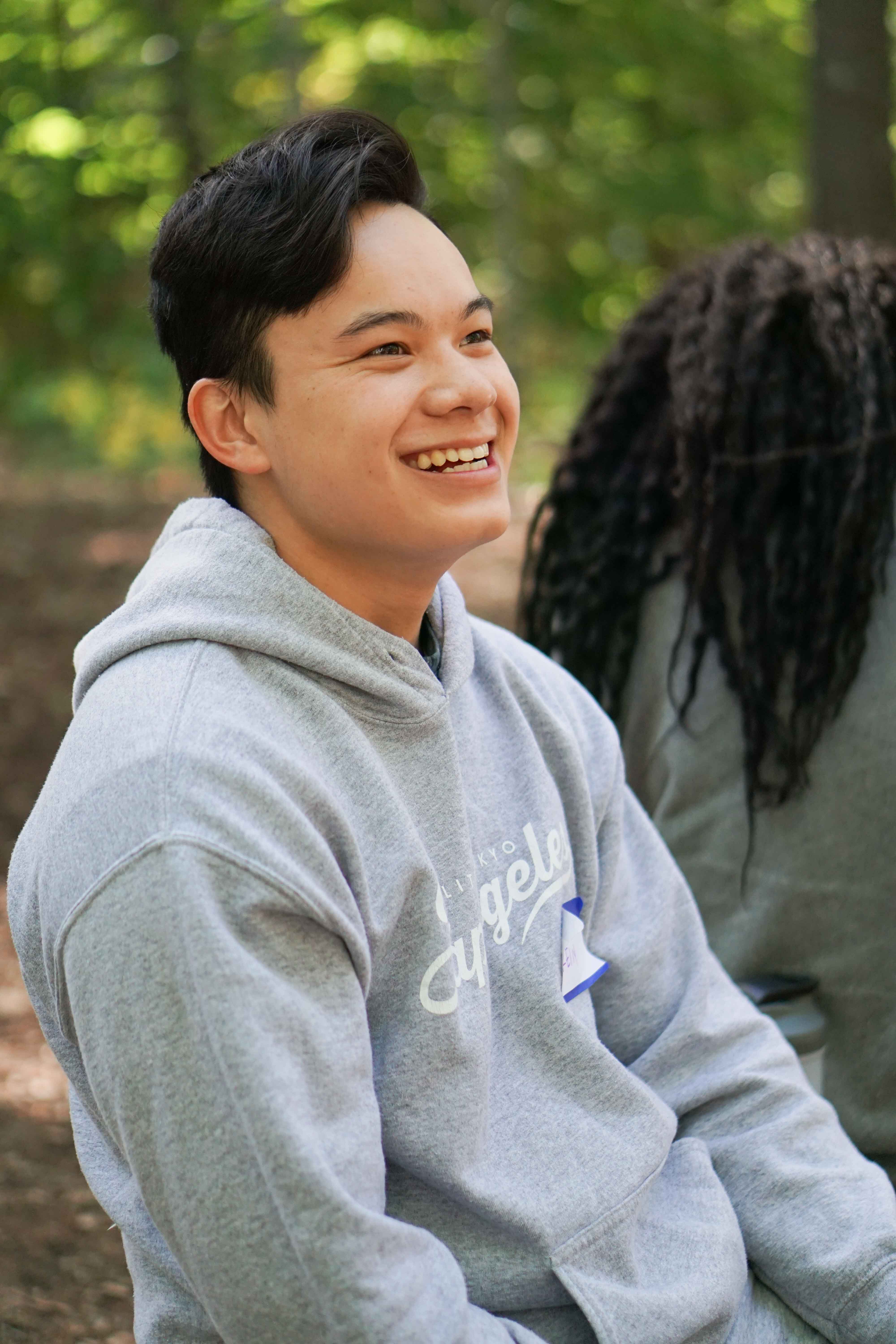 AN: I hate asking for help because I have an internalized feeling that I have done almost everything by myself except put a roof over my head. And my family supports me. [They say], 'Yeah, you're doing so amazing, you're doing so good, just keep doing what you're doing.' It feels like, don't stop. You've done so good so far by yourself—when would I ever need help? It is just really hard for me to ask for that. [That is,] until later on in my first semester, I realized I probably should ask for help because I was burning out. I talked to my professor and she pointed me in different directions, like counseling, the writing center—because my writing is not as good as it could be—or career planning, because those things you actually do need help with!
LH: The first year I very much struggled with looking for resources and wanting to share the things that I was struggling with. This year, I started going to counseling, and got into meditation, a Reiki mindfulness practice, which I think has been very grounding for me. And I have a very close relationship with my dad. When I am particularly stressed out, I'll call him....It is reassuring to remember I am not just a first-generation college student or someone who needs to get good grades and apply for jobs, but I am also a friend, a daughter, and a granddaughter—all these other things that mean more than the test grade I got back last week.
Are there tips or resources you discovered that you would be sure to tell incoming students about?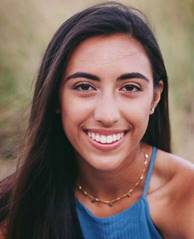 LH: The Baldwin academic mentoring program, definitely. I had a mentor my first semester, which was super helpful, especially knowing an upperclassman who was also first-generation and who had navigated this space. Also, the deans, knowing you are here to make sure we're adjusted. I don't think that is something a ton of students know, but that is a resource I've used a lot.
AN: The emergency funding website, I have it bookmarked. If I need prescriptions, something with a course, or random things I can't afford, that is a big thing that helps a lot.