Published October 19, 2018 by Rebecca Goldfine
Bowdoin Outing Club Throws Open the Doors to the Outdoors for Everyone
"We want to break down barriers to entry, and figure out what would convince someone to come," Director of Student Activities Nate Hintze said.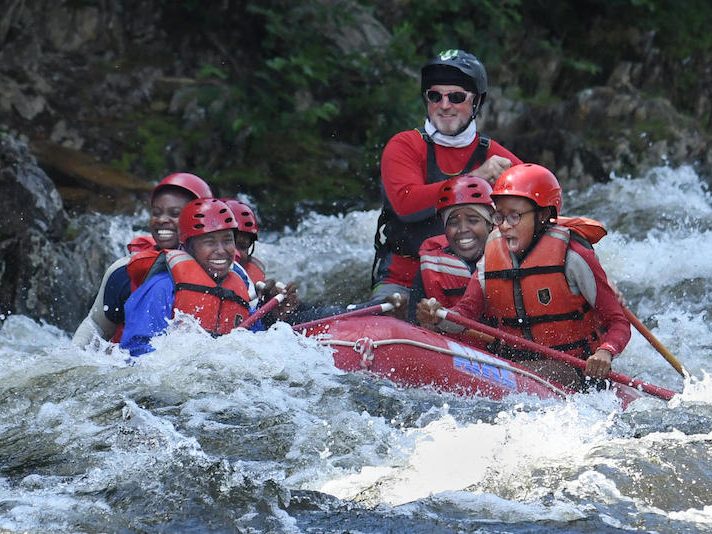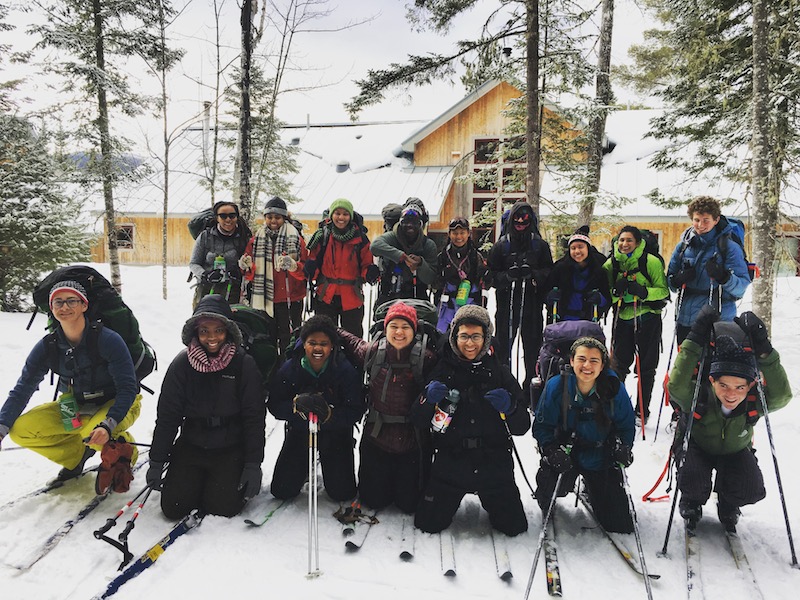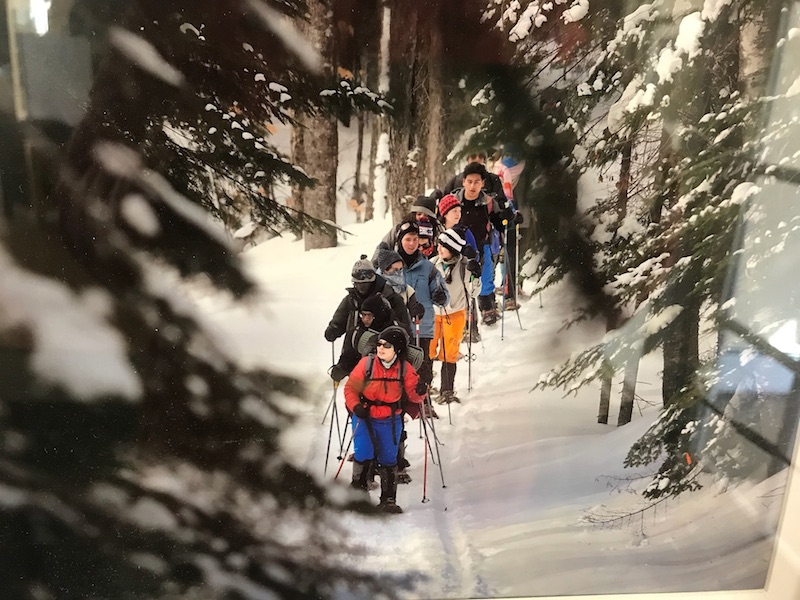 Not every student arrives at Bowdoin having grown up in a place that offered easy access to the wilder parts of nature and the outdoors. And many students, when they see outdoor adventurism depicted in the media, have not often seen people like themselves at the center of the adventure. Separately or together, these factors can make some students anxious that they might be out of their element if they attempt to venture forth.
The Bowdoin Outing Club (BOC) has long been aware of this misconception, and how effective it is at keeping some students from joining its trips and enjoying Maine's natural environment. To overcome it, the club engages in outreach and offers a variety of expeditions to appeal to all Bowdoin students, no matter their level of outdoor experience.
"We want to break down any barriers to entry—whether it's finances or comfort level in the outdoors—that could prevent a student from participating in the Outing Club," Director of Student Activities Nate Hintze said. He added that the BOC provides financial assistance to any student who needs it to fully participate in all its trips and activities.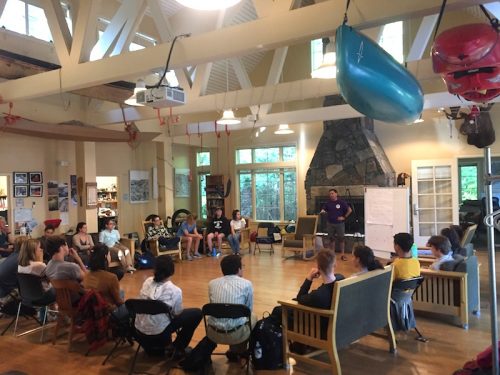 Another strength of if Bowdoin Outing Club is its strong community, according to Anna Bastidas, an assistant director at the Outing Club. But that camaraderie can create the illusion from the outside that there is an 'in' crowd. So she and other BOC staff are collaborating with clubs on campus and creating programs so that any student who "has an inkling to try something will have the opportunity to do so."
Bastidas said it is important to her to offer students the kind of experiences that have so affected and shaped her, particularly when she was a student at Hamilton College. "I have learned so many skills that have been transferable beyond the outdoors," she said, "like building community, leadership, and social skills."
A critical piece to the Outing Club's work to reach all students is its Out of the Zone Leadership Training program. OZ LT, as it is known, was endowed ten years ago by Brian Cook '80 and his wife, Ann, to facilitate opportunities for students of color, first-generation college students, and others with limited outdoor experience to become part of the club's leadership. Cook, in explaining his support of the program, has said, "I've never seen nature exclude anyone."
Additionally, as it has in past years, the Bowdoin Outing Club this year is partnering with the Center for Sexuality, Women and Gender to offer Wild Women Adventures—a series of programs for women only. And it is working with Bowdoin Queer Straight Alliance to continue offering Out in the Woods trips for its members. Outing Club trip leaders, many of them OZ LT graduates, will also be organizing expeditions for members of the Bowdoin Women of Color Coalition, Latin American Student Association, and the Asian Students Alliance. Additionally, BOC is collaborating with the head swim coach, Brad Burnham, to offer swimming lessons to students. 
This month, the Outing Club invited Perry Cohen to give a workshop to students trained to lead BOC trips. Cohen is the founder of the Venture Out Project, which offers outdoor trips for queer and transgender people. He spoke to students how they might address gender and other issues on their trips to make everyone feel comfortable.
"So it's slow and steady," Bastidas said. "But we spend a lot of time thinking about how to make this place an inclusive space, and how to work with trip leaders to raise their awareness about issues of inclusivity in the outdoors." 
A big event for the Outing Club is coming up in January, when it has invited speaker Carolyn Finney, author of the book, Black Faces, White Spaces: Reimagining the Relationship of African Americans to the Great Outdoors.
"These conversations are important because they signal the importance we place on issues that impact inclusivity," said BOC director Mike Woodruff. "We're starting conversations, opening up the Center, and shifting the culture. It's a concept we're interested in broadcasting widely."