Published October 12, 2018 by Rebecca Goldfine
Roux Center Symposium Emphasizes Collaboration—and Hope
With the the Roux Center now officially open, a new era of environmental studies at Bowdoin has begun. "We have an opportunity to broaden our existing research and community engagement, to do even more to transcend the disciplinary boundaries of the past," announced Associate Professor of Government Laura Henry as she kicked off yesterday's symposium.
The symposium, "Understanding Our Environmental Future: Science, Policy, and Art," was held in conjunction with the Roux Center dedication, part of a series of events to celebrate the newest, greenest building on campus and all it represents.
The symposium panelists and faculty moderators included a climate scientist, an economist, an artist, and three alumni involved in environmental policy and advocacy. The speakers' range of expertise and perspectives reinforced the Roux Center's mission to invite scholars, from across the majors, to examine how their work connects to "our quest to live harmoniously with each other and the natural world," Henry said.
"The Roux Center can be a hub of intellectual engagement, a place where ideas and energy from all disciplines and all student groups flow in to be debated, refined, and applied—and then those ideas and that energy can flow out again to inspire and stimulate action on campus and far beyond," Henry added.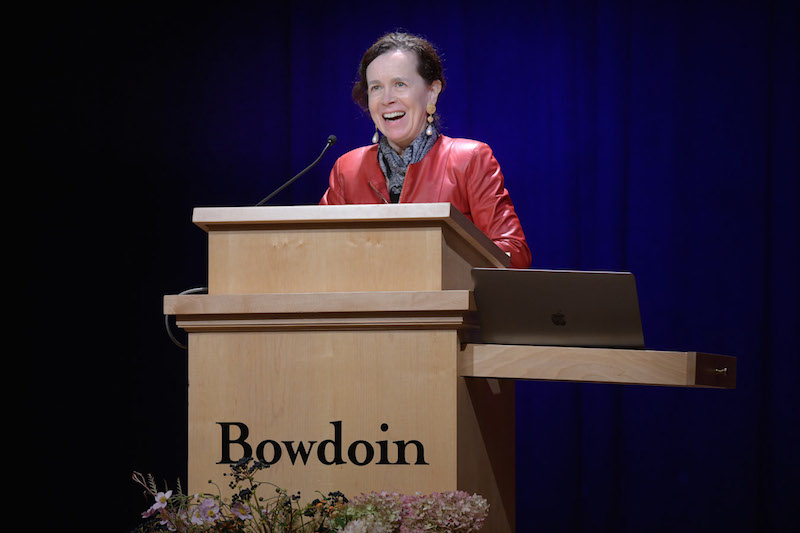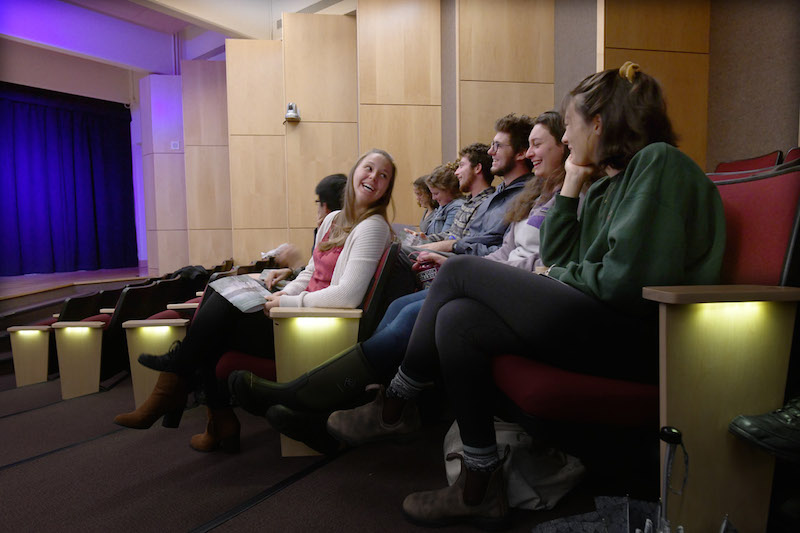 Underlying the symposium's wide-ranging discussion was a message of hope, even as speakers pointed out the intensifying horrors that lie ahead if we do not address climate change, from droughts and extreme storms to millions of people displaced from their homes.
Steven Vavrus, a climatologist at the University of Wisconsin–Madison, described some of the dire consequences of a warming Arctic. But he said that efforts such as the Roux Center and an "inter-agency" organization he is part of called SEARCH buoy his spirits. "Bowdoin has a strong interdisciplinary history, and especially with the new Roux Center, there is optimism about different disciplines getting together to solve these problems," he said.
This optimism remained present even as speakers were clear-eyed about the political, economic, and psychological hurdles of us actually doing anything about climate change. Climate change is a tricky issue to confront, Harvard University economist Rebecca Henderson said, because its worst effects are still largely in our future and they will first damage the poor and dispossessed in the third world. Also, the issue has become "a victim" of politics.
Despite all, Henderson said the problem is surmountable: "We have the technology and we have the resources" to tackle climate change. She added that it would cost only about three percent of the world's GDP to mitigate climate change, significantly less than what is currently spent on armaments.
Henderson's talk pivoted to the role that corporations could have—and in some cases already are having—in stopping climate change. They can, for instance, cooperate with other firms to end deforestation or to adopt renewable energy systems. They have the clout to get behind regulation and a transparent government, the institutions necessary to make progress on global warming. It's not in their financial interests, after all, to let climate change proceed unchecked.
"We can do this, it can be done. It is nuts to destabilize the climate, cause massive ecological destruction, death and suffering for thousands of years," she said. "I'm not saying it's easy. I'm not saying it's obvious. I'm not saying it's guaranteed. I'm saying it's possible."
---
Symposium participants:
   Steven Vavrus, senior scientist at the Nelson Institute Center for Climatic Research, University of Wisconsin-Madison
   Rebecca Henderson, John and Natty McArthur University Professor at Harvard University and research fellow at the National Bureau of Economic Research
   Stephanie Rothenberg, artist and researcher, inaugural Roux Scholar
   Kathleen Auth '08, acting energy office director for Power Africa, USAID
   Kate Dempsey '88, state director of The Nature Conservancy in Maine
   Patrick Woodcock '04, assistant secretary of energy in the Massachusetts Executive Office of Energy and Environmental Affairs
   Laura Henry, Bowdoin associate professor of government
   Eileen Johnson, Bowdoin lecturer in environmental studies
   Mike Kolster, Bowdoin professor of art
   Erik Nelson, Bowdoin associate professor of economics
   Collin Roesler, professor of earth and oceanographic science