Published June 15, 2018 by Matt O'Donnell
The Root of Ivies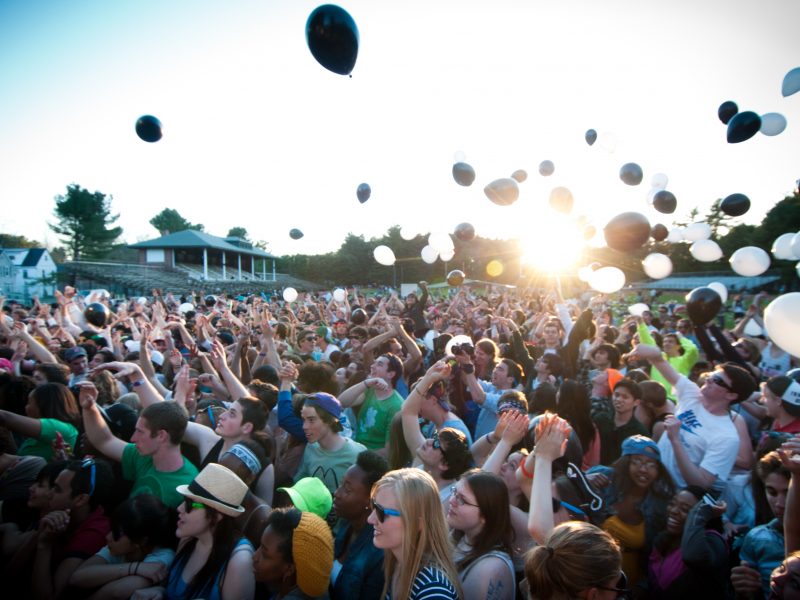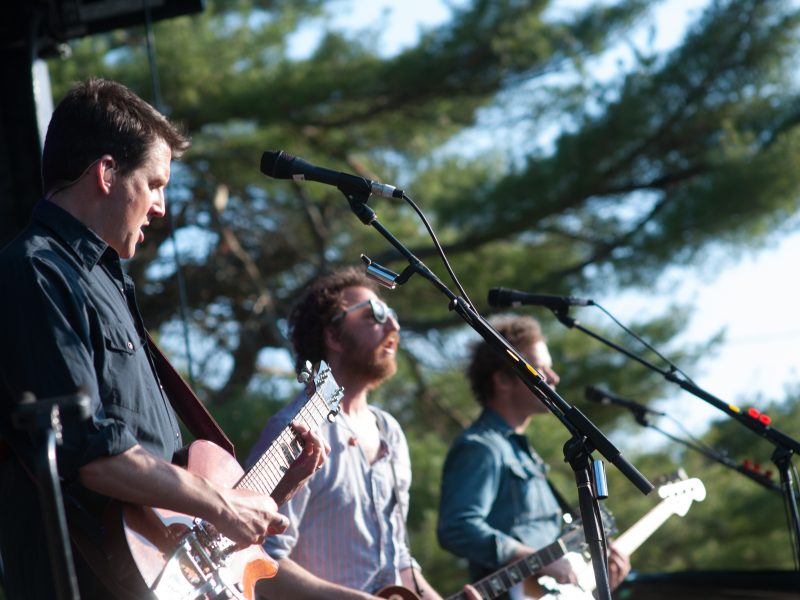 By Richard Lindeman

On October 26, 1865, Bowdoin's Class of 1866 inaugurated "Ivy Day" with a public address and poem in the College Chapel, planting an ivy and singing outside the Chapel south tower, and an evening concert in downtown Brunswick. The ivy represented a class tribute, symbolic of both the friendship that classmates held for each other and their attachment to their alma mater.

The tradition did not take root, however, until eight years later, when in June of 1873 the junior class revived the custom, again with public exercises (but also with less pomp), sarcastic honors (a wooden spoon for "most popular," a mirror for "handsomest"), an ivy planting, and an evening "Ivy Hop." Ever since, Bowdoin students have embraced this year-end celebration, now commonly called "Ivies," as a rite of spring to bring release from the pressures of academia and the burdens of winter in Maine.
As most traditions do, Ivy Day has changed over time to reflect the interests and attitudes of Bowdoin's students, gradually distancing itself from the more serious events of Class Day and Commencement Week. By the late nineteenth century, planting an ivy remained the symbolic focus of Ivy Day—a carved stone or metal marker was often attached to the building to locate the planting—but activities were added and the celebration extended to include sporting events, plays, and performances. Masque and Gown often performed an "Ivy Day" play for the occasion, and regattas and inter-class competitions were popular preludes to the evening dance.

By the early twentieth century, Ivy Day had widened its focus beyond the junior class, and fraternities dominated the programming. Seniors viewed it as their swan song; freshmen saw it as a rite of passage by building a bonfire outside the Ivy Hop to burn their freshman beanies. With 90 percent of Bowdoin's all-male student body belonging to a fraternity, frat house parties and formal dances broadened the scope of Ivy Day into a nearly week-long extravaganza. Women from throughout New England were greeted mid-week at Brunswick's train station for a Wednesday-through-Saturday round of socializing. Along with Homecoming in the fall and the Christmas Hop, Ivy Day was one of the few major social events during the school year when Bowdoin men could experience dating, dancing, and live music—Duke Ellington played in 1928 and 1932; Louie Armstrong was the featured act in 1936; and Miles Davis and his band gave the Ivy Concert in 1963.

By the 1960s, Ivy Day was better known as Ivy Weekend, or simply "Ivy's," and commenced with a Thursday evening trip to Boston, where Bowdoin men would meet their dates, attend a Boston Pops concert, and return as couples to Brunswick. That custom waned in the '70s as Bowdoin became increasingly co-ed. Other social influences also affected Ivies but never eclipsed the celebration. While May of 1969, for example, witnessed student strikes and teach-ins nationally and at Bowdoin in opposition to America's involvement in Vietnam, Ivy Concert headliner Richie Havens performed as scheduled. In 1974 conflicts during a busy spring resulted in three separate Ivy's weekends because fraternities could not agree on a mutually suitable schedule.

Beyond the passage of time, the establishment of coeducation in the 1970s and the disestablishment of fraternities in the late 1990s combined to bring profound social change at Bowdoin, and Ivies has reflected that transformation. The Class of 1970 was the last junior class to plant an ivy, and the "Ivy Day Wooden Spoon," presented to the most popular classmate and first awarded in 1873, fell out of use. By the mid-1970s, "Ivy's" had become "Ivies," or Ivies Weekend, sometimes with concerts on Saturday and Sunday, sometimes with Friday museum openings and events to support charities or other causes.
1928: Duke Ellington
1932: Duke Ellington
1936: Louis Armstrong
1955: Ralph Flanagan
1956: Les Elgart
1957: Ralph Materie
1958: Bob Bachelder and his orchestra
1959: Richard Maltby's orchestra
1960: Buddy Morrow and his orchestra
1961: Herb Pomeroy and his orchestra
1962: Stan Kenton and his orchestra
1963: Miles Davis and his band, George Coleman (sax), Herbie Hancock (piano), Ron Carter (bass), & Tony Williams (drums)
1965: Jay and the Americans (precursor to Steeley Dan)
1967: Louis Armstrong
1969: Richie Havens
1968: The Chambers Brothers
1970: The Guess Who
1971: Seatrain
1975: Maria Maldaur
1978: Ellis Hall
1983: B. Willie Smith Band
1985: John Cafferty and the Beaver Brown Band
1987: The Ramones
1988: The Robert Cray Band
1989: Little Feat
1990: The Kinks
1992: Bob Marley's Wailers
1994: B.B. King
1995: Roger McGuinn of the Byrds
1997: Merl Saunders and the Rainforest Band
1998: Angry Salad
1999: Dar Williams
2001: Jurassic 5
2000: Another Planet; Mystic Vibes; Pilfer; Ween
2002: Owsley; Mr. Lif; Mystic Vibes
2003: The Samples
2004: The Mammals; headliner, Dilated Peoples
2005: Reel Big Fish
2006: Ok Go
2007: Kevin Lyttle, Rahzel
2008: Naughty by Nature
2009: Santigold and Sean Kingston
2010: Reel Big Fish; Passion Pit
2011: Janelle Monáe
2012: Childish Gambino
2013: Guster
2014: The Circus
2015: Reel Big Fish; The White Panda; Headliner: LOGIC
2016: Waka Flocka
2017: Vanic; Small Pools; Headliner: ASAP Ferg
2018: DRAM
Today, freshman beanies have been replaced by Frisbees, dance cards have given way to texting, outdoor concert venues have supplanted decorated gyms. Unchanged, however, has been the penchant of Bowdoin students toward springtime partying and playing together, and each class and generation has found a way to perpetuate the tradition of Ivy Day and define it in its own vernacular for nearly 150 continuous years. 
Richard Lindeman is former director of the George J. Mitchell Department of Special Collections & Archives at Bowdoin.
An abbreviated version of this piece first appeared in Bowdoin Magazine, spring/summer 2018.