Bowdoin Japanese Garden
The Bowdoin Japanese garden was designed and constructed by Nathaniel Cormier '95. He transformed the space behind 38 College Street into a karesansui-style Japanese garden for his honors project for the Asian Studies Program.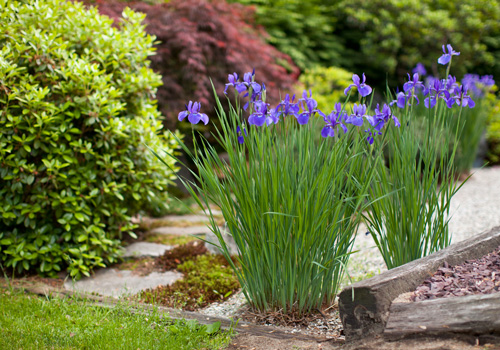 Karesansui involves the creation of a landscape without the use of water. Pebbles and sand are used to represent water. The impression of water is critical to Japanese garden design. According to Samuel Newsom, who has written extensively on Japanese gardens: "The sense of water must always be present. There must be the feeling of water whether it is there or not. This is the fundamental philosophic idea of Japanese landscaping. Water is in many ways the source of all life. Its eternal presence in garden design adds immeasurably to the whole subjective landscape concept."
The karesansui style emerged in fifteenth-century Japan. Karesansui became associated with Zen Buddhism because they share an abstract understanding. A karesansui garden is enjoyed through contemplation. The karesansui garden is to a larger, more scenic garden what the haiku poem is to a detail-rich novel.
Nate Cormier wrote: "My inspiration for the garden was the beautiful Maine coast. This is what drew me to Bowdoin College. I tried to recreate the sense of invigorating motion that I felt at places like 'Giant Stairs' on Bailey's Island. The surging of the waves, the movement of the tides, and the jagged cliffs are expressed with gravel, rocks, and moss.
Throughout the project I received valuable advice from Masahiko Seko, a Japanese garden designer working all over New England. I named this garden 'The Lancaster Garden' in honor of Donovan Lancaster who passed away in 1994. He was a friend, a Kappa Sig brother, and a distinguished Bowdoin College alumnus and administrator.
I also won the 1995 national Japanese speech contest for my speech 'Nihonteien kara manabu mono' (What We Can Learn from Japanese Gardens)."