Off-Campus Study
Each year, several students choose to accelerate their language learning and Japanese studies coursework by participating in study away programs in Japan. Students are encouraged to meet with the Japanese language coordinator to determine which program best suits their own interests and skill levels.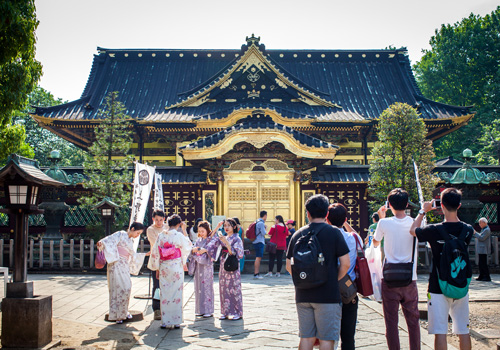 Bowdoin awards up to 4 course credits per semester, 8 credits per year, for courses taken during study away. These credits count toward graduation. Credits applied toward the major are determined by individual departments.
Brief Application Process
You must apply to Bowdoin as well as to your program regardless of whether it is for the summer, full semester, or academic year. Details about the application process are available on the OCS website ("Applying to Bowdoin").


Bowdoin students who have unusual academic needs may conclude that a program or university that does not appear on Bowdoin's program options list is best suited to meet those needs. If you are considering a petition, it is strongly recommended that you make an appointment with the OCS Office and discuss the program thoroughly with your prospective major advisor. Details are available on the OCS website ("Application Process-Petitioning").


The application to your chosen off-campus study program or university is your responsibility. The OCS Office is always ready to assist you with the requirements, including elements like a personal statement, a Bowdoin transcript, etc. Please refer to the OCS website ("Application Process-Application to a Program or University") for further details.