Recent Golz Awardees
The recipients of the Golz Fellowships participate in a variety of different research endeavors that explore historical concepts in a comprehensive interdisciplinary way.
Andrew Bastone '22
2021 Golz Winner
I used my Golz grant to research gentrification in Bushwick, a neighborhood in Brooklyn, New York. For most of the 20th century, Bushwick maintained an overwhelmingly Latino population, but over the past two decades, the neighborhood has become increasingly younger and whiter. Using Social Explorer, a data aggregator for the Census and American Community Survey, and New York City government databases including ACRIS and BIS, I worked on examining the methods of how gentrification took place in the neighborhood.
Except for a section in northwest section of the neighborhood, most gentrification transpired without buildings being razed and rebuilt. This is largely a result of most structures in the neighborhood being at or near their Available Floor Area Ratio (FAR)—meaning landlords were forbidden from tearing the buildings down. Without the permission to demolish buildings, landlords increased rent precipitously, and often turned to intimidation tactics like persistent building maintenance to drive lower-income tenants out.
I collected rent and building data, landlord information, and listened to oral histories—including one from a local playwright who conducts taxi tours about gentrification—in order to ultimately work on a map chronicling the changes in the neighborhood. I am still interested in conducting an oral history component and speaking with more Bushwick residents to enrich my work, so I may expand my current research into an honors project.
Nicolas Bower '22
2021 Golz Winner
With the help of the Golz Fellowship, I created a podcast using interviews with former youth activists during the Bahamian Independence movement. The purpose of my research was two-fold: to provide an alternative perspective into 1960s/70s Bahamian political thought, and to discover the nature and impact of youth activism in The Bahamas.
I began my research with a literature review of 1960s/70s Bahamian history. This gave me an overview of the defining tensions of the time, particularly the intersection between issues of race, representation and domestic policy. I found the most salient political tension to be the battle between the ruling United Bahamian Party, a predominantly white party with significant economic power, and the Progressive Liberal Party, a predominantly black party vying for a more progressive agenda, particularly in areas of healthcare and education. The dynamism of the 1960s made the decade an exciting time in the Bahamian political imagination.
I interviewed several former members of Unicom, the largest and most influential youth activist group leading up to Independence in 1973. Among my interviewees were the former president of Unicom, founding members of the Bahamas' only socialist party, and one of the youngest elected members of parliament in Bahamian history.
Perhaps the most revealing piece of Unicom's history is its disintegration—a story missing from current sources. Leading up to the 1973 general election, the PLP invited Sir Franklyn Wilson, a prominent Unicom member, to run as a candidate against the UBP. This invitation prompted a landmark meeting to discuss the nomination and discuss future plans. While many members were optimistic about the nomination, a small group disavowed aligning with the PLP, as they thought the party was far too moderate. This splinter group formed into the Vanguard Nationalist and Socialist Party.
The interviews also revealed the global nature of political discourse at the time, even in an isolated island nation like The Bahamas. The Bahamian youth of the 1960s discussed the African socialist movement, Latin American liberation theology and the Black Power movement. They read works from all around the world—from Marcus Garvey's memoirs to Franz Fanon's anti-imperialist essays. They drew conclusions about their leaders by comparing them to Tanzania's Nyerere and Cuba's Castro.
It was energising to hear first-hand of the enthusiasm that Unicom's members held for the future of The Bahamas. Many members went on to become leaders in politics, business and civil society. Indeed, the founder of Unicom, the Rt. Hon Perry Christie served two terms as Prime Minister of The Bahamas. Unicom is an inspiring story of youth uniting on the search for solutions to issues in the nation: a story that is all the more important because of the rising challenges to achieving economic development as a small-island developing nation.
Hafsa Hossain '23
2021 Golz Winner
Recasting and Healing the Bodies of the Bhopal Gas Leak 
This summer, I had the opportunity to conduct research on the Bhopal Gas Leak of 1984. My research originally started with the exploration of the medical discourses around the gas leak and how medical narratives, addressing toxicity in victims' bodies, intersect with the historical narratives of the gas leak. In addition, I was interested in understanding the plural conceptions of the body that emerged from the gas leak where the body became intertwined with soil, food, and the chemical ecosystems that it was ingesting and existing in. 
As I started my research, I found two major themes: impact of pesticide production toxicity on the environment as well as toxicity of methyl isocyanate gas (MIC) on human bodies. The gas leak's notoriety as the worst man-made disaster at the time attracted worldwide attention as questions about ethics of the operation of chemical industries emerged/ The ethics of the industries that were once associated solely with progress were being called into question. Despite the sensational publicity the leak received, there were gaps in the documentation of and scientific data for the environmental and bodily toxicity that resulted from the gas leak. One of the major sources I used for my research was an extensive database composed of Bhopal Court Documents, from the University of Wisconsin Law School Digital Repository. Interestingly, I found that legal documents surrounding Union Carbide's culpability was more readily available than hose about the medical effects from the toxicity to bodies. The gaps in scientific and medical knowledge about how exactly MIC gas interacted with human bodies allowed for the negation of responsibility from Union Carbide. The collusion of the corporation with supposed medical opinion led to the defects of the body, derived from toxicity, to be negated and underplayed. Therefore, my focus sharpened as I wanted to foreground the voices of Bhopal citizens and their experience of viscerally experiencing the chaos of the leak and involuntary undergoing bodily toxicity.   
Lastly, gender emerged as a category of analysis for how industry transformed bodies into sites of contestation. A crucial source in probing the women's voice and understanding the social positioning of women was Suroopa Mukerjee's Surviving Bhopal. Her use of oral testimonials from women who experience the gas leak highlighted how the story of an event can be told in countless ways. However, the dominant narrative of the gas leak was one driven without the centering of survivors and had become a story about "unfortunate" mismanagement of American industry in India. Therefore, in gathering materials and sources for my website, I aimed to construct a counter narrative where brown bodies can be recast and rearticulated as bodies that underwent trauma and need healing and rehabilitation.
Caroline Poole '22
2021 Golz Winner
Policy Horizons Canada – The Future of Languages in Canada 
With my Golz Fellowship this summer, I completed a foresight internship at Policy Horizons Canada, a Canadian Government organization which specializes in strategic foresight. This organization serves the federal government and its agencies across Canada to generate knowledge about the major policy points and anticipated economic, social, political, and scientific concerns of the next ten to fifteen years. Horizons adopts the foresight method to explore a range of plausible, alternative futures and identify the challenges and opportunities that may emerge.
My primary role as intern was to carry out an independent foresight study on a topic of my choosing. My project on the Future of Languages in Canada involved dynamic research on a variety of potential sources of change and disruption on Canada's linguistic composition and the intersections of language, technology, identity, and community building. I carried out my eight- week project by accelerating a typical foresight timeline; the first stages involved defining the scope of my study, summarizing key linguistic assumptions held by Canadian policymakers, and scanning a variety of sources, websites, and networks for potential weak signals of disruption. Using these insights, I created a system map outlining key relationships and forces in Canada's language system including different linguistic hierarchies and technological transformations. Throughout these early stages, I met with many of my colleagues to gather their insights and feedback on my project. I then distilled five primary change drivers based on my understanding of Canada's languages to outline where transformative changes are unfolding. At this stage, I moderated both a Scan Club meeting and a cross-impacting exercise on my change drivers to distill further potential linguistic consequences. To conclude my study, I produced a report which outlined my research and offered potential challenges and opportunities for Canadian policymakers to consider when designing resilient language and communication-based policies.
My choice of subject was informed in part by my Honors research: questions of language and linguistic sovereignty are crucial in the context of the Quebecois sovereignty movement in the 1960s and 1970s. By studying language through strategic foresight, I have gained new insights into what dynamics shape linguistic identities and how Canadians construct identities and communities, and make sense of their realities. I hope to bring these new insights to my work this fall.
In addition to my own independent research, I participated in a variety of projects and initiatives throughout the organization. For example, I took part in a number of weekly Scan Club meetings to gather insights on weak signals of disruption. These signals covered a wide variety of topics including artificial intelligence, fitness drones, deep fakes, smart home design and sensemaking. I also completed cascade diagram exercises led by the OECD over Zoom, tested vulnerable sensemaking assumptions with the Social Futures team, and networked with many of my colleagues across Policy Horizons.
This experience was invaluable by connecting me with accomplished policymakers and foresight analysts in Canada with a range of expertise. Many of my colleagues provided me with ideas and
advice for my own career path in the Canadian public service, something which I hope to pursue after graduating from Bowdoin. Furthermore, this experience proved that my research and writing skills as a history student are widely applicable, even in a future-oriented context.
Joseph Rubsamen '23
2021 Golz Winner
During the Alfred E. Golz summer research history fellowship, I began investigating the changing role of medical knowledge, biotechnology innovation and education, community reaction, and public policy legislation response to the 1918 pandemic in Maine. In addition, I began looking at the pandemic historiography, medical innovation, and public response from the New England seventeenth century virgin soil epidemics to the current COVID-19 pandemic. I began this by investigating the relationship between medical innovation in knowing disease, biotechnology advancements in treating disease, and patient care shaped by disease outcomes. I am looking at community survival and infection data, primary source medical literature from the Medical School of Maine curriculum and archival records, medical peer-reviewed literature, documentaries, personal journals, and newspapers.
The project began with an overview of pandemics that impacted Maine from the original settlement with the transmission of virgin soil diseases to the current COVID-19 pandemic. I focused on the 1918 H1N1 and COVID-19 pandemics and the connections between the medical, community, educational, and policy responses. I began to evaluate the diseases, biomedical technologies, patient care, and treatment outcomes through case studies from journals, correspondence, and opinion pieces from the Medical School of Maine.
This project works to grapple with the differences between the 1918 and COVID-19 pandemic response in terms of medicine, policy, education, and public sentiment. Furthermore, comparison to past pandemics underscores the disease outcome, medical development and knowledge, and policy shifts from a normal societal order to a pandemic-life new order. I am continuing this research in Professor McMahon's 3000-level seminar: "Community in America, Maine, and at Bowdoin." I look forward to finishing the research and writing my findings during her course this fall and beyond.
Hayden Weatherall '22
2021 Golz Winner
As a Golz fellow, I set out to study the 110-year history of the Sylvina W. Beal, a knockabout fishing schooner built in East Boothbay for Charles H. Beal of Jonesport. My goal was not simply to provide a documentation of the vessel's long career. More precisely, I strove to explore the people and events it witnessed, using the vessel as an historical portal. Thus, I found myself researching Maine coastal communities through time, with a wooden sailing vessel as a focal point: the village of East Boothbay and its hub of shipbuilding activity, the Maine fishing scene of the twentieth century, and the collective that is the people of the Maine coast, from the turn of the century through today.
My research consisted of physical documentation aboard the vessel at the Essex Shipbuilding Museum; consulting historical archives at the Boothbay Historical Society, Maine Maritime Museum, Penobscot Marine Museum, and other historical institutions down the coast; and exploring accounts of the people who worked, owned, or knew of her throughout her career.
Built in 1911, the Beal saw a variety of uses as a herring seiner, mackerel fisherman and lobster smack under the ownership of Charles H. Beal, until she was sold to the Seacoast Canning Co. There, she carried sardines from Passamaquoddy Bay to canning factories in Eastport. After the Second World War, under the umbrella of the R.J. Peacock Canning Co., the Beal worked out of Lubec and Portland until the late 1970s. In 1980 she was sold to John Worth of Belfast, where she entered service as a windjammer. She has remained in that line of work under a variety of owners ever since.
The nature of my research made Route 1 my right-hand man. I enjoyed following the Beal through her history, from her launching site at the Frank C. Adams yard in East Boothbay to her homeport at Beal's Island, and from the quays of Lubec and Eastport to Brown's Wharf in Portland, and so on. I made it a goal to get a feel for both the landscape she witnessed and for the human lives she touched.
Currently, the Beal awaits a communally funded, volunteer-driven rebuild that will begin in the spring of 2022, led by shipwright Harold Burnham of Essex, Massachusetts. She is the oldest auxiliary knockabout fishing schooner in North America and will be one of two Maine-built fishing schooners known to remain.
Theodore Danzig
2020 Golz Winner
This summer, I used my Golz Fellowship to research the objectivity question in contemporary historiography, with special focus on American history. In particular, I analyzed how the interplay of the historian's epistemological, ideological, and methodological stances affects his understanding of objectivity in history. In doing so, I sought to develop my own position on the objectivity question, and in a broader sense, have tried to get at what studying and practicing history are really for.
Through my research, I learned that the ideal of objectivity in history has had enormous staying power since the professionalization of the discipline in the nineteenth century. I began by examining the classical historicism of the great German historian Leopold von Ranke, who famously wrote that history should be told wie es eigentlich gewesen, or "as it actually happened." Ranke believed that the historian should let the facts speak for themselves, and that he should not impose his own values on his interpretations of the past. However, in analyzing Ranke's writings, as well as the writings of many of his ideological descendants who claimed to adhere to the creed of objectivity, I found that all too often, objectivity has simply meant reinforcing dominant narratives and reifying traditional power structures.
As an alternative to Ranke, I was drawn to the "value-laden historiography" of New Left historian Howard Zinn, who proclaimed that, "the historian cannot choose to be neutral; he writes on a moving train." While Zinn has been much reviled for his supposed politicization of history, I found his position on the objectivity question far more intellectually honest than any other I came across. Attempting to define my own stance, I would say that having a politically committed author (as long, of course, as he follows a sound and rigorous methodology) does not detract from a historical work, but rather clarifies and enriches it.
Sebastian de Lasa
2020 Golz Winner
This past summer, I was fortunate enough to receive the Golz Fellowship, a grant which allowed me to research the history of nationalism in the Basque Country and Ireland. I chose these two regions for a multitude of reasons. They are social outliers within Western Europe; the Basque being an indigenous group to the Iberian Peninsula that predate Roman, Visigoth and Moorish settlement in the region, while Ireland is the sole former colony in Western Europe. The strong sense of national identity in both regions was greatly influenced by the suppression, subordination, and mistreatment from the ruling powers, the Spanish and British Empires respectively.
I conducted my research in a two-pronged fashion: analyzing the history of nationalism and theories of how national identity develops, and reviewing the history of Ireland and the Basque Country, specifically focusing on the past two centuries. Through my research, I determined that while the populous of both regions were attracted to nationalism as a means of resisting the powers that aimed to suppress them, the means and the basis in which a national identity was constructed were quite different. For the Basques, national identity was considerably influenced by their language, which was notably banned from being spoken or published under the Franco regime. To consider oneself to be Basque one must speak Basque; therefore, over the 19th and 20th centuries the Basque language became a means of resisting against the fascist government and their conceptions of a unified Spanish nationality, which Basque people were greatly opposed to. Irish nationalism was influenced by the Irish language, but not nearly as much as the Basques—the formation Irish identity relied more on religious sectarian affiliation and geographical significance. Irish nationality was significantly influenced by lineage and culture, which was easily traced because of the physical separation of the island of Ireland.
The second goal of the project was to use ArcGIS, a mapping software, to create interactive maps that depict a timeline of events relevant to the creation of the Irish and Basque identity. These events would include rebellions (the Easter Rising), instances of state oppression (Bloody Sunday and the bombing of Guernica), and moments of key cultural significance (the founding of the Basque Nationalist Party and Sinn Fein). Unfortunately, my efforts to create these maps were hindered by COVID-19, as I was unable to access school computers and did not have the capacity to effectively run ArcGIS on my laptop. However, I was able to create thorough written timelines detailing modern Basque and Irish histories, in which I detail the crucial circumstances and events that the Irish and Basque nationalities were founded upon.
I plan on continuing my research into Basque and Irish nationalism, specifically looking to understand the role violence and radicalism played in determining the perceptions of national identity among the populous in the two regions. While the infamous Irish Republican Army (IRA) and Euskadi Ta Askatasuna (ETA) have disarmed and dissolved, the desire for a unified Ireland and an independent Basque nation remains, and is well worth further academic research and analysis.
Dennil Erazo
2020 Golz Winner
This summer I spent time researching the nature of modern-day social movements. Initially, I intended to make my research about the core differences between movements from the 1960s and the movements of today. However, I decided to adjust the framework of my project by solely focusing on the movements that arose in light of George Floyd's murder. I wanted to dissect more closely a present-day issue that was relevant to the history of our present. In my project, I used ArcGIS online, a mapping software, that helped me map and pinpoint all the locations of protests in New York City within the last two months. In total, I recorded 843 protests. I created a timeline map that could filter the data by the date and place of protest. I also created other different types of maps, such as heat maps and static maps, to highlight specific clusters of protest within a specific period of time. I used Story Maps ArcGIS online as my platform to present each map using a story-telling framework. Here, I present my data through a week by week case, starting from the last week of May until the last week of July. Throughout each week, I create an interactive experience for the user by allowing them to use the timeline map to study specific clusters of protest and hotspots in New York City. The user is also able to work and interact with heat maps and static maps as well. Each week highlights important events that occurred in New York City and how protests responded to these events. The user is constantly immersed and interacting with a story of how protests changed and evolved in New York City. I also provide additional photos, links to social media pages, interviews I conducted on the ground with protestors, and videos from news outlets to help construct my narrative.
Before embarking on this project, I hypothesized that social movements today were highly dependent on social media for organization and mobilization. My findings aligned with this hypothesis by showing that social media was an essential tool for organizers and protestors to increase turnouts and spread protest information. However, my findings also communicate that the economic hardships produced by the COVID-19 pandemic, increased frustration among people, which inevitably led to higher protest turnout. Moreover, I anticipated a spontaneous nature to these protests, which my findings fully reflect in the first couple weeks of June. Later on, however, protests become more organized and grass-root led, making them less spontaneous. The increased organization of protests led to internal divisions in the movement between coalitions, disagreeing on the methods of mobilization and on who should be the face of the movement. As I hypothesized, these internal rifts have prevented a cohesive, united movement from arising at certain times.  
Despite my findings, gathering my data was difficult in the wake of the pandemic. I was limited on the number of people I could interact with for interviews, given that COVID-19 still posed a threat. I was also limited on the amount of protests I could attend because I wanted to keep following social distancing guidelines. In addition, I wanted to use New York City COVID-19 data to see if protests were occurring in COVID-19 hot spots, but much of the COVID-19 data available was inaccurate or unreliable—sometimes COVID death counts were miscounted. One thing I would do differently is spend more time building the story arch surrounding my data. I spent majority of time gathering data and learning how to use the software. Overall, my research experience was rewarding and showed me how to read trends, patterns, and changes in data and what story could be told from these findings. 
Diego Lasarte
2020 Golz Winner
This summer I (remotely) conducted research on the two perpetrators of the Boston Marathon Bombing, Dzhokhar and Tamerlan Tsarnaev. I went to the same high school as they did, and grew up in the same neighborhood. The purpose of my research was to find out how two young men growing up in the progressive, diverse community I call home could be successfully radicalized into extremist violence.
I spent the summer reading about the numerous instances of young Muslim men and women growing up in the West and still finding their way to radical Islamic ideologies, with thousands of young people leaving their homes in America, Canada, and Western Europe to join ISIS in the last decade. What I found was that, oftentimes, the exact conditions that one might think would prevent a path to radicalization (an inclusive, diverse space, that is accepting of new ideas and identities) is what drives those like the marathon bombers to radical ideologies in the first place. (In this case, specifically the younger brother, Dzhokhar.) This is due to the unavoidable contradictions of progressive liberalism—it's shortcomings clashing with the values it espouses—and its inherent failure to provide a satisfactory avenue to address those contradictions.
I found that oftentimes the goals of secular, progressive education systems create sensations of intense anger and confusion (specifically in the children of refugees and immigrants), while providing no logical outlet for those harmful emotions, simply because no such outlet exists in our neoliberal society. This inherent conflict creates a sensation of purposelessness and confusion in those who feel anger and resentment towards the injustices perpetrated by their adopted country, thus planting the seeds of a deep and unfocused anger in many of its students.
Radical Islam proves a clear counter to this frustrating way of thinking about the world. The basic tenets of Islam present a clear and disciplined sense of hierarchy, and a fundamentalist interpretation of the faith maps out a cosmic justice that wages war against the, seemingly immovable, evils of modern society.  This reactionary way of thinking is seductive precisely because of our society's proclivity towards superficial reforms and empty rhetoric, as well as uniquely dangerous in the ways extreme violence can grow out of feelings of meaninglessness and despair. An insistence on saying the right thing, while providing no real avenue for change, is a certain path towards radicalization.
My summer reading list included the works of Moshin Hamid, Frantz Fanon, Michel Houellebecq, Murtazza Hussain, Masha Gessen, and Albert Camus.
Rahul Prabhu '22
2020 Golz Winner
In the summer, I used my Golz Fellowship to create an accessible online repository of queer rights and visibility in India focussing, specifically during this summer, on gay rights. The project is titled "Queering Desh". Desh, a Hindi word with some similar regional translations, roughly means Nation, but often connotes an intimate connection to a homeland. The project was inspired by a passion to document personal histories of individuals who have lived through a transformative time period in the making of themselves vis-a-vis the making of 'queerness' in the nation.
My work entailed conducting oral history interviews with activists, creating archive-quality records of these interviews and designing an online presence that makes these stories accessible. The project allowed me to develop the skills of conducting thorough life history interviews and rigorously document these stories in a way that would make them accessible and readable. This involved researching best practices for oral history audio documentation as well as transcribing and proof reading written documentation of the interview. Furthermore, I developed an ability to deeply connect with the individuals whom I was interviewing, gain their trust, and document personal histories that are powerful even if often unheard.
My Golz project very soon evolved into a deeply reflective project, shown by the fact that my project website is also home to essays and snippets of analyses and reflection on some of the key issues that came about through my interactions and readings. I looked at the complexities of the constitutional right to privacy, some of the interactions between the legal and social histories of gay rights, the emergence of homonationalism, the historical impact of popular media, and the politics that are inherent when 'queering' a nation. A memorable component of this project was also learning how to research a community and a history that I was a part of.
My exploration was grounded in primary and secondary source readings, the interviews I conducted, and analyses of public culture including mass media and film. A great challenge about studying a history of the marginalized is that public documentation is often not abundant, and private personal documents are difficult to access. While I had planned to work with QAMRA, an archive in Bangalore that holds a rich catalog of primary sources from India's queer rights movement, I could not access these physical sources due to COVID-19 pandemic. As a result, publicly available legal documents and news articles, as well as blogs by groups that were active during this time were my major sources for this project.
The project was both personal and academic: it celebrated that I am, as a gay Indian, part of this history and it is an homage to this history that is a part of me. The website serves as a landing site for individuals to learn about the gay rights movement in India, get a glimpse into the state of gay life in the country and begin to think about some of the key issues that come up within this space. The stories on the website not only comment on individual experiences but serve to continue to open up the dialogue on the power of personal, even intimate, stories as artefacts of history. The Golz Fellowship offered me an opportunity that was enriching both academically and personally, and I am extremely grateful for it.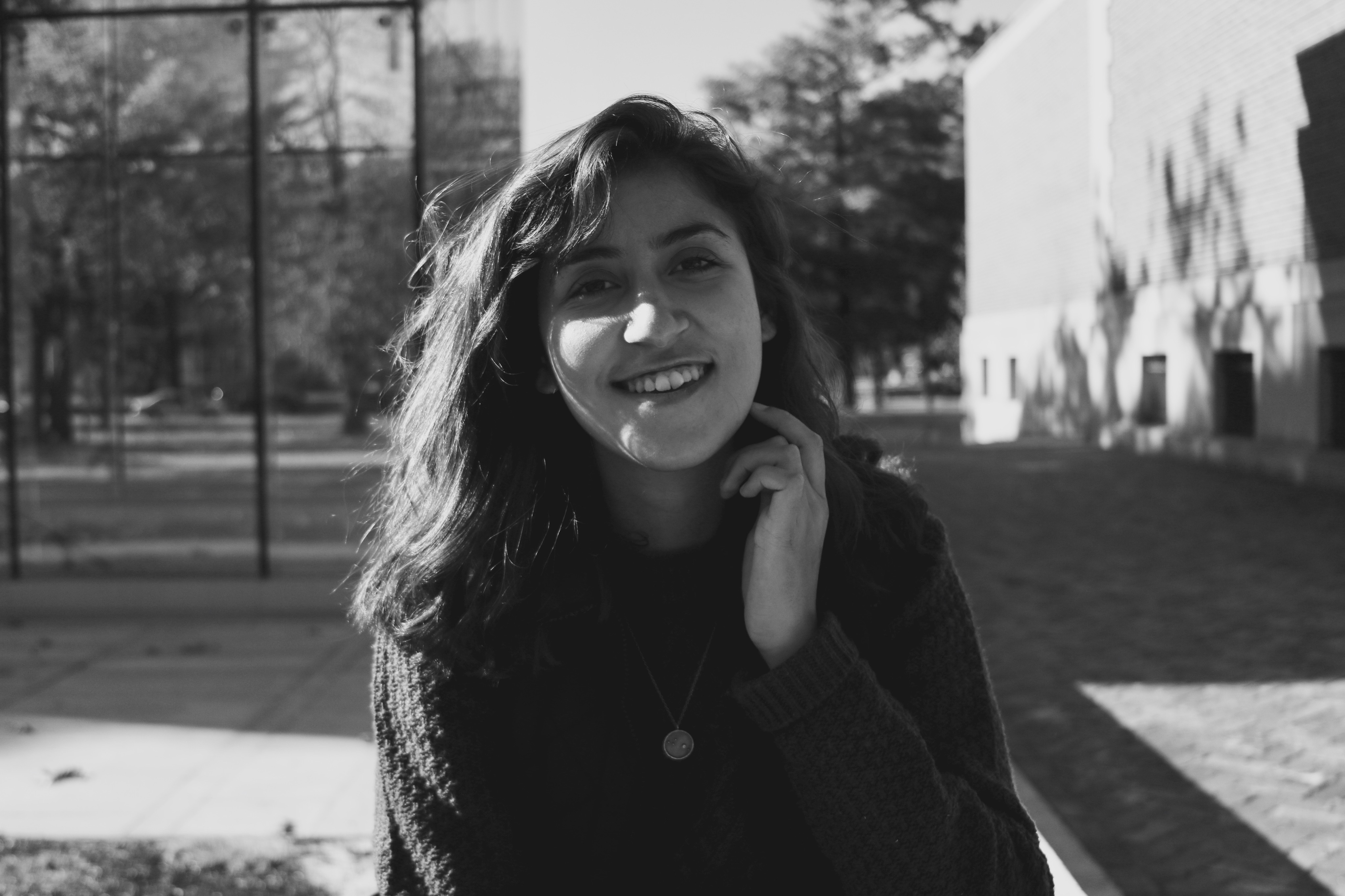 Sarisha Kurup '21
2019 Golz Winner
Major(s): History and Art History
I used my Golz Fellowship to expand my research from my capstone seminar on Memory and the French Revolution. In that class, I developed a thesis that the script of revolution in France has been passed down through generations. This summer, I examined the possibility that the streets of Paris serve to help transmit that script. I used ArcGIS to map phases of revolution in Paris. The resulting map can be filtered by time period or theme, and helps to illustrate how specific neighborhoods grew into the heartbeats of certain ideologies and movements. I examined the ways in which the city contains and projects its own history, serving as something of a living history textbook. I looked at specific time periods, particularly the 1789 Revolution, 1848 Revolution, the 1871 Paris Commune, the 1940 occupation of Paris by the Nazis, and the 1968 student protests. Within these periods, I examined protest routes, local hangouts, barricades, destruction of buildings, and renovations. A key finding of my research was that not only does revolution have a physical imprint in Paris—so does counterrevolution. I began to track the way that governments responded to disruption, from ripping open small streets and creating boulevards that could be more easily policed, to sending in the Versailles army, to holding counter protests. This project helped me to produce a physical, interactive map that will serve as the basis for my eventual honors project.
Ben Ray '20
2019 Golz Winner
 Over the course of my study in the summer of 2019, supported by the Golz Fellowship, I conducted research into the local history of Cartagena, Colombia, examining the tension between the city's Afro-Colombian history and the national narratives of Colombian Independence. The Golz Fellowship allowed me live in Cartagena and to perform interviews, analyze local monuments and statues, and attend various performances that illuminated the role of black independence heroes like Pedro Romero who are traditionally excluded from the story of independence as told by the state of Colombia. I also was able to purchase history schoolbooks created by large companies and distributed to Colombian students, which reinforce certain narratives of white, Spanish-descended patriots. I found that these schoolbooks evolved to be more inclusive of non-normative figures over time, and some local textbooks even centered their stories, yet the lasting impact of criollo-focused rhetoric remains ingrained in the culture of Cartagena, as was apparent in conversations and public life. Localized histories and forms of expression are therefore a deeply important means of identity-creation in the majority Afro-Colombian city, yet tension remains in the conflict between local and national stories. Further, the phenomenon of commercialization complicates the question of cultural identity, as the city has become a hub of white tourism. This gentrification often leads to a performance of local culture that appeals to such tourists and makes authenticity difficult to identify. Studying within this tangled environment allowed me to develop ideas of ways that national narratives can be questioned, and raised further questions about the potentially detrimental impact of performed history.