Symposium: "Gambling With Human Lives": Nuclear History in Environmental Context
This symposium will consider the legacy and future of nuclear energy.
Thursday, September 23
7:00 p.m.
Lancaster Lounge, Moulton Union
Friday, September 24
9:00 a.m. to 5:00 p.m.
Lancaster Lounge, Moulton Union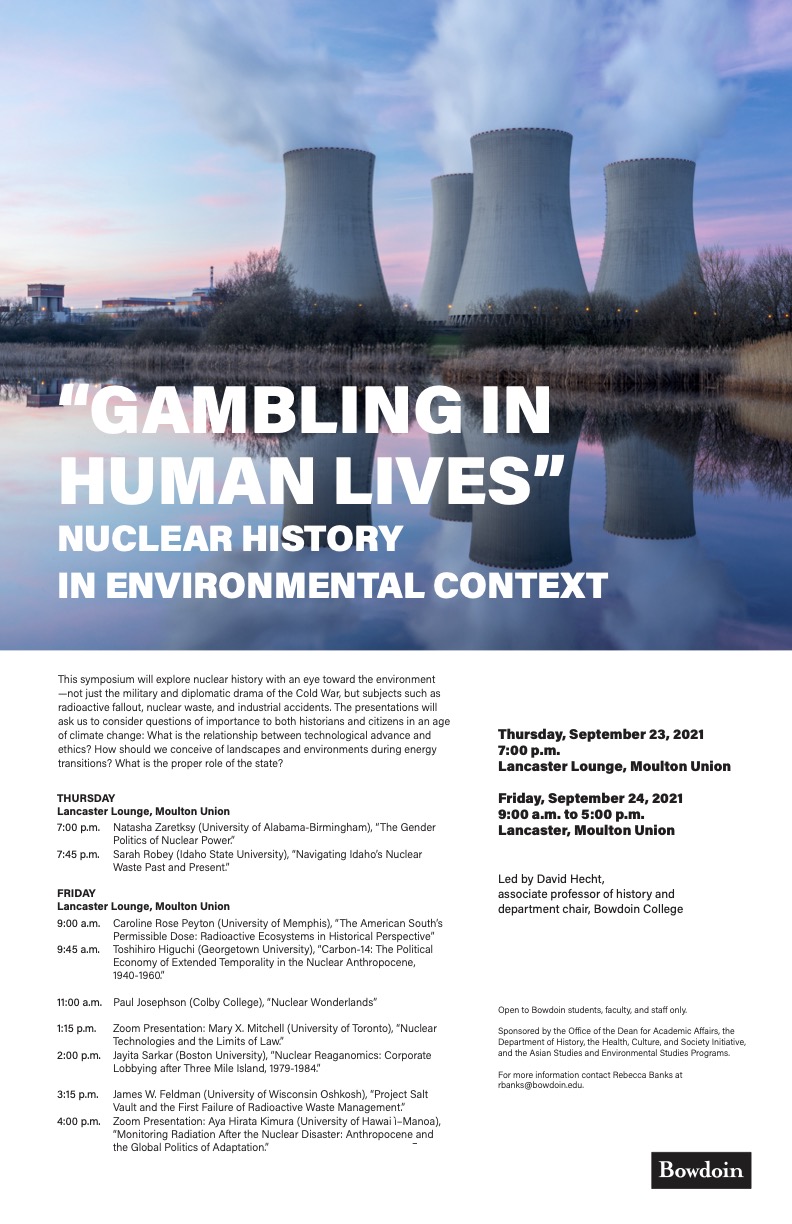 This symposium will explore nuclear history with an eye toward the environment—not just the military and diplomatic drama of the Cold War, but subjects such as radioactive fallout, nuclear waste, and industrial accidents.
The presentations will ask us to consider questions of importance to both historians and citizens in an age of climate change:
What is the relationship between technological advance and ethics?
How should we conceive of landscapes and environments during energy transitions?
What is the proper role of the state?
Open to Bowdoin students, faculty, and staff only. Supported by Office of Academic Affairs, History Department, Health, Culture and Society Initiative, and the Asian Studies Program.
---
Program
Thursday, September 23
Lancaster Lounge, Moulton Union
7:00 p.m. Natasha Zaretksy (University of Alabama-Birmingham), "The Gender Politics of Nuclear Power"
7:45 p.m. Sarah Robey (Idaho State University), "Navigating Idaho's Nuclear Waste Past and Present"  
Friday, September 24
Lancaster Longe, Moulton Union
9:00 a.m. Caroline Rose Peyton (University of Memphis), "The American South's Permissible Dose: Radioactive Ecosystems in Historical Perspective"
9:45 a.m. Toshihiro Higuchi (Georgetown University), "Carbon-14: The Political Economy of Extended Temporality in the Nuclear Anthropocene, 1940-1960"
11:00 a.m. Paul Josephson (Colby College), "Nuclear Wonderlands"
1:15 p.m. Zoom Presentation: Mary X. Mitchell (University of Toronto), "Nuclear Technologies and the Limits of Law"
2:00 p.m. Jayita Sarkar (Boston University), "Nuclear Reaganomics: Corporate Lobbying after Three Mile Island, 1979-1984"
3:15 p.m. James W. Feldman (University of Wisconsin Oshkosh), "Project Salt Vault and the First Failure of Radioactive Waste Management"
4:00 p.m. Zoom Presentation: Aya Hirata Kimura (University of Hawai`i-Mānoa), "Monitoring Radiation After the Nuclear Disaster: Anthropocene and the Global Politics of Adaptation"