History of the House
Even before Harriet Beecher Stowe made her home at 63 Federal Street, the house was a local landmark.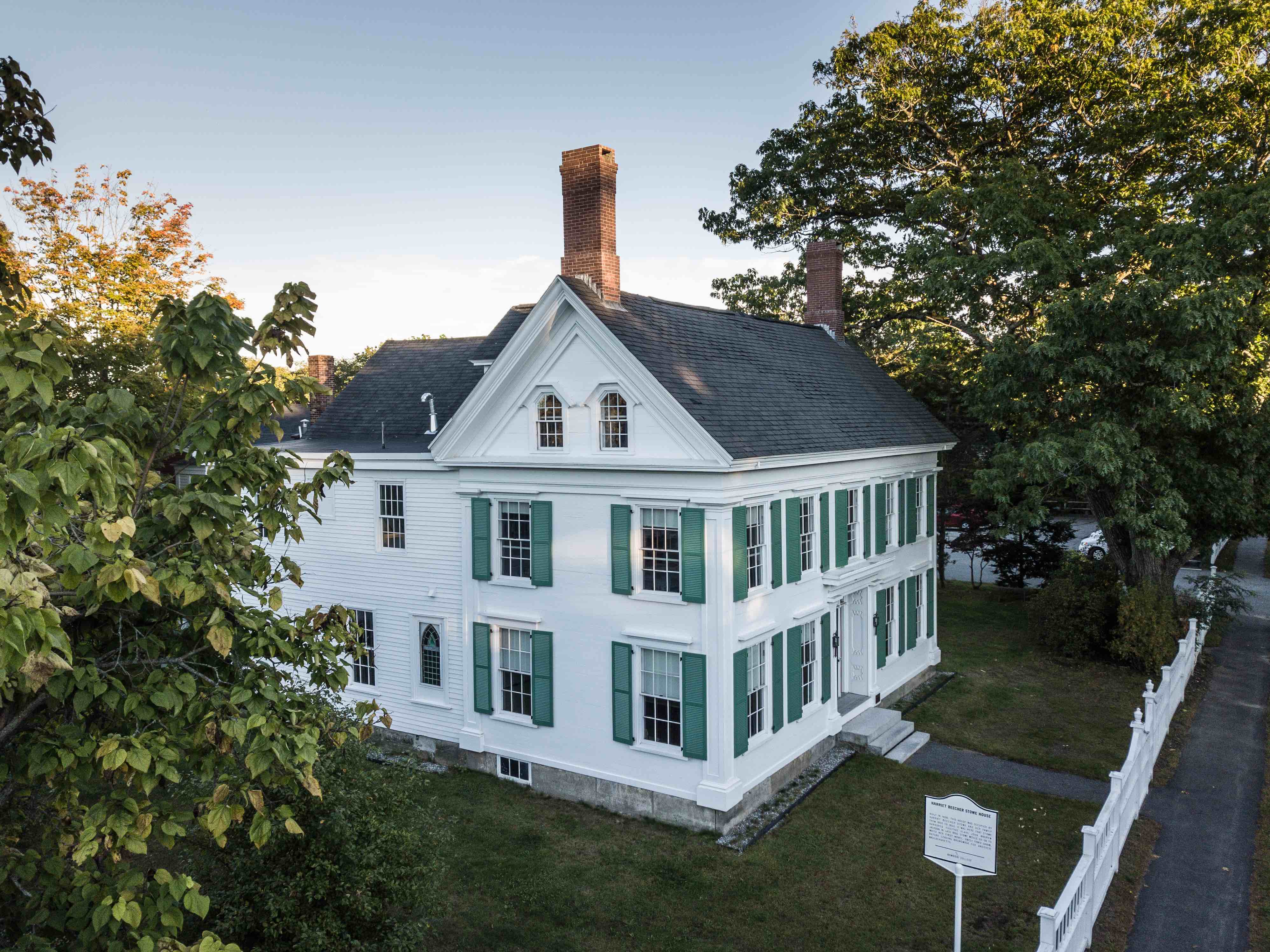 Architect Samuel Melcher III designed the Colonial-style house in 1806 for Reverend Benjamin Titcomb, printer of Maine's first newspaper and contributor to the state's constitution. In 1822, Henry Wadsworth Longfellow, Bowdoin class of 1825, roomed with Titcomb while attending the College.
The Stowe family moved to Brunswick in 1850 for Harriet's husband, Calvin, to accept a professorship of Natural and Revealed Religion at Bowdoin College. They settled in the Titcomb homestead, where Harriet spent her days in the home juggling her writing with caring for her six children and running a small school with her sister Catharine.
"Since I began this note," she noted in a letter, "I have been called off at least a dozen times; once for the fish-man . . . once to see a man who had brought me some barrels of apples . . . once to see a book-man . . . then to nurse the baby; then into the kitchen to make a chowder for dinner; and now I am at it again, for nothing but deadly determination enables me ever to write." 
Despite the many distractions, by 1851 Stowe had begun drafting Uncle Tom's Cabin, a sentimental novel grounded in real-life people, places, and events, including Stowe's experience providing safe harbor to runaway slave John Andrew Jackson during his flight to Canada in November 1850. While Jackson only spent one night at 63 Federal Street, the experience proved formative for both him and Stowe. 
Jackson recalled in his 1862 autobiography: "I met with a very sincere friend and helper, who gave a refuge during the night, and set me on my way. Her name was Mrs. Beecher Stowe. She took me in and fed me, and gave me some clothes and five dollars. She also inspected my back, which is covered with scars which I shall carry with me to the grave. She listened with great interest to my story, and sympathized with me when I told her how long I had been parted from my wife Louisa and my daughter Jenny, and perhaps, for ever."
While working on Uncle Tom's Cabin, which was originally published in serial form, Stowe would invite family and friends into her home for Saturday-evening readings before sending the latest chapter off to the National Era in Washington, D.C. for publication. Among her guests was Joshua Lawrence Chamberlain, a Bowdoin student in the class of 1852 who would go on to become a general in the Union Army, Governor of Maine, and President of Bowdoin College. 
"On these occasions," Chamberlain remembered, "a chosen circle of friends, mostly young, were favored with the freedom of her house, the rallying point being, however, the reading before publication, of the successive chapters of her Uncle Tom's Cabin, and the frank discussion of them."
The Stowes departed for Andover, Massachusetts, in 1852. Shortly after, William H. Hall purchased the home and commenced with a long-overdue renovation in 1855. Hall modernized the house and its appearance, creating the more ornate Greek Revival exterior that survives today.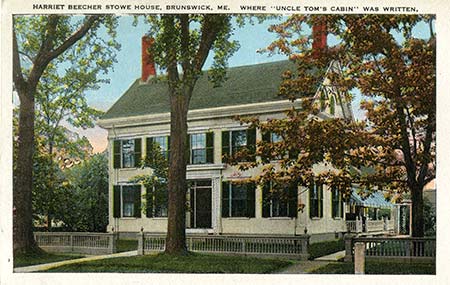 In 1946, Mary Baxter White transformed the house into a history-themed inn. Under various owners, the inn remained a local institution and tourist destination for more than forty years. In 1967, management added a modern motel wing to accommodate additional guests.
By 1998, business declined and the inn closed its doors. Bowdoin College purchased the property in 2001 and used the motel addition as a residence for students. In 2015, the College undertook a complete renovation of the main structure, returning it to its 1855 appearance.
The building now houses faculty offices as well as "Harriet's Writing Room," a public exhibit space that commemorates Stowe's literary legacy. The home is a National Historic Landmark and a National Underground Railroad Network to Freedom site.
---
For more information on the House's History please contact Professor Tess Chakkalakal (tchakkal@bowdoin.edu).