Published January 01, 2021 by Rosemary Armstrong
Maine's Grain Renaissance: Holden Turner's Cooke Environmental Research
"I'm a home baker and a student of environmental studies. In combining both interests I talked to people from the County to the coast about how Mainers think about their daily bread – and it was fascinating.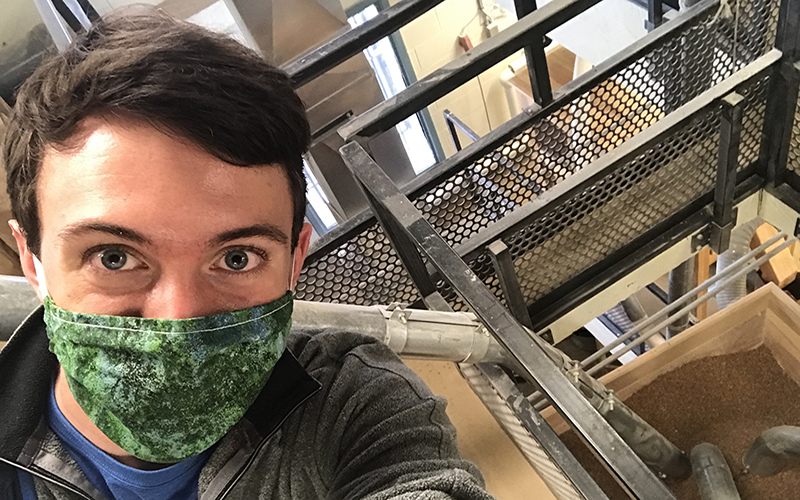 "Maine Grain Alliance was fully supportive of my work through and through, and I'm left with some answers for them about how the grain economy is responding to change. Still, I'm left with other questions about food and environments that I will continue to pursue in my work and studies ahead."
Maine is experiencing a grain renaissance. While it was once part of New England's breadbasket, grain growing largely disappeared in the state by the 20th century. In the last twenty-five years, many bakeries and breweries have appeared in Maine, and food activists, artisans, and farmers are re-making its strong grain economy today. Holden immersed himself in regional grains and researched questions about changes in the grain economy, especially during the coronavirus pandemic. He partnered with leaders in Maine Grain Alliance to connect with business owners and activists who are grappling with questions of what food should be, and at the end of his fellowship he made a report to Maine Grain Alliance about the resiliency of regional grain networks. Even while working remotely, he was able to sample a lot of bread.
Loaves of Holden's sourdough bread
Holden became interested in this topic after Environmental Historian Matthew Booker visited Bowdoin in the Fall of 2019, armed with sourdough starter and a bake off with Bowdoin dining. Booker's presentation featured North Carolina State University's Sourdough Project, a long term effort to map and genetically sequence the yeasts and bacteria's in sourdough bread.
This summer the Environmental Studies Program will have 11 fellowship opportunities. Learn more about Bowdoin's Environmental Studies Fellowship Program.