Published September 30, 2019 by Holden Turner '21
Swan Island 2019: Reading the Land
We were left in the shadow of pine trees. A cut hay field to the east, a set of crumbling foundations to the west, and blue water to the south. Instead of being asked to read articles and essays, our professors were encouraging us to read the land here at Swan Island. Reading the land isn't like reading words, because words usually just mean one thing and a sentence is meant to be read beginning to end. And there's no argument that the land is trying to make, since the soil doesn't't have an agenda except to exist and nourish what lives on it.
The Introduction to Environmental Studies course was two weeks into the semester. Already, we had read essays critiquing the way that humans think of the environment, discussed the complex challenges facing environmental action, and examined ecological studies of Maine's waterways. Next, our professors wanted to let us experience Environmental Studies in the field. On both Saturday and Sunday, Professors Connie Chiang and Dharni Vasudevan led about forty students to Swan Island by way of a bus, a ferry, and a trailer hitched to a van. Professor Emeritus John Lichter, a resource of knowledge about the area, also accompanied the groups to give some guidance. The gravel road took us past old farmsteads, new picnic areas, and finally to a wooded area where my group of five was dropped off and left to read the land.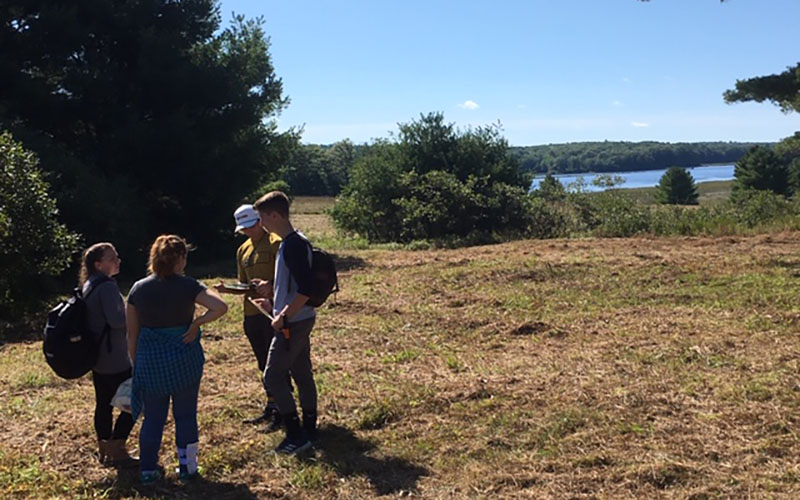 We had some tools, of course, but data collection was mostly left to the eyes and ears. Finding old foundations was an clear sign of human impact on the land, while we were less certain of signs of deforestation and farming. We dug into the soils to see if their profiles could tell us anything. We found fruit trees, old riverbeds, and stone walls. Mark those locations on the map, determine what forests are old and which ones have grown recently, try to find the well that supplied this farm with drinking water. By piecing our findings together we could slowly start to see what this place might have looked like when a family subsisted on the land. The site history is rich; suddenly this land showed its character and a story in its past.
We came back to the Roux Center and presented our site histories to each other. It was satisfying to see that our land reconstruction almost exactly matched the historical images that were shown to us. But even better was the glow of having returned from the field with that slow and surprising way of reading what's out there. A butterfly landed on my classmate's finger. Fuzzy caterpillars crawled all over us during lunch. We got to take our time out in the field in the September sun before the days grow colder again.