Snow Family Teaching Fellowship
Recent graduates can apply for the Snow Family Teaching Fellowship to work in a teaching and mentoring capacity on Bowdoin's campus before enrolling in the Bowdoin Teacher Scholars program.
The Snow Family Teaching Fellowship provides a recent graduate the opportunity to engage in a teaching and mentoring capacity during the fall semester within two years of graduation (and during the semester prior to the Fellow's enrollment in Bowdoin Teacher Scholars). A primary objective of the fellowship is to offer the Fellow a range of opportunities to engage in professional development in a variety of teaching, learning, and mentoring contexts. It is comprised of three parts.
"I think any aspiring teacher can always reflect and practice more."
—Lily Sage '22, inaugural Snow Family Teaching Fellow
Part I: Work with Education Department 3000-Level Practice-Based Courses
Serving in the role of post-graduate student assistant for two courses—Education 3301: Teaching and Learning and Education 3302: Curriculum Development—the fellow will support students in completing components of these two practice-based, integrated courses (having recently completed these courses, the fellow will have an in-depth understanding of this material).
Responsibilities include:
Attending 3301/3302 classes.
Serving as Island Schools Project Liaison, including:

Taking advance planning trips to the partner island school.
Developing and teaching lessons around the Island School Project for 3301/3302.
Participating in the course island overnight stay and island school visit.
Supporting students in the course in developing their Island Schools Project Field Journals.
Supporting the reciprocal visit of island school students to Bowdoin

Observing 3301/3302 students teaching in their field placements and offering constructive feedback.
Offering (and integrating opportunities for) support for 3301/3302 students in developing their four-week unit of instruction.
Being available for out-of-class help with various 3301/3302 assignments and projects.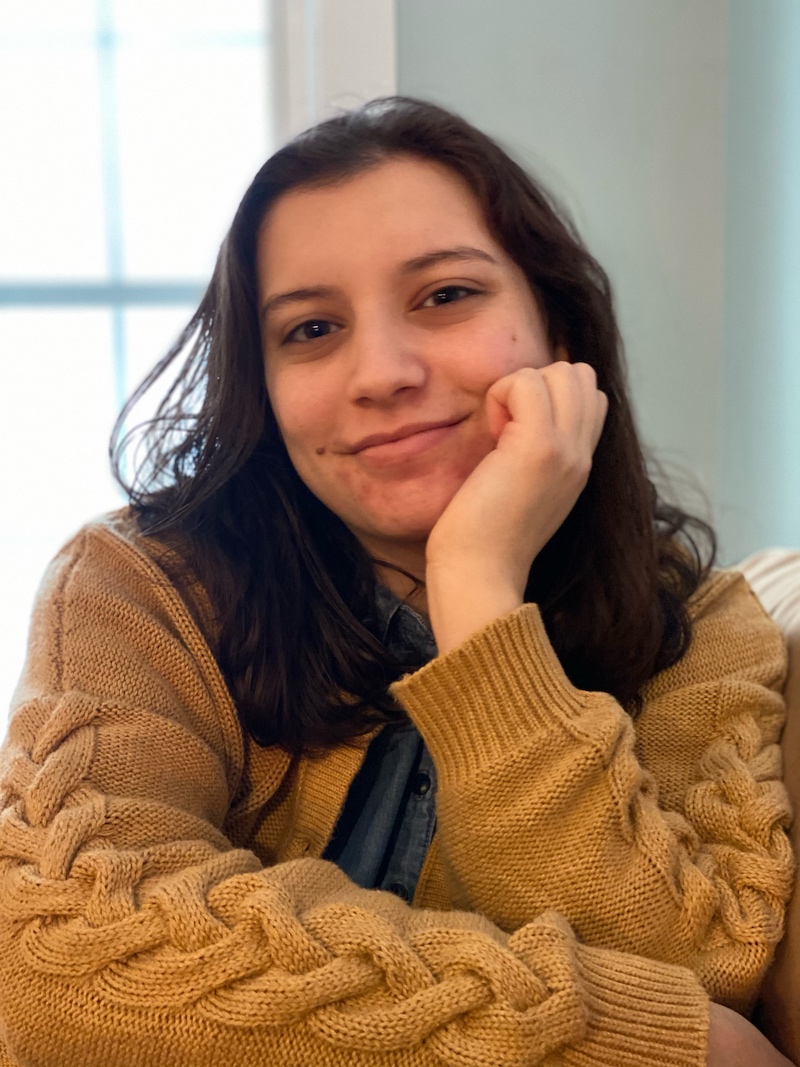 Lily Tedford Sage '22 was the first Snow Teaching Fellow, in the fall of 2022.
You can read about her experiences here.
Part II: School Outreach and Volunteer Program with New Mainers
The Fellow will work with local teachers and schools to oversee an Education Department-aligned volunteer program with New Mainers in ELL classrooms. The Fellow will serve as a communication link between student volunteers and local teachers seeking volunteer support, and they will seek input from local teachers in determining how to best train Bowdoin students to support ELL students.
The Fellow will oversee all aspects of the volunteer program, including:
Growing a base of volunteers and advertising the opportunity for community engagement to students in Education courses.
Conducting site visits and meeting with local teachers.
Developing and administering a training for student volunteers before they head into the field.
Providing logistical support to get students into schools by:

Organizing a system of scheduling
Establishing a way for students to form carpools
Communicating with the McKeen Center to ensure students can access taxi vouchers.

Touching base with teachers at the semester midpoint (or as needed) to check in on whether the program is satisfactorily supporting New Mainers and fulfilling its mission.
Being available to offer support to student volunteers as needed.
If they find they have the time, the Fellow may also choose to participate in the program as a volunteer themselves on a regular basis.
Part III: Field Experience
In consultation with the Education Department Field Placement and Outreach Coordinator, the Fellow will select a site for a field placement experience. This placement will expand the opportunity the Fellow had as a 3301/3302 student to observe teaching and support a classroom teacher in their practice. This placement may become the Fellow's field placement during the enrollment in Bowdoin Teacher Scholars the following spring.
Mentoring and Oversight
For all three areas of engagement, the Fellow will be supported by faculty and staff. Mentoring will be provided by Education 3301 and 3302 faculty instructors and the Education Department's Field Placement and Outreach Coordinator. The Education Department Chair will oversee the Fellow's fellowship experience, be in regular contact with relevant faculty and staff, and meet with the Fellow monthly to discuss their experience and performance. 
Logistics
The Fellowship will begin in early August, one week prior to the start of First-Year orientation, and will conclude in December at the end of the final exam period.
The Fellow will be provided with a shared workspace in Riley House and may also choose to work in any other public workspace on campus.
The Fellow will use their Bowdoin-supplied iPad and MacBook.
The Fellow will participate in a mid-semester and end-of-semester performance review led by the Education Department Chair.
The Fellow will be a casual employee and will not work more than 25 hours per week (reported through Workday).
The Fellow will receive $18/hour (which at 25 hours per week over 17-18 weeks for the semester comes to approximately $8,000).
Application Process
The application deadline is April 1st at 5:00PM. Students who wish to apply should consult with an Education Department faculty member about their plans prior to beginning the application.
Selection Criteria
This award is designed to support students on financial aid for whom such an opportunity would contribute significantly to their academic and professional trajectory.
Preference will be given to students who have demonstrated consistent interest in the study of the field of Education during their time at Bowdoin.
Students from underrepresented groups are especially encouraged to apply.
Fellows must be graduates of Bowdoin within two years of degree conferral.
Application requirements
Complete the Snow Family Teaching Fellowship online application form.
Fellowship applicants are concurrently applying for the Bowdoin Teacher Scholars program and must fulfill all

 

BTS application requirements.
An additional essay (uploaded in application) describing how you expect this fellowship will advance your professional development as an educator prior to beginning the Bowdoin Teacher Scholars program is also required.