Published July 31, 2023 by Bowdoin
Op Ed: Wabanaki Studies Key Part of Civic Education
In an
editorial
for the Lewiston 
Sun Journal,
education-Africana studies coordinate major Emma Hargreaves '23 argues that teaching Wabanaki studies in Maine schools reinforces students' understanding of American democratic values.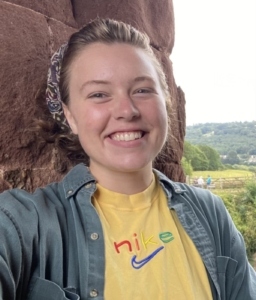 Though Wabanaki studies have been required by law in every Maine public school since 2001, many schools and districts skirt past the legislation. 
"I call for compliance with the required teaching and I reject an approach to the law that suggests white people do not benefit," Hargreaves writes. She grew up in Old Town, Maine, on the Penobscot River, with the Penobscot Nation next door. "Wabanaki Studies is the most relevant synthesis of American democratic values for all Maine students."
She suggests that Mainers must have "full access to our democracy" to continue to protect their land and water "and the communities they support." She adds, "We need schools where students learn the power they have and the resources they rely on. Maine students need Wabanaki Studies."
A core tenet of Wabanaki studies is students learn "place-based history," Hargreaves writes, "where the local 'is not an abstraction… but a physical, actual material relationship to an ecosystem present in a definable place.'"

"In Maine, we have at least 300 years of democratic activism by the Wabanaki Confederacy to thank for the continued protection of our watersheds, namely, the Penobscot River and her many tributaries and smaller rivers, like the Presumpscot, which hydrates most of the Portland Metropolitan area," she writes.
Read the full op-ed.

Hargreaves is a Snow Family Teaching Fellow and plans to enroll in Bowdoin Teacher Scholars next spring. She spent last year interviewing Wabanaki studies teachers and proponents around the state.