Published August 28, 2023 by Bowdoin College Museum of Art
Object of the Month: "Towards an ominous time I" (2022) by Sarah Zapata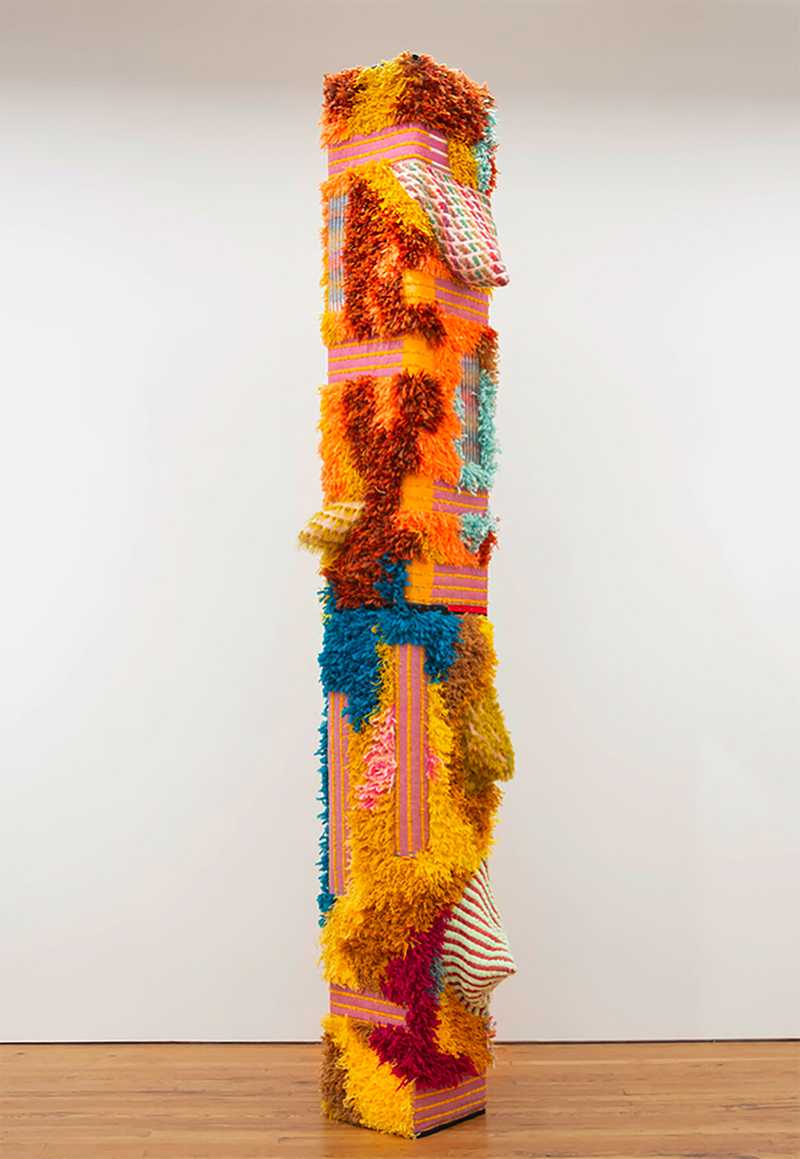 Sarah Zapata's work defies easy classification. Her studio practice brings together labor-intensive methods of handweaving, coiling, and latch-hooking with the techniques of industrial carpet manufacturing. She considers herself a fabric artist, yet her pieces are undeniably sculptural, and she deliberately challenges the divide between traditional craft and fine arts. She honors her Peruvian heritage by drawing from ancient textile traditions of the Andes, but also situates herself as first-generation immigrant who grew up in urban Texas and now lives in New York City. She identifies as a Queer woman but was raised in an evangelical Christian household in the American South.
These tensions and juxtapositions are on full view in Towards an ominous time I (2022), a sculpture that comprises two fabric panels enveloping a columnar substructure. The textile components are made from handwoven cloth and handmade shag carpet, their warm shades of oranges, yellows, and pinks punctuated by turquoise to create a dynamic mosaic of color and texture. The handwoven elements appear as both flat panels and protruding, three-dimensional shapes that emerge from fluffy latch-hooked patches. Designed to allow flexibility in installation, the piece can be displayed as a column; alternatively, the two fabric panels can be hung individually or in a pair on the wall. The malleability of the work emerges from the artist's interest in exploring the undulating terrain of history, individual memory, and the tensions and
and anxieties of everyday life. Of the work, Zapata writes, "History implies causality, but histories empirically exist to evade the organization of information, because sometimes fantasy needs to exist to dismantle the terrors that consume every moment."
Towards an ominous time I also raises issues of gender, labor, and systems of control. As a fiber artist, Zapata engages in a history that positions textile production as "women's work." She deliberately uses bright colors, soft textures, and organic forms to create works that she considers feminine and that bear evidence of their hand-made nature. Yet she also subverts expectations of what a textile is, challenging the systems of control that have sought to oppress and constrain women, especially Queer women of color. Zapata's work is, in essence, a celebration of the intersectionality of identity and existence.
Towards an ominous I comes to the Museum following several meaningful meetings with the artist. The first occurred at Zapata's Brooklyn studio in May 2022 and included BCMA staff and members of the Collectors' Collaborative, a Bowdoin alumni group that visits artists' studios, exhibitions, and galleries twice each year. Based on the strength of her work, Collectors' Collaborative members contributed to fund this acquisition. It is an important addition to the BCMA's collections, expanding our holdings of contemporary textiles and Latin American art, as well as demonstrating the Museum's commitment to supporting emerging artists. With plans already underway to display the piece in the upcoming exhibition Threads: Artists Weave their Worlds, this recent acquisition will provide audiences an opportunity to experience the many facets of Zapata's work in person.
Cassandra (Casey) Braun
Curator, Bowdoin College Museum of Art