Object of the Month: "Pasokos (Sturgeon) Basket"
By Bowdoin College Museum of Art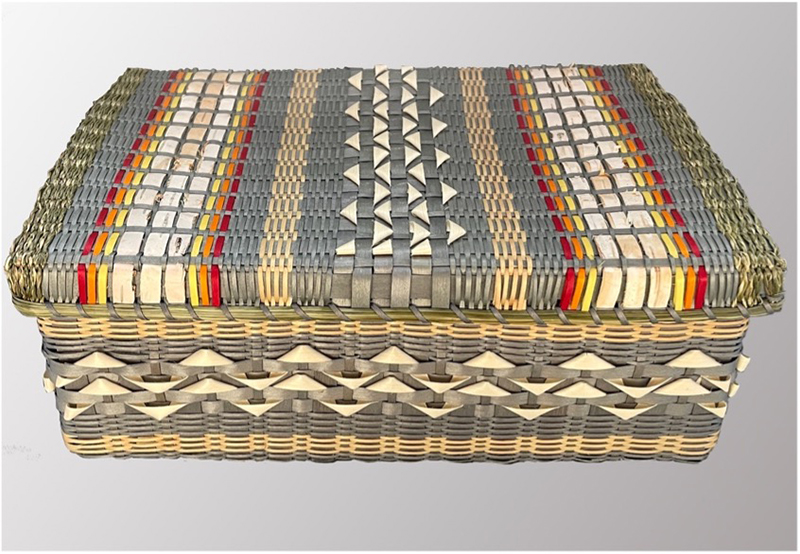 Artist, educator, and activist Theresa Secord (Penobscot, born 1958) has dedicated much of her artistic career to preserving and teaching traditional Wabanaki basket making to new generations of Indigenous weavers. Although her great-grandmother Philomene Saulis Nelson (1886–1977) was a celebrated and prolific Penobscot basket maker, Secord did not learn the art until she apprenticed with community elder Madeline Tomer Shay as an adult. During her five-year apprenticeship, Secord realized that the art of basket weaving was dying out among the Wabanaki, which include the Maliseet, Mi'kmaq, Passamaquoddy, and Penobscot Nations. This prompted Secord to establish the Maine Indian Basketmakers Alliance (MIBA) in 1993, a non-profit organization focused on preserving basketry among Maine's Indigenous communities. Under Secord's leadership for more than two decades, MIBA has been successful in reinvigorating Wabanaki basketmaking on the national stage.
In her role as advocate and mentor, much of Secord's work has focused on cultural preservation and revitalization. Pasokos (Sturgeon) Basket represents a new phase of creative experimentation for Secord, who here combines ancestral techniques and materials with her interest in Traditional Ecological Knowledge and commitment to climate advocacy. Pasokos, or sturgeon in the Passamaquoddy language, is part of a new body of work that draws attention to the many plant and animal species native to Maine that have been negatively impacted by climate change. Shortnose and Atlantic sturgeon, which evolved during the Early Jurassic period (174–201 million years ago), once thrived in the rivers and estuaries of coastal Maine and served as an important food source for the Wabanaki. Sturgeon populations declined precipitously starting in the seventeenth century with the arrival of British colonists and the consequent disruption to the ecosystem. Since then, overfishing, dams, industrialization, pollution, and climate change have decimated sturgeon numbers, leading to their classification as an endangered species. Today, efforts to restore habitats and mitigate overfishing have led to a slow but steady rise in sturgeon populations in Maine. Secord engages with this social and environmental history through Pasokos.
Secord has crafted the basket to visually evoke a sturgeon, its dyed grey strips of ash woven to create the fish's solid body. Triangular curls of undyed ash form linear patterns around the sides and on the lid, mimicking the unique armor-like plates, or scutes, that cover sturgeon and offer it protection from predators. Other elements of this basket connect it with Secord's Penobscot heritage. She used a nineteenth-century wooden form passed down from her great-grandmother to create the shape of the basket, which might at one time have been used to hold stationary. The birch bark strips and red, orange, and yellow accents on the lid represent her Penobscot ancestors' use of torches to sustainably hunt pasokos at night from birch bark canoes. The light from the torches startled the sturgeon, causing them to roll over so fishers could spear their soft undersides, which are unprotected by scutes. 
The Bowdoin College Museum of Art added Pasokos (Sturgeon) Basket to the collection only last month. It compliments its small but growing holdings of Native American basketry and reflects the Museum's commitment to supporting contemporary Wabanaki artists and highlighting the vibrant art-making communities of Maine. Pasokos is currently on view in the exhibition Threads: Artists Weave their Worlds, where it will remain on display with other exemplars of twentieth and twenty-first century Wabanaki basketry until October 13, 2024.
Please join us for a presentation by Theresa Secord on Thursday, November 2nd at 4:30 in Kresge Auditorium, when she will deliver a presentation about her artistic practice and role as an educator, mentor, and activist among the Wabanaki. Secord's talk is free and open to the public. 
Cassandra Braun
Curator, Bowdoin College Museum of Art
Published October 27, 2023