Published April 26, 2023 by Bowdoin College Museum of Art
Refreshing "Re|Framing the Collection"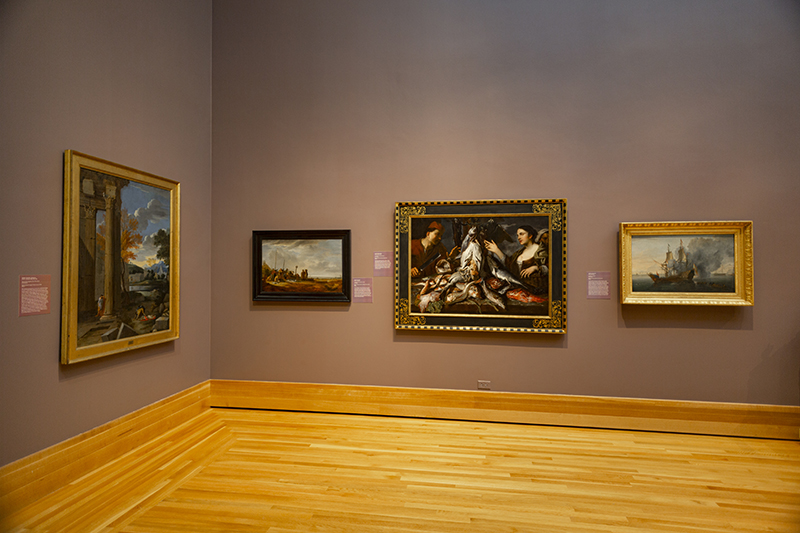 In April, the Bowdoin College Museum of Art debuted exciting changes to Re|Framing the Collection: New Considerations in European and American Art, 1475–1875. This long-term installation draws from the BCMA's collection to explore how empire-building and colonial expansion throughout the Atlantic world shaped global networks of people, ideas, natural resources, and materials. Over the past several months, the BCMA curatorial team has been working together and in collaboration with faculty partners to refresh portions of this exhibition to highlight new scholarship, share works on loan, and spark new connections and conversations.
In one corner of the exhibition, visitors can enjoy Pierre Lemaire's Moses and the Egyptian, a mid-17th century painting that depicts the scene in Exodus in which Moses kills an Egyptian. Although this work has been at Bowdoin since 1852, when it was donated by Colonel George W. Boyd, Class of 1810, it has only recently been attributed to Lemaire, a painter who worked with French Baroque artist Nicolas Poussin while living in Rome between 1634 and 1642. This new attribution emerges from research conducted by BCMA senior consulting curator Laura Sprague; George Keyes, curator emeritus, Detroit Institute of Arts; and Pierre Rosenburg, former curator and director of the Louvre.
Elsewhere, two diptychs demonstrate the deep and perhaps unexpected contact between Europe and Africa during the medieval period. Created in Ethiopia, these two early sixteenth-century works portray common Christian themes and subjects, including the Virgin Mary. These two objects, on loan to Bowdoin as part of the Wyvern Collection, demonstrate how Christians in Ethiopia, the Mediterranean region, and northern Europe were united in their shared use of devotional paintings to shape and direct their prayers and meditations—even if the stylistic characteristics of the diptychs point to the unique cultural and artistic contexts in which they were made.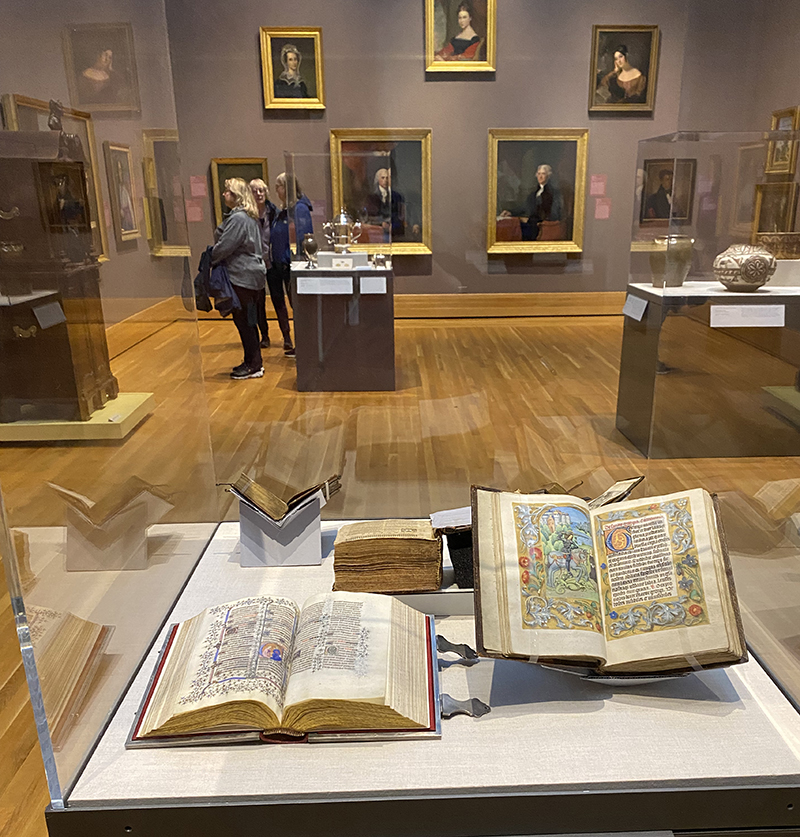 Pieces from the Wyvern Collection and loans from the George J. Mitchell Special Collections & Archives at the Bowdoin College Library ground the installation of a new case entitled "From Parchment to Print: Devotional Books in the Middle Ages and Beyond" curated by Kathryn Gerry, Visiting Assistant Professor of Art History. Using Christian devotional texts such as prayer books and Bibles, Gerry explores how hand-copied and elaborately illustrated manuscripts from the medieval period served as the precursors to some of the earliest printed books in Europe and America. "From Parchment to Print" is the first in what we hope will be an ongoing series of "micro-exhibitions," focused displays on a particular theme or topic that resonate within a long-term installation at the Museum. These micro-exhibitions will allow the BCMA new ways to respond to new research, faculty teaching, and campus activities, and provide instructors and students additional avenues for integrating the Museum into their work in the classroom and beyond. Some projects will also include a digital publication or webpage.
We hope you will come to experience these and many more exciting changes in Re|Framing the Collection over the summer. The rotations and micro-exhibitions will help ensure that there is always something fresh to see at the Museum, while also providing avenues to experience old favorites in new ways.
Casey Braun
Curator, Bowdoin College Museum of Art
Illustration: a view of the new "From Parchment to Print" case in the exhibition.