Published February 28, 2023 by Bowdoin College Museum of Art
Object of the Month: Larry by Rashid Johnson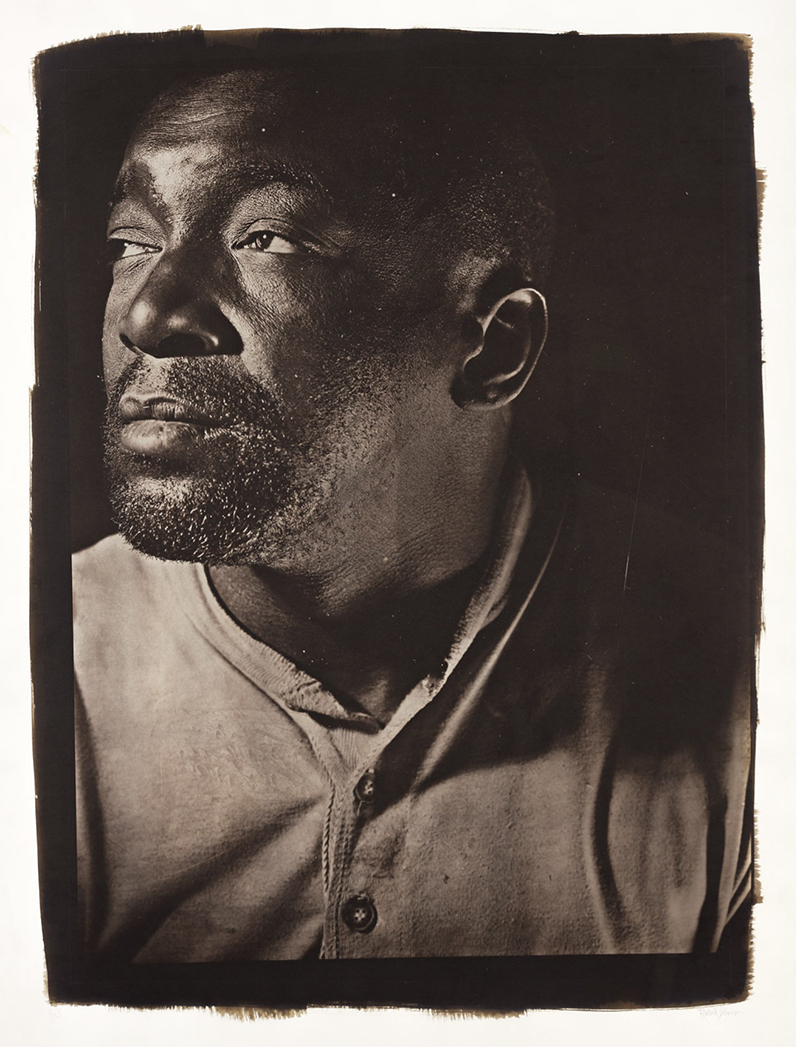 The Museum of Art is excited to announce the acquisition of a large-format photograph by Rashid Johnson. Purchased from Swann Auction Galleries last fall, it is the second work by this important contemporary artist to enter the Museum's collection.
Born in Chicago, Rashid Johnson studied photography at Columbia College Chicago and the School of the Art Institute of Chicago. While he was known early in his career for his work using experimental photo-printing processes, he has more recently added painting, sculpture, drawing, and filmmaking to his artistic practice. Johnson's breakthrough came in 2001 with his inclusion at age twenty-four in Freestyle, a now-legendary exhibition curated by Thelma Golden at Harlem's Studio Museum. It was then that the influential term "post-Black art" was first popularized. His solo exhibition at the Museum of Contemporary Art in Chicago the following year solidified his reputation as one of the major artistic voices of his generation. Throughout his career, he has focused special attention on Black intellectual history and cultural identity. More recently, he completed a sculptural commission for La Guardia Airport in Queens and his first feature-length film, an adaptation of Richard Wright's 1939 novel Native Son. Awarded the David Driskell Prize by the High Museum of Art in 2012, he has staged numerous exhibitions at museums and galleries across the globe.
Larry comes from a photographic series titled "Seeing in the Dark" that he developed over three years beginning in 1997. In this early series Johnson created portraits of homeless men in Chicago. Whereas the homeless have often been understood as a social problem, he crafted images in which his subjects were seen, treated, and depicted with respect. Johnson titled these works after the names of the men he photographed rather than portraying them as anonymous figures. He utilized an antique photographic process that produces rich dark browns—the Van Dyke Brown photo-emulsion process—in order to bath his subjects in a warm and dignified light. In this and later series, an interest in the intersection of class and race has animated his work. For Johnson, art often serves as a vehicle for testing and sometimes bridging the social divides that exist in lives and communities. As photography historian Shelley Rice has written, the photographs in "Seeing in the Dark" are "arenas of action, places where people come together, and cultures comingle." Photographs in this series were first exhibited in Freestyle at the Studio Museum and the following year at the Museum of Contemporary Art in Chicago.
In 2018, the Museum was gifted a photograph co-authored in 2008 by Johnson and Hank Willis Thomas. Titled A Portrait of Two American Artists as Young Negro Scholars, this double portrait references W.E.B. DuBois's famous series of photographs for the "American Negro" exhibition at the 1900 Paris Exposition. Johnson's Larry complements well this artwork and permits a broader conversation about the history of the photographic representation of Black men. The photograph also permits productive conversations about homelessness, a subject that many documentary photographers have represented since the advent of the medium in the nineteenth century. It will take centerstage in next summer's exhibition People Watching: Contemporary Photography since 1965.
Frank Goodyear
Co-Director, Bowdoin College Museum of Art