Academic Highlights at the Museum during the Fall Semester
By Bowdoin College Museum of Art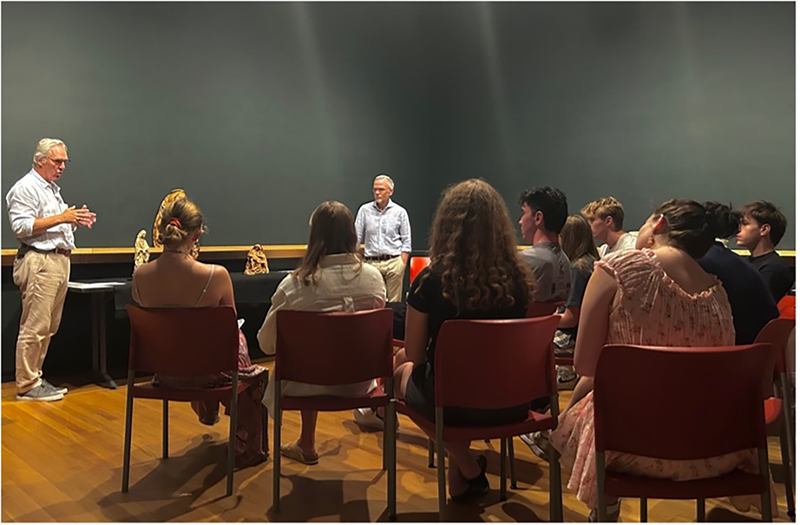 In early September, the BCMA enjoyed a visit from Sir Paul Ruddock H'19 and Lady Jill Shaw Ruddock '77 CBE, collectors and philanthropists. Paul Ruddock shared insights with students about examples of medieval art from the Wyvern Collection, a group of more than a hundred objects on long-term loan to the BCMA. In a class co-led by Paul Ruddock and Bowdoin Professor of Art History Stephen Perkinson, students were able to learn not only the significance of objects like enamel reliquaries and alabaster sculptures in their own time periods but also their importance to collectors and institutions today. The visit allowed students to learn from the expertise of a collector, as well as their faculty instructor and Museum staff. The visit also provided the Ruddocks a view into the integral role that object-based learning plays at the Museum and the College more broadly.
The Fall semester is also a time when new students enroll in a First Year Writing Seminar, which are offered by faculty in a wide range of disciplines. They are a great opportunity for students to learn about campus collections and resources. This year, the BCMA has already hosted several First Year Writing Seminars, ensuring that dozens of students will be familiar with the Museum from their first few months on campus. Our goals with these visits include introducing new students to the staff, spaces, and resources of the BCMA and driving home that we are a site of idea-making and experimentation with a mission to make them feel both welcome and inspired.
In addition to new students, we have also benefited from reaching out to new and returning faculty who may not have interacted with the Museum. The Museum's curatorial team, Casey Braun, Sean Kramer, and Sabrina Lin have participated in new faculty orientation sessions and syllabus development workshops. We also enjoy frequent one-on-one conversations with faculty in our offices, in the galleries, over coffee, and chance encoiunters on the quad or in a hallway.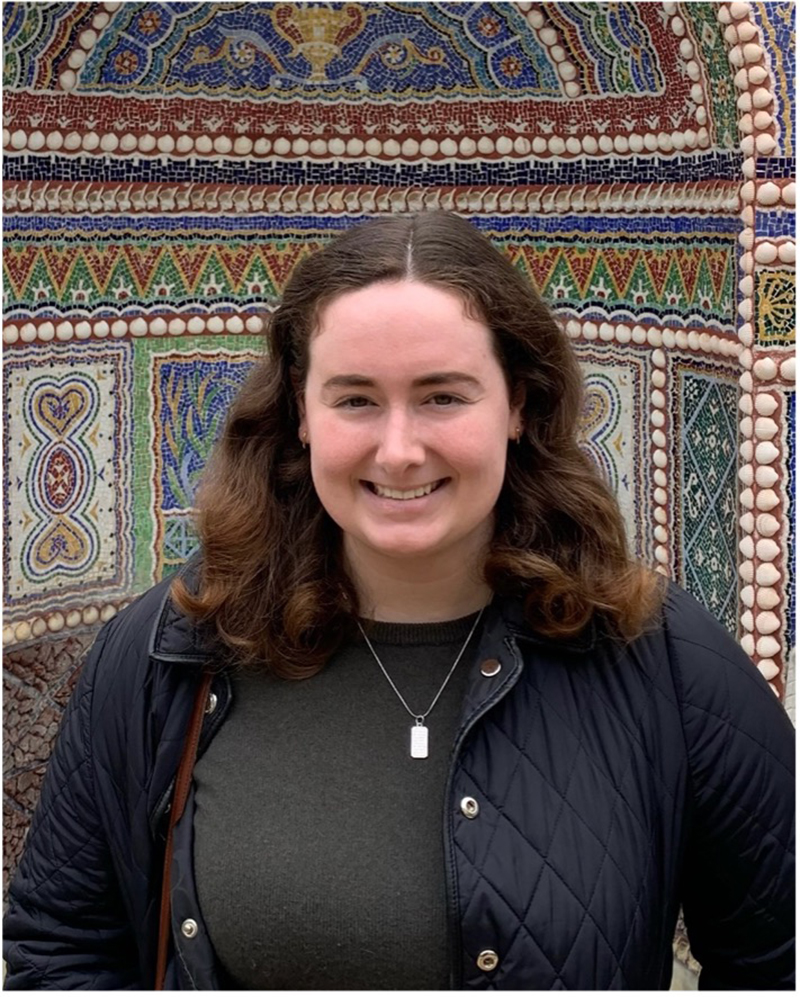 Finally, we are pleased to announce the launch of a new student position at the BCMA: a curatorial intern for campus engagement. This intern works closely with the Andrew W. Mellon Postdoctoral Curatorial Fellow and the Curatorial Assistant and Manager of Student Programs. We conceived of the position as a way to bring together our faculty- and student-focused initiatives. Our ideal candidate was someone who had a demonstrated track record of collaboration, project managing, and deep interest in the arts. Emily Jacobs '23 fit that bill exactly and will be piloting the new role, as described in the accompanying article in this issue on student assistants at the Museum. Emily joined the BCMA team this past summer as a curatorial intern, working on the upcoming exhibition "The Book of Two Hemispheres:" Uncle Tom's Cabin in the United States and Europe, among other projects. She is deeply involved in the arts on campus as the leader of both the Bowdoin Arts Society and the Student Museum Collective as well as a devoted fan of the Craft Center.
She describes her role so far: 
"I have been working on proposals for student programming and initiatives that I hope will create an even stronger connection between the BCMA and the campus community. I am also beginning to work on facilitating class visits to the Museum, which is something I am very passionate about, given my own understanding of how valuable these experiences are for students like myself. The BCMA has played a huge part in my experience at Bowdoin, both academically and personally. I hope to share with even more students just how valuable the museum is as a resource and space for community!" 
Emily has spent time researching the academic programs at the BCMA's peer institutions, gaining insight into how a range of museums work. This research will form the basis of a project of her own design, for which she is currently developing a proposal and will implement over the course of this academic year. Stay tuned as that project takes shape.
Sean Kramer
Andrew W. Mellon Postdoctoral Curatorial Fellow, Bowdoin College Museum of Art
Illustration: Emily Jacobs '23, Student Curatorial Intern for Campus Engagement, Bowdoin College Museum of Art.
Published October 27, 2023