Published August 31, 2022 by Bowdoin College Museum of Art
Thank You to the Museum's Summer Student Assistants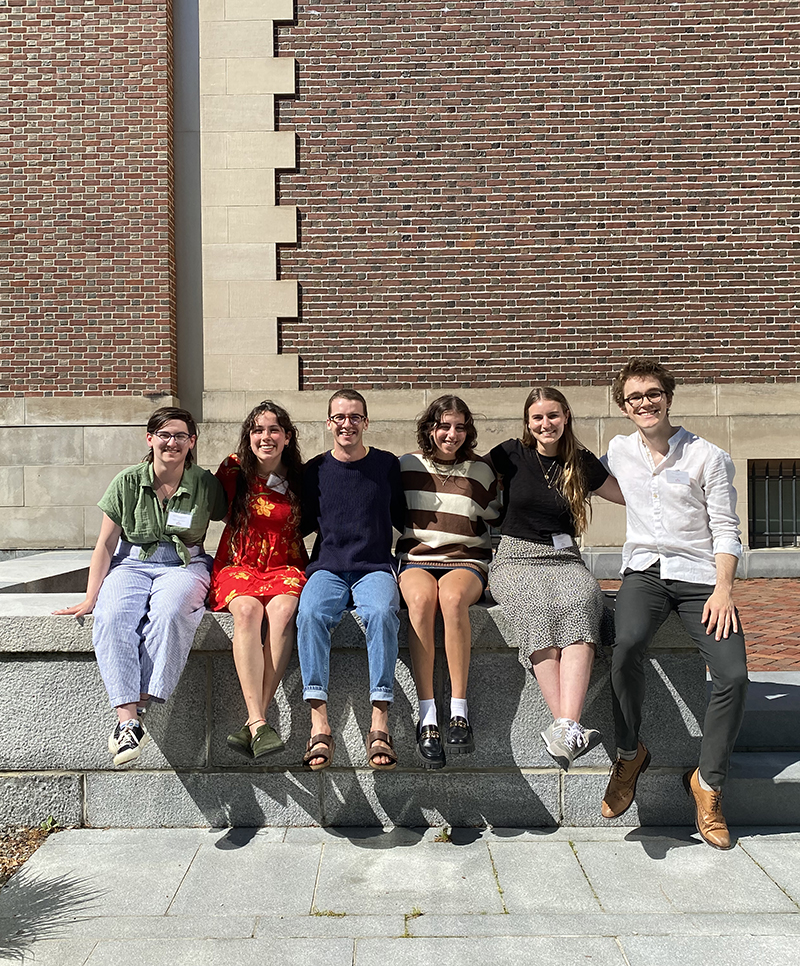 From leading daily tours of At First Light: Two Centuries of Artists in Maine to engaging in weekly group discussions, the Museum's five Student Assistants and Research Fellow have enjoyed a memorable, productive summer here at the Museum. In addition to taking the helm of various curatorial, educational, and digital projects, the students also visited their peers at the Children's Museum and Theatre of Maine in Portland and the Colby College Museum of Art in Waterville. The Museum wishes to to thank our interns for their thoughtful engagement with and outstanding contributions to our work at the BCMA.
This summer, our three Student Assistants to the Curator were Ingrid Astley '24, Emma Paterson-Dennis '24, and Brandon Schuster '23.
Ingrid Astley, an Art History and Biochemistry double major from New York City, spent this summer developing a forthcoming exhibition about the Italian artist Pontormo. To open in Spring 2023,it focuses on 15th- and 16th-century Italy and highlights three monochromatic works by the celebrated Mannerist artist. Working with Co-Director Frank Goodyear, Ingrid helped to select pieces for the exhibition, wrote object labels, and conducted research on topics such as narratives of biblical and sexual violence and Ovid's Metamorphoses. "I enjoyed deep-diving into the BCMA's collection of Renaissance and Mannerist works in Tuscany and learning more about the powerful Medici family and the masterful skills of Pontormo and the Florentine school," Ingrid shared.
Emma Paterson-Dennis is a Visual Arts major and Gender, Sexuality and Women's Studies (GSWS) minor from Bangor, Maine. They assisted Co-Director Anne Collins Goodyear on an upcoming exhibition dedicated to the modernist artist and poet Mina Loy. Specifically, Emma focused on producing facsimiles for the exhibition, which involved organizing information about different artworks and ephemeral materials, as well as working in Photoshop to create printable files. While reflecting on their work at the Museum, Emma stated: "Learning about Mina Loy's art was both fascinating and encouraging for me. She was an artist who did everything; poetry, prose, 2D art, 3D art, design, and invention. As an artist with many interests myself, I find it relieving that she pursued all of her interests and never settled for one."
An Art History and Government and Legal Studies double major from Spring Mills, Pennsylvania, Brandon Schuster worked with Anne Goodyear on the upcoming retrospective of artist William T. Williams, which will highlight Williams's works on paper. A major focus of Brandon's project was to collect criticism, writings, and interviews about and by Williams, culminating in the development of a historiography of the artist's career. From reading interview notes and transcripts of conversations with Williams, Brandon gained a basis for understanding important themes the exhibition will be structured around. Brandon noted: "The highlight of this project was being able to speak with Williams, whose experience and expertise provided invaluable insight into his artistic process and the ideas which animate his work.
The two Education and Shop Assistants, Lily Dinsmoor '24 and Tessa Frank '23, worked closely with Curatorial Assistant and Manager of Student Programs Sabrina Lin, as well as staff at the Museum's gift shop. Lily Dinsmoor is a Psychology and Biology double major with a minor in Visual Arts from Arlington, Virgina. Lily described her position this summer as bridging the museum world and the public, and together with Tessa, they developed various children's activities based on current exhibitions. From making yarn baskets to designing custom-made puzzles, these activities help to provide young learners a hands-on approach to understanding the artworks on view. Lily stated that the highlight of her summer was interacting with different museumgoers: "Brunswick is full of very kind people, both locals and people who are visiting from out of state. People of all ages come to the museum, and it's a pleasure to talk about art or life with whoever comes by." Lily is also developing an online resource for young learners that highlights different portraits in the Museum's rich drawings collection.
Tessa Frank is an Art History and English Double major from Charlotte, North Carolina. In addition to running Family events and creating children's activities this summer, Tessa and Lily designed an educational booklet for At First Light, highlighting important pieces in the exhibition and key information about Maine. Tessa's independent project involved an exciting collaboration with the Bowdoin International Music Festival (BIMF). Each year, since 2018, BIMF has organized a special concert entitled "Composer's Concert at the Museum," in which musicians create original compositions inspired by works of art currently on view. Tessa interviewed many of the students who took part in this program and collected pictures and video documentations. The resulting webpage will be featured online through the Museum's new platform dedicated to original student projects: BCMA LABS (the launch of which is described in an article of this issue of the E-Bulletin). About this project, Tessa said: "It was such a privilege learning about the wonderful musicians that participated in this project. I have such a better appreciation for their skills, processes, dedication to the arts, and am ecstatic to share their talent with the public!
Finally, the Museum was pleased to host Mason Daugherty '25, a prospective Digital and Computational Studies and Computer Science coordinate major from Dallas, Texas. Mason received a Peter J. Grua and Mary G. O'Connell Summer Research Award this summer to conduct bibliographic research within cultural institutions to better understand historic, current, and future digital initiatives. His study takes into consideration the ways to increase collection accessibility and further research, and suggests best practices for different institutions to take advantage of digital innovations. Reflecting on his research, Mason shared: "The philosophical discussions I've been able to have with key industry figures, such as at the Metropolitan Museum, the Wikipedia Foundation, and the Smithsonian (as well as our very own museum staff), make me excited to continue my explorations further while at Bowdoin and beyond. Furthermore, it has been a pleasure to receive guidance from Professor Nascimento and Museum Co-Director Anne Goodyear, who have been instrumental in guiding my research."
We have greatly enjoyed working with our student interns this summer; they have become an essential part of the BCMA's team. As we enter the new Academic Year, we look forward to seeing them around campus and in the galleries again very soon!
Sabrina Lin
Curatorial Assistant and Manager of Student Programs