Published December 05, 2022 by Bowdoin College Museum of Art
Object of the Month: "Primal Energy-13-Inner Sources," 1988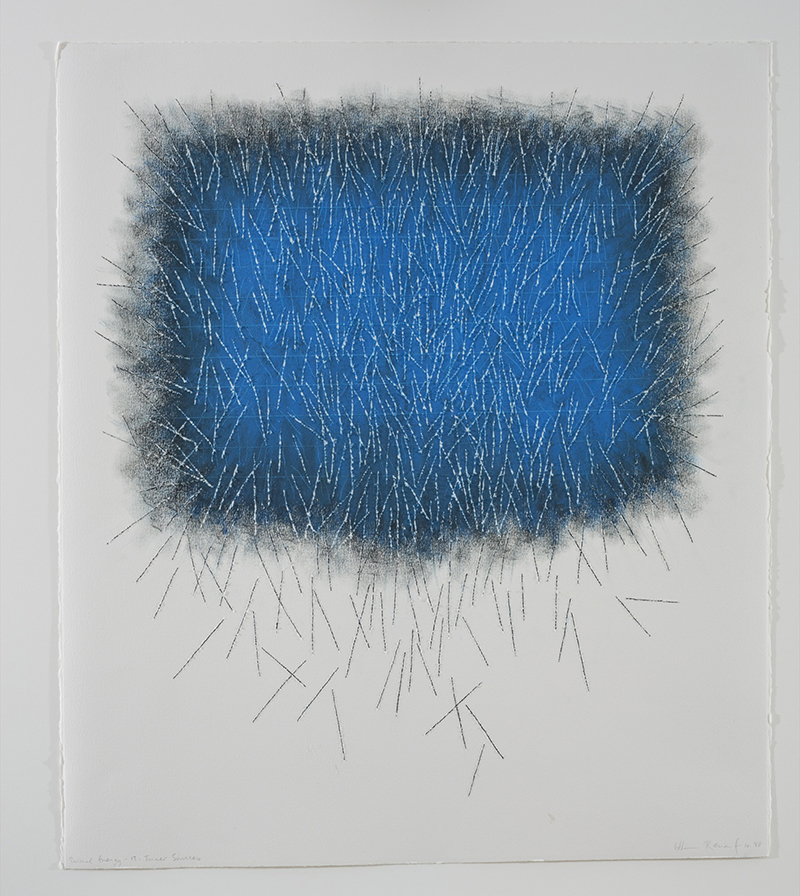 In this oil pastel drawing by Edda Renouf, the beautifully rich and smooth blue draws one's eye into a field of color. This blue refracts and contrasts with the lightness of the paper, as its removed and reattached strands are cut and rewoven to create dynamism and a fascinating sense of depth. In an exploration of the materials of art making, Primal Energy-13-Inner Sources endeavors to bring paper into the foreground as an artistic medium that can be worked with and molded much like thread and paint. Instead of serving as backdrop for other materials, paper itself becomes an active medium that can be applied or removed, or as seen in this example, simultaneously do both.
Edda Renouf, born in 1943, has produced many works in a similar vein to this example, which was most recently on view in Powdered Pigments: Three Centuries of Pastel Drawing from April 7 through August 21, 2022. Throughout her career, Renouf has created paintings, etchings, and drawings in chalk and oil pastel to experiment with materiality and abstraction. Much of her work explores finding energy and life in the materials with which she works, rather than using representational elements to create an illusion of reality. This focus creates a quiet, almost introspective tone in her work. This piece in particular invokes an atmospheric sense of space, depth, and movement.
Renouf's practice puts opposing elements into play. For example, many of her works delve into the contrast between crisp and organic lines or the concreteness of the removed and reapplied threads opposing the "aleatory, cloud-like areas of color that have been sanded," as Renouf has described. The artist employs the method of sanding to achieve a subtle gradient and smooth field of color, which provides a striking contrast to the almost violent act of removing threads. Renouf is also inspired by the four natural elements, as well as music, sound, time, and memory, all of which are subjects of her works.
Emma Paterson-Dennis '24
Summer 2022 Student Assistant to the Curator