Published August 31, 2022 by Bowdoin College Museum of Art
Object of the Month: "Female Nude on Stomach-with Heater," 1972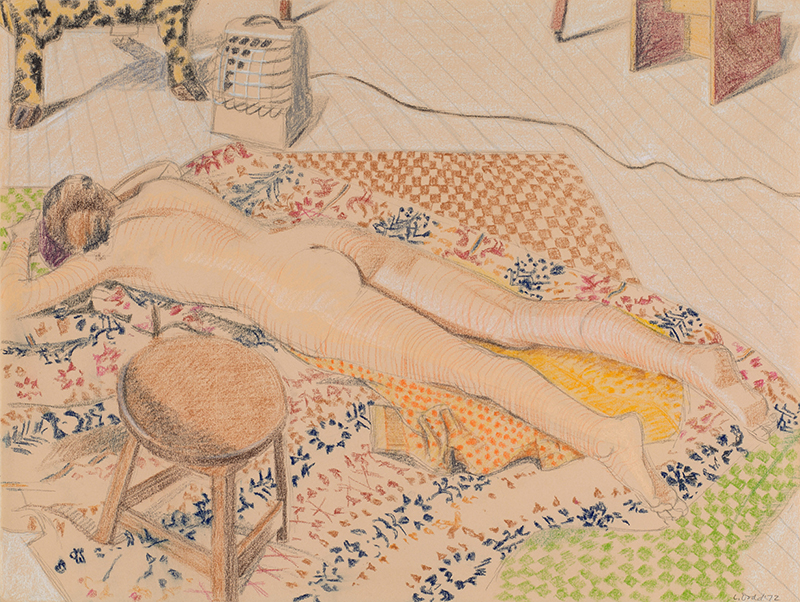 While many of Lois Dodd's works focus on the appeal of nature—the allure of wild and sensual landscapes—she has also created a series of domestic interiors and figures reclined in leisurely repose. One such work is her pastel and pencil drawing on paper, Female Nude on Stomach- with Heater, 1972, recently on display in the exhibition Powdered Pigments: Three Centuries of Pastel Drawings. At first glance, this work might appear deceptively simple or even unfinished, but with more purposeful looking, the viewer can see that Dodd has created an intimate and carefully considered drawing. The artist's keen observational skill is cultivated through attention to her immediate surroundings: the nature of mid-coast Maine, the views from her New York City loft on the Lower East Side, and her weekend home in New Jersey. Dodd is an expert in the art of looking and translating her imaginative vision onto paper or canvas. Often completing her works quickly in one sitting and, when possible, en plein air, Dodd has honed her whimsical style as a colorist working with vibrant tones from greens, yellows and blues to pinks and oranges, creating beautiful works with an enchanting and delicate quality.
In the 1950s, shortly after graduating from Cooper Union, Dodd founded the Tanager Gallery, one of the first artist-run co-operative galleries in New York. She became a pioneering figure in the avant-garde gallery scene alongside a community of influential artists, including Alex Katz, Yvonne Jacquette, and Mimi Gross, among others. In the early 1970s, Dodd and a group of artists, including Mercedes Matter and Philip Pearlstein, met periodically in the studios of different friends around New York City to draw hired models. As Dodd rarely worked in pastel or represented the figure, the portraits in the BCMA's collection are rare examples. In an interview with Frank Goodyear, co-director, and BCMA student intern Lily Weafer '23, Dodd recalled: "I was very happy to go do whatever the model was doing for the group." Dodd recollects that although she enjoyed making these nude drawings, pastel and figuration are not her favorite medium or style. Therefore, she was happy to go along with the poses and placements orchestrated by the other artists.
While the subject matter differs from Dodd's usual depictions of land, sky and built structures, her love of bold forms and vibrant colors is just as evident in her delicate framing of the everyday through her depiction of the model in Female Nude on Stomach--with Heater. Dodd uses a tight composition, centering on the nude figure with just a snapshot of the studio surroundings, including a glimpse of hardwood floors, a heater with a crawling cord, a wooden stool and an upholstered giraffe-like patterned armchair, and intricately designed carpet. Using colored paper underneath the pencil and pastel, Dodd applies only a few vibrant colors (blues, pinks, oranges, yellows) to capture the viewer's eye. There is nothing overly glitzy or glamorous about her work, yet the piece continually holds the onlookers' eye with its compositional awareness and assortment of different strokes and colors. The nude figure remains anonymous with her head turned away to the right as she lays with her arms stretched above her head and reclined on her stomach. The slender figure is neither idealized nor misshapen, but still depicted gracefully lounging in an elegant repose. With a a wry sense of humor suggested by the presence of an electrical heater, Dodd's drawing, with its depiction of the model's languid repose, conjures up memories of a hot summer's day when the temperature makes it hard to move or to do much besides strip layers of clothing and find a comfortable, quiet spot for rest.
Ingrid Astley '24
Summer Curatorial Intern
Bowdoin College Museum of Art