Published December 05, 2022 by Bowdoin College Museum of Art
Comments from the new BCMA Curators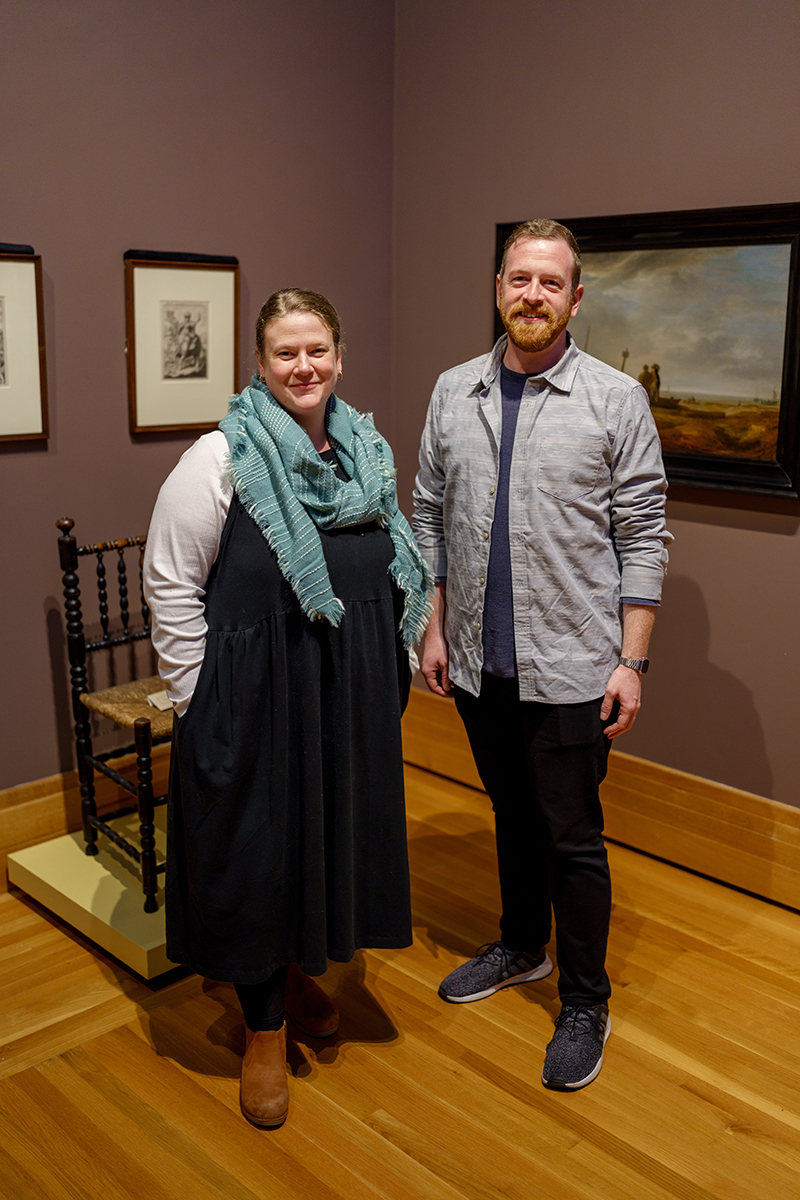 At the start of this semester, Cassandra (Casey) Braun and Sean Kramer joined the Bowdoin College Museum of Art as the new Curator and the Andrew W. Mellon Postdoctoral Curatorial Fellow, respectively. Over the past three months, they have been busy exploring the Museum's collections, meeting colleagues throughout the College and beyond, and jumping into several curatorial projects. As the fall semester winds down, Casey and Sean reflect on some of the highlights of their time at Bowdoin so far, as well as some of the things they're looking forward to in the future.
From their first weeks on the job, Casey and Sean have been actively collaborating on new acquisitions. With their curatorial colleagues, they were able to visit local galleries and research objects under consideration for purchase—from contemporary drawings by Argentine artist Josefina Auslender to portraits by photographer Carl Van Vechten to nineteenth-century marble carvings depicting scenes from Harriet Beecher Stowe's novel Uncle Tom's Cabin—ultimately helping to bring these to campus. Casey traveled to New York in October to attend the opening of a solo show by Peruvian American artist Sarah Zapata and worked with the Museum's Collectors' Collaborative to propose an exciting new purchase of the artist's installation work Towards an ominous time, I. Around the same time, Sean traveled with BCMA co-director Frank Goodyear to the Smith College Museum of Art in Northampton, Massachusetts, and the Harriet Beecher Stowe Center in Hartford, Connecticut, to research the work of American sculptor Anne Whitney. This research helped cement the very recent acquisition of Whitney's 1893 plaster bust of Stowe, who of course wrote Uncle Tom's Cabin while living in Brunswick.
At Bowdoin, they have both jumped into teaching with the Museum's collection, working with faculty from a variety of disciplinary backgrounds and areas of interest. Facilitating these experiences has provided them many opportunities to learn about the Museum's holdings, engage with faculty and students, and get a sense of topics of interest for research and teaching on campus. They have also enjoyed exploring the galleries and storage simply to see works of art in person. For instance, they spent one quiet afternoon exploring the painting racks in storage and delighting in discoveries; particular favorites included a painting of lion cubs by Rosa Bonheur and an expedition in Greenland by Rockwell Kent.
Look forward to an article next month, where Casey and Sean will share more details about the many ways that faculty and students have enlivened the collection by making curricular connections, conducting original research, and co-curating upcoming exhibitions.
Casey came to Bowdoin from the Spencer Museum of Art at the University of Kansas, where she was the Associate Curator of Global Indigenous Art. While her curatorial work focused on the nearly 10,000 works of Native American, African, and Oceanic works in her collection area, she also pursued many community-focused projects, hosted artist residencies, pursued research on the intersections of art, medicine, and science, and experimented with interpretive strategies to make museums more inclusive spaces. She is currently developing a proposal for a long-term exhibition of works from the Museum's collection from 1875 to the present that will encourage cross-cultural and interdisciplinary thinking and invite ongoing opportunities for student and faculty participation.
Sean arrived at Bowdoin a week after Casey. This past April, he completed his PhD at the University of Michigan-Ann Arbor, where his research and scholarship focused on nineteenth-century depictions of military subjects in art and visual culture. While at U-M, he worked in several capacities at the University of Michigan Museum of Art in addition to holding research fellowships at the Yale Center for British Art and the Detroit Institute of Arts. His curatorial projects have included photographic depictions of disaster, queering curatorial practice and public engagement, and studying artworks' provenance through the lenses of masculinity and nationalism. While at Bowdoin, he looks forward to working closely with Casey and the curatorial team in teaching, outreach, and acquisitions, and is planning a major exhibition and publication for the spring term 2025.
Cassandra (Casey) Braun, Curator
Sean Kramer, Andrew W. Mellon Postdoctoral Curatorial Fellow
Bowdoin College Museum of Art