Published October 31, 2022 by Bowdoin College Museum of Art
Introducing the Academic Year Student Assistants at the Bowdoin College Museum of Art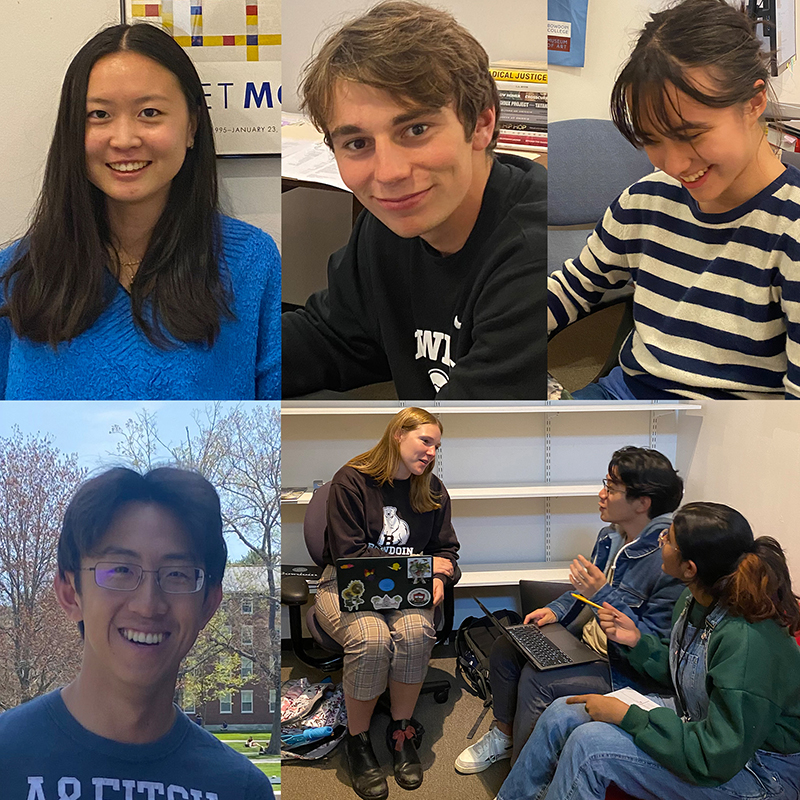 We are happy to introduce six student assistants working at the Museum for the 2022–2023 academic year, who have already jumped into an exciting array of curatorial, educational, and digital projects. This year's cohort includes three Education Assistants, two Student Assistants to the Curators, a Digital Media Assistant, and a Special Project Assistant. The students come from a variety of educational, geographic, and cultural backgrounds, bringing unique experiences and diverse interests to their work at the Museum.
The Student Assistants to the Curators have been assisting the Co-Directors of the Museum, Anne Collins Goodyear and Frank Goodyear, on various curatorial work and projects.
Silas Brown '24 (he/him) is an English and Africana Studies double major from Burlington, Vermont. Silas is working on a project with Frank Goodyear about Ecology and art on Monhegan Island, which will be the focus of a forthcoming exhibition. He is interested in the idea that museums are places that can tell stories based on the art and artifacts that they display. With this project, Silas is especially excited about pairing ecological science and fine arts, two subjects that are not often thought of as closely related to each other, to tell a larger story about how Monhegan Island has changed over time.
Mei Bock '24 (she/her) is an English and Visual Arts double major from New York City. Mei has been working on the upcoming William T. Williams exhibition with Anne Goodyear. As a native New Yorker, Mei is interested in learning more about Williams' experiences with the New York arts scene of the 1960s and 70s, especially how his work was received as a Black artist.
In addition, Sophia Wei '23 (she/her) is working on a Special Research Project centered around the BCMA's DEI initiatives. An Art History major and Economics minor, Sophia has been working closely with both Anne and Frank to look at the BCMA's institutional history and efforts in conjunction with the Museum's Anti-Racism Strategic Plan. Sophia's previous experiences have included working at the Sotheby's Bids Department in London, where she helped facilitate telephone bidding, rostrum clerking, and bid registrations.
The Education Assistants include a group of three interns whose main responsibilities are focused on leading and working with the Student Ambassadors, furthering connections between the Museum and the student body. The Education Assistants also work closely with the curatorial staff in researching and developing community outreach and education materials. 
Sinclaire Ledahl '23 (she/her) is a Psychology-Education coordinate major and German minor originally from Los Angeles, CA. Sinclaire is a returning Education Assistant from last spring, and together with Jane Wang '23, launched the inaugural cohort of Student Ambassadors. She is interested in increasing Museum accessibility for young learners and is excited to be creating educational resources and materials especially designed for K-12 students, such as gallery guides and Museum Bingo.
 Rania Janmohamed '25 (she/her) is a Neuroscience-Education coordinate major from Dar es Salaam, Tanzania. Along with Joseph and Sinclaire, Rania helps develop programming and ideas for education programs. In addition to leading the Student Ambassadors, she is also interested in designing inclusive activities, specifically resources to help understand the importance of language in breaking historic barriers and decolonizing museum exhibitions.
Joseph Park '25 (he/him) is a Latin American, Caribbean, and Latinx Studies (LACLaS)-Education coordinate major and History minor from Manalapan, New Jersey. In working with the Student Ambassadors, Joseph hopes to connect the Museum with the student body through active collaborations with student groups. He is also researching museum outreach and education programming targeted towards local schools and community organizations.
Lastly, Cheng Xing '23 (he/him) is returning to his role as our Digital Media Assistant. Cheng is a Computer Science and Math double major originally from Beijing, China. He is mostly contributing to the digitalization of the art works. Besides performing high resolution imaging, Cheng is also an expert on 3D scanning and modeling.
The interns are looking forward to working with Museum staff in the coming months to see these ideas develop, in addition to connecting the BCMA with the student body. With many exciting projects in the works, they are thrilled to share more with the campus and the community!
Joseph Park '25
Academic Year Education Assistant