Published October 27, 2021 by Bowdoin College Museum of Art
Stephanie Syjuco to Speak (Virtually) at the Bowdoin College Museum of Art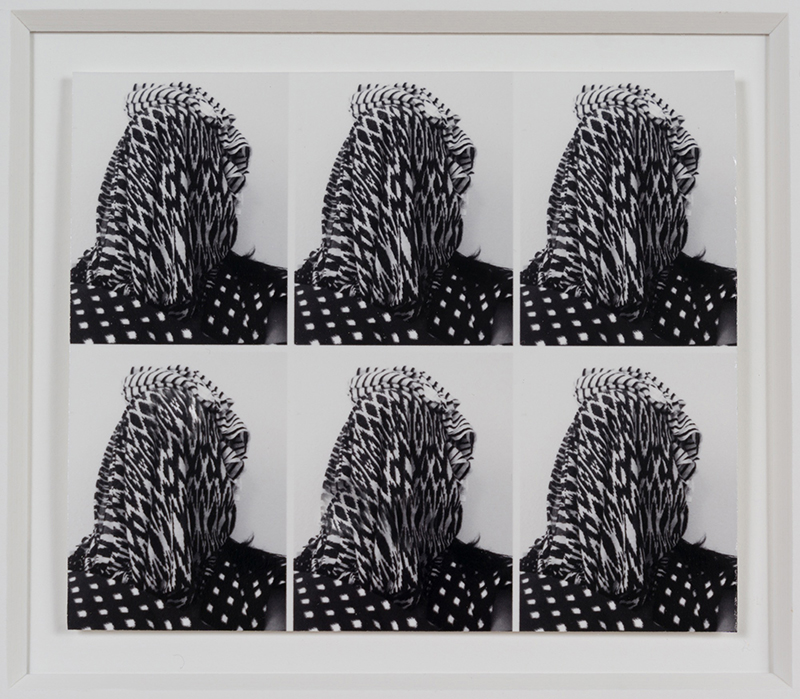 A conceptual artist and educator who teaches at the University of California, Berkeley, Stephanie Syjuco engages a broad range of media, creating works that aim to stimulate conversation, often by repositioning the spectator's relationship to objects that might initially seem familiar. Deeply concerned with the legacy of colonialism and the historical suppression of people of color, Syjuco's work often raises questions about visibility that challenge viewers to interrogate their own identity and relationship to larger social power dynamics.
Part of a series of "migrant photographs," Stephanie Syjuco's Applicant Photos (Migrants) #2 (2016), recently acquired by the Museum of Art, interrogates the system through which immigrants must document themselves in order to move from one nation to another. Her images, which deliberately cover the face in fabric, understood to evoke "colonial" materials, offer a spirit of resistance precisely through their appropriation of western textiles, often sold cheaply in first-world countries thanks to the exploitation of labor in countries with less robust economies. Syjuco's photographs, while critiquing the legal system through which specific types of physiognomic documentation are required, also reference various modern and contemporary artists, including Marcel Duchamp and Glenn Ligon, who have similarly drawn attention to the prejudices embedded in pictorial regimes of the face. In a final, more nuanced twist, Syjuco has turned the camera on herself to create these images, using a digital device to create a "selfie." Through this act, Syjuco draws attention not only to the ubiquity of a narcissistic impulse to picture the self, but also the way in which such actions blur with the more deeply engrained structure of surveillance as a political tool of control.
Five years after the creation of Syjuco's Applicant Photos, questions raised by the work continue to resonate deeply, especially in light of ongoing questions about the immigration policy of the United States and concerns about tools used to document those individuals engaged in political demonstrations. As Syjuco has remarked: "I want everyone to ask the question: what does it mean to be an American? What are our affiliations? What do we stand for? It's very different depending on who you ask, right?"
The Bowdoin College Museum of Art looks forward to welcoming Syjuco for a virtual presentation on Thursday, November 18th at 5:00 pm. Please register here.
Syjuco's Applicant Photos (Migrants) #2 (2016) is included in the Museum's exhibition, Transformations: New Acquisitions of Global Contemporary Art, which remains on view until January 30, 2022.
Anne Collins Goodyear
Co-Director, Bowdoin College Museum of Art