Published November 29, 2021 by Bowdoin College Museum of Art
A 3D Scanning Collaboration at Monticello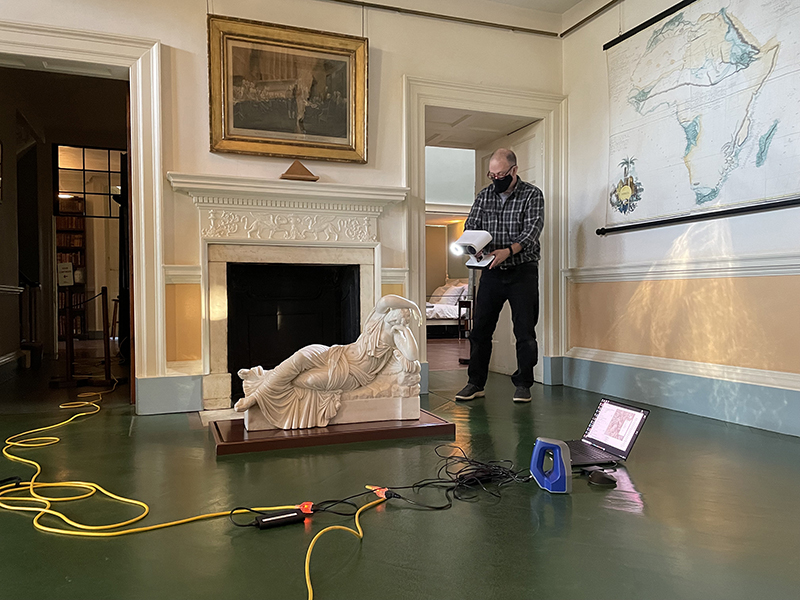 This October, Sean Burrus, Interim Curator and Andrew W. Mellon Postdoctoral Fellow, and David Israel, Senior Producer for Academic Media, traveled to Charlottesville, Virginia, to undertake an exciting 3D scanning project at Thomas Jefferson's Monticello. The scanning project was undertaken as part of the research for the exhibition Antiquity and America, opening in March 2022 at the Museum. As the sun rose over the mountaintop, the team worked in Monticello's entrance hall to scan a marble sculpture of Ariadne that James Bowdoin III gifted to then President Thomas Jefferson in 1805. A passion for the ancient past united many Americans, including Jefferson and Bowdoin. It is exciting to be able to share this sculpture with audiences through a 3D model. It will star in the upcoming exhibition in an interactive digital feature— developed by Sean Burrus and Emilie Johnson, Associate Curator, Thomas Jefferson Foundation—that tells the curious history of the sculpture and illuminates its features.
The story of the sculpture is a fascinating illustration of the deep and creative ways that antiquity was embedded in early American history. Bowdoin and Jefferson shared not only a deep affinity for antiquity common among their founding generation, but also a personal appreciation for the fine arts and their potential role in forging a new national identity at a time when the arts in America were in their infancy. After Jefferson appointed Bowdoin to the new post of Minister Plenipotentiary to the Court of Spain in 1805, Bowdoin commissioned Gilbert Stuart to paint official likenesses of President Jefferson and of Secretary of State James. But Bowdoin also offered his services to the Jefferson in acquiring paintings and sculpture while abroad, based on his previous travels and his study of the ancient "masters."
Perhaps as evidence of his qualifications as a connoisseur of fine art, and in gratitude for his appointment, Bowdoin presented to Jefferson the marble copy of this antique sculpture shortly before his departure for Europe in 1805, suggesting Jefferson "place it in a corner of your hall at Monticello." The marble sculpture, which Bowdoin must have acquired during his earlier European travels or had sent from Europe, was believed at the time to represent the Egyptian queen Cleopatra. It was later identified as Ariadne. The sculpture is a reduced copy of an ancient marble then the Vatican's collections. Jefferson gladly accepted Bowdoin's gift and proudly installed it in the entry hall of his classically-inspired mansion, Monticello. One of the few works retained by the family when Jefferson's assets were auctioned off after his death, the statue is back at Monticello today as a testament to both men's lifelong engagement with the ancient world.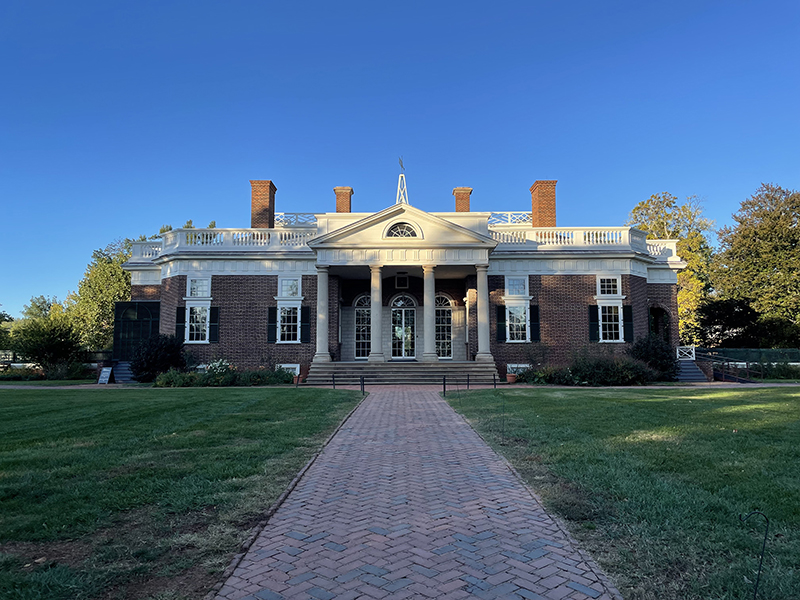 Like James Bowdoin III and other elite Americans of the eighteenth and nineteenth century, Jefferson cultivated many passions, but among them were an abiding interest in the Greek and Roman past and in neoclassical architecture. Over the course of his career and travels, Jefferson built a library with deep holdings in ancient authors. He also made use of European travels to visit the Roman ruins of Nîmes, making careful studies of the Roman temple Maison Carrée and enlisting the French artist and neoclassical architect Charles-Louis Clérisseau to help design the Virginia State Capitol after this ancient model. Jefferson's other experiments in architecture, including his own plantation Monticello and his designs for the University of Virginia, show a similar debt to Roman architecture. As early as 1771, Jefferson had plans, never realized, to furnish Monticello with a sculpture hall filled with copies of ancient Greek and Roman sculptures. The sculpture gifted by James Bowdoin III in 1805 was in many ways as close as Jefferson came to fulfilling this dream.
The BCMA wishes to thank the Thomas Jefferson Foundation for their support in developing this model, and especially Associate Curator Emilie Johnson, for sharing her insight into the history of Monticello and the sculpture.
Sean P. Burrus
Interim Curator and Andrew W. Mellon Postdoctoral Curatorial Fellow
Illustration: Monticello, the home of Thomas Jefferson in Virginia