Published September 27, 2021 by Bowdoin College Museum of Art
New Research Spotlights John La Farge's "Athens"
New York Times critic Eve Kahn recovers the remarkable life of Hettie Anderson (1873–1938), the model for the central figure in John La Farge's mural at the BCMA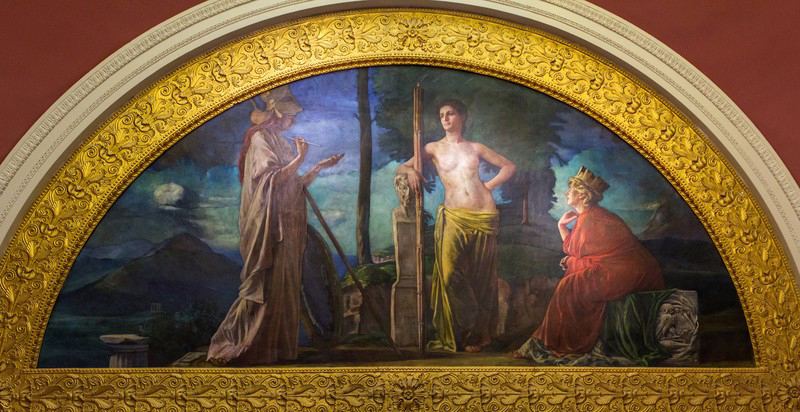 In the 1890s, a charismatic brunette in her 20s, newly calling herself Hettie Anderson, appeared on the Manhattan cultural scene and found work posing for various celebrated artists. Anderson was depicted on neoclassical monuments and coins and in paintings. Of special note to the Bowdoin community, I have recently identified her as the central figure in John La Farge's 1898 lunette mural Athens, in the Rotunda of the Bowdoin College Museum of Art.
La Farge rendered her as a willowy deity leaning on a Pan figure, clutching a fasces (bundled sticks symbolizing power), and flanked by Athenian admirers. At right, a crowned woman in red personifies Athens, and at left, helmeted Minerva sketches pensively. Anderson's heroic pose is typical of her work.  Unlike many of her colleagues, she was never shown as a victim or a vixen
Her other high-profile likenesses include winged Victory on Augustus Saint-Gaudens' gilded equestrian memorial for General William Tecumseh Sherman at Grand Army Plaza in Manhattan and Saint-Gaudens' Liberty on a $20 gold coin (based on Victory). And the sculptor Adolph Alexander Weinman rendered Anderson as a toga-clad goddess for Civic Fame, atop the government skyscraper now called the David N. Dinkins Manhattan Municipal Building.
Anderson did not, however, seek fame. "She was a quiet, purposeful person who was very professional and respected as a powerful entity—which resulted in beautiful artworks," says Willow Hagans, a researcher who is also an Anderson cousin. Hagans and her husband William (who died in 2015) began studying and writing about Anderson in the 1980s, after hearing about an artists' model in the family from William's grandmother Jeanne Wallace McCampbell Lee.
Last fall, I contacted Willow after seeing a version of Victory at the Metropolitan Museum of Art's 150th anniversary show. The label referred to Anderson as "a Black woman who posed for many artists in New York." It also mentioned, poignantly, that she had later worked at the Met—which meant that she had likely often walked past Saint-Gaudens's gilded image of her younger self. Willow and I began an in-depth collaboration that has not yet solved every mystery about Anderson.
She was born Harriette Eugenia Dickerson in 1873 in Columbia, South Carolina. Her mother, Caroline Lee Scott, was a seamstress. Findings from Anderson's artist cousin Amir Bey show that before the Civil War, the government had designated Anderson's family "free colored persons." Caroline and her parents Henry and Eliza Lee owned land and earned wages. Henry and Eliza had both probably been the offspring of formerly enslaved Black women and white slaveowners. Benjamin Dickerson—I have not yet pinned down any further identifying details about him—is listed in documents as the father of Anderson and her older brother, Charles Dickerson.
Family members prospered in South Carolina during and after Reconstruction as physicians, dentists, and civil servants, among other professions. But Jim Crow segregation and public atrocities gradually made life nightmarish for Blacks. By 1900 or so, virtually all of Anderson's family members had moved to Midwestern and Northern cities. Anderson and her mother rented an apartment on Amsterdam Avenue at West 94th Street, while Charles Dickerson became a horse trainer in New Jersey.
It is not clear how Anderson chose that name, nor a modeling career. Other professions listed for her in government documents over the years include "seamstress" and "clerk." John La Farge, whose 1890s account books at the Yale University Library mention payments to Anderson for Athens, was one of her first modeling clients. She soon attracted the attention of Saint-Gaudens, Weinman, Daniel Chester French, and Evelyn Beatrice Longman.
Newspaper reporters—none of whom apparently ever interviewed Anderson—described her as "of the heroic type" and praised her "creamy skin, crisp curling hair and warm brown eyes." Saint-Gaudens called Anderson "Goddess-like," as well as "the handsomest model I have ever seen of either sex." He lauded her skill at "posing patiently, steadily and thoroughly in the spirit one wished."
Anderson spent weeks at a time at artists' country studios, including Chesterwood, French's estate in Stockbridge, Mass. French's sculptures depicting her have survived at Congress Park in Saratoga Springs, New York.; in cemeteries in northern New Jersey and Concord, Massachusetts; and at entryways to the St. Louis Art Museum and Boston Public Library. In an etched portrait by the Swedish painter Anders Zorn, she appears tucked behind a haggard Saint-Gaudens during a modeling session for Victory.
In 1908, soon after Saint-Gaudens's death, Anderson copyrighted his bronze bust of her and lent it to museums. His family wanted to make replicas for sale, but she refused, insisting it would remain most valuable as "the only one in existence." In 1910, at the close of a Saint-Gaudens retrospective in Indianapolis, workers accidentally shipped the bust to the sculptor's family. Anderson wrote scathingly to the museum's director: "You have committed a grave error in allowing that Bust of mine to pass from your care" and sending it "just where I did not wish it to go."
Saint-Gaudens's son, Homer, in his subsequent writings about his father, scrubbed away any mention of the bust and Anderson, aside from an allusion to an unnamed model "supposed to have negro blood in her veins."(No one knows what Anderson told her New York circle about her ethnicity, although census takers listed her and Caroline as white.
In the 1910s, as modeling opportunities faded, French and Longman helped Anderson land a job as a classroom attendant at the Met. By then its galleries contained Victory, as well as a marble version of French's Concord statue. By the 1920s, Anderson retired, in declining health. She died in 1938, largely forgotten by the art world. "Model" is listed as her profession on the death certificate. She and her mother are buried in unmarked graves in a mostly white cemetery in Columbia, near the remains of Woodrow Wilson's family members and Confederate memorials.
This fall, I'm looking forward to seeing how La Farge's Athens interacts with the depictions of sitters in the BCMA's There Is a Woman in Every Color: Black Women in Art. As I make the rounds of monuments and exhibitions where she plays a role, I check in on her often at the Sherman monument. I never cease to be amazed there at her ferocity on a pedestal, powerful arms gesturing, toga swirling, and sandaled feet striding.
Eve Kahn
New York Times
Critic