Published April 27, 2021 by Bowdoin College Museum of Art
Interview with Paula J. Volent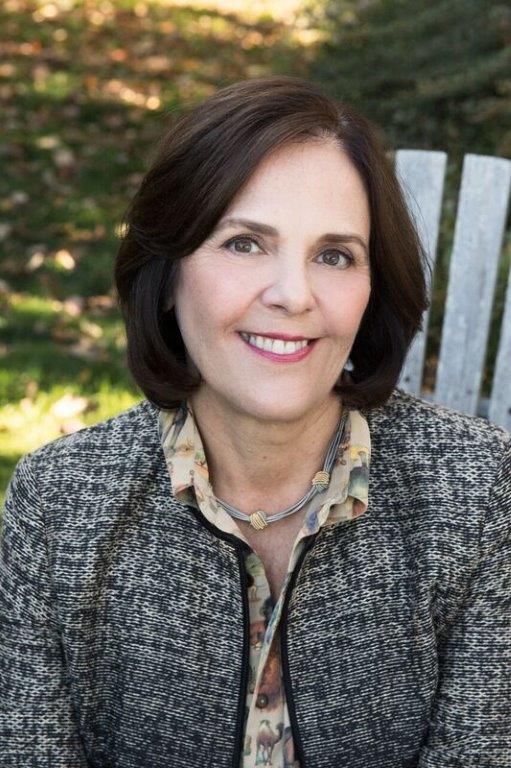 Paula J. Volent, Chief Investment Officer and Senior Vice President, Investments, Bowdoin College, and member of the Museum's Executive Advisory Council is leaving Bowdoin in June 2021. Claire Traum '21 and Lucy Siegel '22, student members of the Advisory Council, interviewed Paula about her career in the arts and investments on April 16, 2021. The interview is shared here.
CT: As we all know, an art history education can open doors outside of the art world. How do you feel that your art history background has contributed to your professional life? Could you please walk us through your experiences at Bowdoin?
A lot of people look at my background and think, What? Woah, How did you get here?
I have a master's in art history and a Certificate in Conservation from the Institute of Fine Arts at NYU. In conservation, my focus was on the conservation of works of art on paper: prints and drawings. In art history I studied northern Baroque art with Professor Haverkamp-Begemann, a renowned Dutch scholar. I also worked on an original research project on Picasso with historian Gert Schiff. I loved art history. I still love art history.
One of the things I learned at the Institute was the importance of good writing skills and the ability to pull disparate pieces of information together to create a story, a new whole. In those days, we didn't have the internet, so you would go into the library and you would pull out old art magazines. One thing would lead to another and then you would see a footnote that would lead to another thing, and before you knew it, you would have all of this information.
The training was rigorous. At the Institute, you were required to be proficient in reading German and French in order to read books and articles in their original language. Keep in mind that the Institute was a haven for refugee professors from Germany and Austria during World War II: Erwin Panofsky, Julius Held, Walter Friedländer and others, so we read a lot in German.
Especially when working on the required qualifying papers for my master's degree in art history, I really focused on the importance of writing skills. I remember sitting down with the professors, going over and over manuscript drafts, and getting the writing skills down.
When I later went to the Business School at Yale, those skills became critical. I went to Yale with the aim of gaining skills to be a museum director, and I wanted to learn about business. I knocked on the door of David Swensen, the University's Chief Investments Officer, and offered to work as an intern in the Investments Office as I wanted to learn about endowment, a critical source of support for most museums. David did not see any investment experience on my resume, but Ellen Shuman '76, who is a Bowdoin grad, spoke up for me: "Oh, she worked at Bowdoin, let's give her a try." So I started working there, and then when I graduated, David asked me to stay on to write Pioneering Portfolio Management, in part I think, because of my writing skills. I think in finance, people don't realize how important critical thinking and writing skills are. That's something that students really learn at Bowdoin.
My work as an art conservator has many parallels with the type of thinking that goes into making investments or writing an art history paper. In conservation, say you have a Picasso drawing. It has a big stain on it, and you are probably going to dip it into a bath of water or solvent to remove the stain. You'd better do your homework and do all of the testing beforehand so you know what you will do if there is a problem mid-treatment. The investments I make for Bowdoin involve a similar process of extensive due-diligence. The investment team carries out significant analysis on how a particular investment would fit in the endowment portfolio, and what could go wrong with the investment prior to pulling the trigger and putting Bowdoin's money to work. So there are parallels, and I also think right brain, left brain, and having an ability to look at things the way you look at works of art has been really helpful in my career.
Conservation became an important part of the experience I had working at the Bowdoin Museum as Curatorial Assistant. At that time, the museum was working with the Clark Art Institute in Williamstown to do their conservation. One Christmas—I was in Maine, while many of the other staff were away for the holiday—a guard turned on the humidity system (Uh-oh!) which hadn't been turned on in ages. As a result, the humidity levels in the museum spiked up and it started raining in the galleries and the murals in the rotunda started peeling off the walls. Additionally there was a fear that the Kress panel paintings in the collection would start cracking and buckling due to the high humidity. The team from the Williamstown conservation lab came immediately, and I helped with the stabilization of the climate in the museum, as well as the reattachment and eventual repair of the murals. Ultimately that event ended up being the catalyst for the big fundraising push to put in all of the new humidity and climate control systems when the museum was renovated.
As an undergrad in art history at the University of New Hampshire, I worked part time for a paintings conservator, and helped put together an exhibit on conservation at the University gallery. My later experiences at Bowdoin confirmed to me that I was really interested in marrying chemistry, art history, and studio art together to pursue a career in art conservation.
While I was working at Bowdoin, I also worked at the Document Conservation Center in Andover, Massachusetts. I would drive down there every Friday. I eventually left Bowdoin for an internship in conservation at the lab at the Clark Art Institute, and then I applied to the Institute of Fine Arts. One of the things I tell students is that it's all about serendipity, and taking chances, and leaning in, and raising your hand and saying, "I'll do that!"
At Bowdoin I worked with John Coffey, the curator at the time who was an amazing curator and mentor. I remember our acquisition of a Ruscha gunpowder drawing. Later in my paper conservation studio in Los Angeles I would work with Ruscha on the treatment of some of his drawings in ephemeral media including gunpowder and Pepto-Bismol. Such amazing times then. Katharine Watson was the Director, Suzanne Bergeron and Jose Ribas were there way back then, there is such a thread. Good friends, great exhibits.
I got to put together exhibits at the Bowdoin Museum. I worked with David Becker in the Becker Gallery. He taught me so much about the connoisseurship of prints and drawing. One time I did a show for children, and we hung all the prints and drawings at kids' level so adults had to duck down to see them.
I feel like my experiences at Bowdoin in those early days were really formative to my being curious. Bowdoin did great work as far as exhibitions. We all worked together; it was a team effort. I don't know if I would have gone into conservation if I hadn't been at Bowdoin.
It's interesting because I went to the University of New Hampshire as a first-generation college student. When I graduated I had an offer to go to Brown University to work in their gallery and then I had an offer to work at Bowdoin. My family is from Maine, so it was logical that I would come to Bowdoin. It was a great experience.
LS: Absolutely. Thank you so much for all of that. Such a fascinating time out of college and working at all of those colleges and museums. I'm interested in how you went from conservation work to investing. How did you make that jump?
I graduated from NYU, and I went to the Palace of Fine Arts in San Francisco and worked in the paper conservation lab there. When you are in conservation, it's like being a doctor. They don't let you operate on real people until you've done residencies. And so, I did my first post-grad internship, at the Palace of the Fine Arts followed by one in the paper conservation lab at the LA County Museum in Los Angeles. I also worked in a number of private practices, eventually setting up my own practice in Venice, California. I worked a lot with LA artists including the studios of Billy Al Bengston, Sam Francis, Ed Ruscha and the printmakers at Gemini G.E.L. I was sort of like, you know, an artsy person! I was really interested in solving artists' problems.
I also worked for a lot of high net-worth clients, movie stars, and big collectors. But my favorite clients were small institutions. I remember I restored the original backdrop to the Wizard of Oz, which was about this big...[*Paula spreads her hands a foot apart.*]...the yellow brick road. It was in a University's special collection. They had a big movie history collection, but no budget for preservation of repair of the collection.
I realized, as I went on, that to preserve art and to do what I really wanted to do, I needed to have more business skills. I ran a business. I was treating valuable works of art and needed to deal with insurance, staff, payroll, budgeting. In conservation, you need to make a lot of decisions: What are you going to preserve? How much time are you going to spend on a treatment? How do you keep up with advancements in the field?
So I started taking classes at night at UCLA. My professor said, "You're really good at this. Did you ever think about business school?" And I said, "No, Why would I ever do that? I'm an artist and art conservator."
So what happened was that one day that professor knocked on my studio door.—I had this really funky big studio in Los Angeles, near Venice Beach. It was an old grocery store that I had converted into a conservation lab.—She was there with an admissions officer from Yale School of Management, and they were looking for nontraditional students. I was thinking: what is this? She said, "Did you ever consider going to business school?" I said "No." That stuck in my head for a long time. And I thought, maybe business school would be a good complement to my skills.
It was a great experience running my own business. But more and more I really thought about the idea of learning cutting edge skills for managing a museum or institution.
So I studied for the GRE's at night and then I took them and applied to the Yale School of Management.. Yale was the only school I wanted to apply to because they had a big emphasis on the not-for-profit sector. I got into Yale Early Decision, but the same week I received a fellowship award from the National Gallery of Art to come and start a new program there that would marry paper conservation and paintings conservation in the preservation of contemporary works of art and to document artists' materials, something I was very interested in doing. So I called up Yale and said, "Thank you very much, but I'm not going to come." And they said, "You can come anytime in the future. You're in."
So I decided I was going to close my studio in Venice despite a large client base and a large backlog of projects. Choosing to leave Los Angeles was like I was jumping off a cliff, literally.
I felt like that when I told Clayton I was leaving Bowdoin. I asked myself: What am I doing? This is crazy! I was leaving Los Angeles, this was my life. My fiance, (we weren't married yet) said: "You can do whatever you want to do." He was a film prop master, but he could basically work from anywhere. I moved to Washington D.C. and I worked at the National Gallery, which was amazing. I assisted in the cleaning of a lot of Mark Rothkos, and I did a big project on a painting by Jackson Pollock which had been damaged in its original showing at a gallery and then repaired and painted over by Pollock. It was like writing history, piecing it all together.
Tom Krens, who was the director of the Guggenheim Museum at the time, was a graduate of the Yale School of Management, and he reached out to me. He said going to business school was an extraordinary opportunity that would be life-changing. So I decided to take the leap. I left the National Gallery.
I remember I had to go early to Yale and take baby math. And then I got to Yale, and—surprise, surprise—I was pregnant with my daughter, Vanessa. I went my first semester, then I worked in the Admissions Office at Yale until she was born. She was born February 6th. When she was about two months old, I knocked on the door of David Swensen, and I said: "I have all of this time, and I want to be a museum director and I want to learn about endowments." And that's when he said: "What? What do you know?" So I worked first filing for the Investments Office and sitting in on meetings. I remember I didn't really know that much about investments. And I would pick up a thing with all these acronyms and new terms like REIT or basis points, and think: What's that? I was taking classes in business at the Yale School of Management, but I had only been through one semester.
It really gelled for me at the Investments Office. David Swensen is an amazing mentor and teacher. No question is too silly to ask. He loves sharing. Even the interns (I was an intern), would be asked to sit in on investment manager meetings. I tried to model that a little bit at Bowdoin with the Investment Office Internship program.
I was the co-head of the arts and management club at the Yale School of Management. I did a project with the Guggenheim when they set up their museum in Bilbao, Spain. The project looked at communications between two teams that were really far apart.
And so, due to my experiences at the Yale Investments Office and the great professors at the Yale School of Management: Will Goetzmann, Ken French, Roger Ibbotson. and others. I fell in love with investments.
And little by little I realized that I love the arts, but I was also really drawn to the variety of the things you have to think about in finance and making great investments in support of an institutional mission.
On graduation from the School of Management, I was planning on joining the investment office of the Walt Disney Company in Los Angeles, but due to management changes at Disney and David Swensen's aspiration to write a book on institutional investing, David offered me the chance to stay at the Yale Investments Office and help him in the writing of Pioneering Portfolio Management, now considered a classic in the asset management industry. David and Yale were very early in investing in alternative asset classes: Venture capital, Private Equity and Absolute Return strategies. These were pioneering at the time.
I remain very involved in the arts. I collect art, mostly drawings. I'm very active on the Board of the Skowhegan School of Painting and Sculpture, where I serve on the finance committee and the endowment committee.
I'm also friends with many artists. I'm on the board of the Investment Committee of the National Gallery of Art, and I'm going to stay on the Advisory Council of the Bowdoin Museum because I love it.
And so that's the long story of my life. I love art. I mean I have to stop buying art. I'm running out of places to put it!
I think that the Bowdoin Museum is a gem. When I worked there, the renovation hadn't been done yet. We had a basement gallery, the print shop was next door, and we would just open the door. Abe Morell '71, H'97, who is now a world-renowned photographer, was always coming over for lunch with Lisa McElaney '77. There's this big tradition of a great culture at the Bowdoin Museum that I love.
CT: Wow, that was an amazing story. Thank you. Do you have a piece of feedback or a mantra that has shaped the way you approach your work?
Well, I'm very focused on helping to empower women in the asset management industry. I'm very involved in Girls Who Invest, a program founded by Seema Hingorani that sponsors a summer training program in investments for young women followed by internships. Several Bowdoin students have been through the program. I'm an Emeriti member of the board of 100 Women in Finance, working with them on increasing visibility and senior management opportunities for women portfolio managers and investors. I'm also backing women, helping women venture capitalists and investment managers try to get access to endowments and foundations.

I would say my mantra is to show up and raise my hand, and to do things that really interest me. I want to keep my curiosity all the time. While I said I was leaving Bowdoin, I'm not retiring, for sure. I have too many things going on. I recently accepted the role of Chief Investment Officer and Senior VP for Rockefeller University in New York. I am really thrilled to have the opportunity to be working on growing endowment support for cutting-edge biomedical research, and I will be spending more time in New York so will be going more frequently to museums and galleries.
I have had amazing mentors in my life and they have helped me, so I guess my other mantra is, keep your eyes open for people who could be good mentors and use them.
CT: Is there anything else you would like to share? Something you're proud of that you have experienced at Bowdoin?
I am proud of what I have accomplished at Bowdoin. When I started the endowment was valued at $465 million, subsequently declining in the teeth of the Dot-com crisis. At present the Bowdoin endowment is valued at about $2.3 billion. The College is able to remain need-blind, no-loan, and increase support of financial aid in a large part due to growing support from endowments. Students who would never be able to afford a Bowdoin education are able to come and add to the amazing Bowdoin alums who will be leaders of the future. I went through all of my college years with financial aid, so I'm really happy to give back. Bowdoin will always be an important part of my life and I am blessed to have had my Bowdoin years, both at the museum and at the helm of the endowment.
Claire Traum '21 and Lucy Siegel '22